by Carissa Andrews - March 21st, 2016 Match Score:3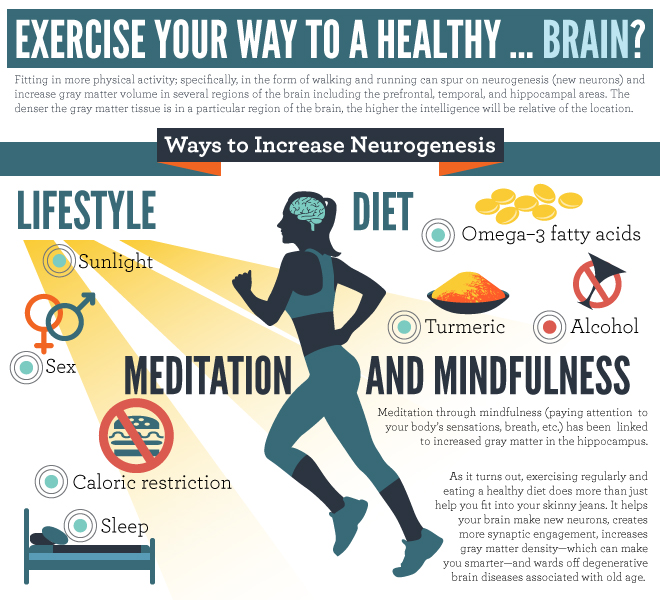 As it turns out, fitting in more physical activity; specifically, in the form of walking and running does more than merely make your jeans fit better. Research has been proving it can also spur on neurogenesis (new neurons) and increase gray matter volume in several regions of the brain including the prefrontal, temporal, and hippocampal areas. A key thing to note: the denser the gray matter tissue is in a particular region of the brain, the higher the intelligence will be relative of the location.
When exercising, neurogenesis has been found to occur in two brain regions; the subventricular zone and the hippocampus. Alterations with the latter have been linked to a variety of cognitive pathologies such as anxiety, depression, addiction, and neurodegenerative diseases such as Parkinson's. A reduction in hippocampus volume has been noted in patients with cognitive disorders, such as depression. When the hippocampus is altered, it affects more than merely the number of brain cells; the Long Term Potentiation (LTP) is also disrupted—which is the brain's method of prioritizing incoming signals. It's thought to be one of the major cellular mechanisms that underlies learning and memory.
Brain-derived neurotrophic factor (BDNF) is a protein responsible for neuron growth, maturation, and maintenance. The BDNF protein helps regulate synaptic plasticity, which is imperative for learning and memory. According to one study
So what does all this mean? In layman's terms, moderate exercise will help you maintain your intelligence, memory, and learning capabilities—and in some cases, you could actually get smarter. As we age, a certain percentage of brain mass is lost, resulting in memory loss, dementia, Alzheimer's, depression, anxiety, and a number of other brain related disorders. According to studies, memory loss can begin as early as your late twenties and it can even show signs of atrophy of the hippocampus—a region of the brain associated for turning short-term memory into long-term memory, emotional behavior, and spatial navigation. Longitudinal studies have reported between 1% and 2% annual hippocampal atrophy (shrinkage) in adults older than 55 years without dementia, and between 3 to 5% for those suffering from Alzheimer Disease (AD). Hippocampal shrinkage has been associated with Major Depressive Disorder in both young and old, according to post-mortem studies of depressed people and suicide victims.
To take things a step further, your weight and gut health can come into play with your cognitive functions. When your body is fighting off inflammation of any kind, you run the risk of potential complications. Lipopolysaccharide (LPS) is liberated by way of leaky gut syndrome and can be directly attributed to brain issues such as Alzheimer's. When LPS levels are high, one study suggests you're less likely to be able to grow new brain cells. The good news is, aerobic exercise in elderly mice has been found to offset the damaging effects on the brain from the elevated LPS in the blood stream; thus making it less likely to compromise their neurogenesis capabilities.
According to the Mayo Clinic in a 2011 proceeding, it was said, "Physical exercise should be considered as a prescription for lowering cognitive risks and slowing cognitive decline across the age spectrum."
Other Ways to Increase Neurogenesis
Exercise also doesn't have to be the only way a person supports brain cell regeneration. There are a number of other ways you can positively impact your brain's ability for neurogenesis. Here are some of the most notable.
Diet
Omega–3 fatty acids
Turmeric
When You Shouldn't Consume Turmeric
Alcohol
Lifestyle.
Sleep
Caloric restriction
Sunlight
Sex
Meditation and mindfulness
As it turns out, exercising regularly and eating a healthy diet does more than just help you fit into your skinny jeans. It helps your brain make new neurons, creates more synaptic engagement, increases gray matter density—which can make you smarter—and wards off degenerative brain diseases associated with old age. Maintaining cognitive function well into the later senior years of life is important to many of us, and this information brings us one step closer to ensuring brain health in the years to come.
###
Carissa Andrews is an passionate author and freelancer from Minnesotan with a focus in creative writing.