by CANPharmacyKing - January 15th, 2018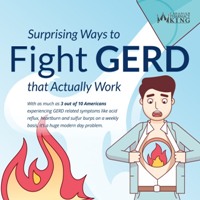 With as much as 3 out of 10 Americans experiencing GERD related symptoms like acid reflux, heartburn and sulfur burps on a weekly basis, it's a huge modern day problem. Most sources will quote that avoiding coffee and trigger foods should provide the necessary help, but unfortunately - more often than not, these tips do not bring the calm to the stomach.
The inforgraphic also includes a list of most helpful GERD medications. Read on and make your GERD a thing of past!