<< 10 Inspiring Ovarian Cancer Celebrities and Their Battle with the Whispering Disease
Will Covid-19 Affect My Pets? >>
7 Creative Activities to Keep Kids Busy During Coronavirus
by Carissa Andrews - April 13th, 2020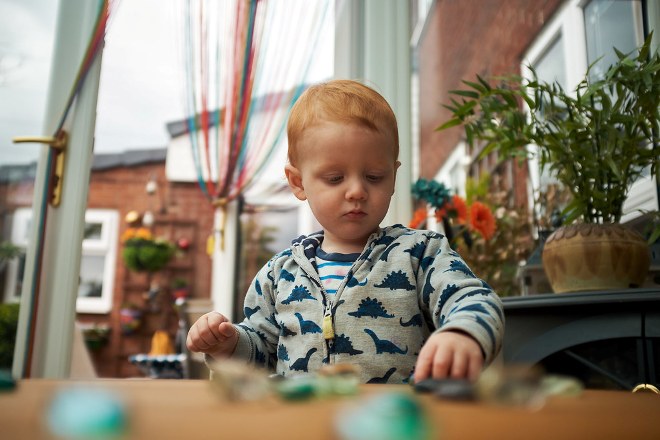 Photo Credit: by Peter_Yates, flickr.com
At the beginning of March, it would have been hard to believe most parents around the world would be taking a crash course on home schooling our kids. Yet, here we are, looking for ways to keep our kids busy, educated, and entertained thanks to the COVID-19 pandemic. Many of us aren't prepared for such a task, so we're actively on the hunt of parenting tips that will help us with lessons to teach kids during this time of self-isolation.
When parents are now having to work from home, too, it can be especially important to get kids into a routine. This will help them to be crystal clear on expectations from day-to-day and even hour-to-hour. One of the best ways to do this is by having a daily schedule in place to help everyone stay focused and productive. This is a new norm for everyone, after all.
If your kid's school has incorporated distance learning, you've got a support system not all parents have. So, definitely take advantage of the classrooms who are teaching lessons online during the novel coronavirus quarantine. To be most effective, this means making sure kids of all age groups log in at the same time each day and follow the instructions laid out by their teachers. However, if schools in your area have shut down for the remainder of the year, you might be looking for kids activities to help pass the time. Regardless of whether or not school is still in session, here are 7 awesome ways to keep your kids engaged during the coronavirus quarantine:
1. Virtual Museums & Travel Tours
– Need a little art in your life? Check out this
awesome list of virtual tours
you can take from some of the world's most renowned museums. Even the Smithsonian is online and ready to engross you and your family in the world of art and natural history. Want to see the world from the comfort of your living room? Check out
EarthCam
to see some live video feeds from cities all over the world. If you want an educational journey, why not visit the Great Wall of China or head over to Petra. You'd be amazed at how many places you and your kids can travel to together. Did you know you can even leave the planet altogether to go explore Mars with NASA's Curiosity Rover? How cool is that?
2. Bring Nature Inside
– For the nature lovers in the family, there are some great options they'll want to check out.
National Geographic Kids
offers all sorts of great choice from videos, to games, and more. In addition,
Google AR
brings augmented reality to your kid's bedroom. Kids can use Android or iOS smartphones or tablets to place 3D digital animals and objects into your own house to see how they'd fit. Do your kids want to be citizen scientists? Why not help
real scientists study
distant galaxies in outer space or
track penguins
using satellite imagery? For the animal lovers in the family, direct them to EarthCam's AnimalCams or Smithsonian's National Zoo to see real life animals in action.
3. Science Projects FTW
– For more science and STEAM-related projects, kids can find a wealth of information over at
Mad Science
. From printable coloring sheets to at-home experiments kids will love to try, the website has it all. Another fun option to check out is the Kitchen Pantry Scientist. Much like Mad Science,
Kitchen Pantry Scientist
offers tons of science experiment videos, all using tools and ingredients you most likely already have in your cupboard. There are all sorts of fun things to do from creating a glitter volcano to making your own lava lamp! Even
Bill Nye the Science Guy
has activities to keep your kids enthralled with science.
4. Get Kids Moving
– Kids, no matter their age, need time to move to move their bodies. Why not try the
online PE workout with Joe
(The Body Coach)? Joe hops in every Monday – Friday with new workouts specifically designed for kids. They'll love the energy boost (as well as some of the fun brain benders he offers, too!) For kiddos who need a little bit more calming and mindfulness-type exercises, check out
Cosmic Kids Yoga
. They have everything from Disney-themed yoga sessions to holidays, and more. Kids are sure to enjoy them.
5. Music Inspiration
– Music class, anyone? Kids wanting to continue on with their music lessons (or maybe pick one up) can head over to Myleene Klass's Youtube Channel,
Myleene's Music Klass
, where she teaches kiddos all about music Monday-Friday. You could also check out
Rachel Ramback's
music class. She's a board-certified music therapist.
6. Celebrity Storytime
– Tons of celebrities have taken to the internet to read bedtime stories to children online. Notable celebs, such as Amy Adams, Jennifer Gardner, Josh Gad, Dolly Parton, and Reading Rainbow's own Levar Burton are amongst the list. Many of them have teamed up with #SavewithStories, so you can find even more celebrity reads over there. As if all this wasn't stupendous enough,
Audible
is also offering lots of kids books for free.
7. Family Fun
– Since we're coming up on Easter, why not spend a little extra time making the weekend more fun? Put together a family Easter egg hunt, or maybe even log in to do a virtual Easter egg hunt on Minecraft. If you're reading this after Easter, that's okay. Consider running a backyard Scavenger Hunt, going for family walks and/or bike rides. Just because we're self-isolating doesn't mean we can't still enjoy family time. That includes extended family members you, too. Give them a call on Skype or Facetime, just to say hello.
Please remember, businesses and healthcare facilities can still use your support during this time. Whenever possible, think about ways you can attend or participate in activities in your community to support the small businesses, healthcare workers, or seniors. The best way to do that is by visiting your local chamber of commerce website and seeing what information they have to offer regarding ways to support the community.
While none of us expected to be homeschooling our kids, and likely working from home at the same time, now might be the perfect opportunity to bond together by providing them a variety of experiences they may not have had otherwise. From virtual tours, to virtual classes, hopefully this list gave you some fun ways to keep your kids engaged and educated during the COVID-19 quarantine. From all of us at Canadian Pharmacy King, stay safe and healthy.
Additional Resources:
https://www.ctvnews.ca/health/coronavirus/help-i-ve-got-kids-what-do-i-do-tips-for-parents-working-from-home-1.4855001
https://twitter.com/CheviotMedia/status/1243472337758040066
https://www.heraldtribune.com/entertainment/20200329/coronavirus-florida-educators-adapt-to-new-ways-of-teaching-online
https://twitter.com/search?q=%23kidactivities&src=typed_query
https://naturalhistory.si.edu/
https://www.thechinaguide.com/destination/great-wall-of-china
https://www.google.co.uk/maps/about/behind-the-scenes/streetview/treks/petra/
https://accessmars.withgoogle.com/
###