<< 8 Ways to Boost Your Immune System During COVID-19
7 Creative Activities to Keep Kids Busy During Coronavirus >>
10 Inspiring Ovarian Cancer Celebrities and Their Battle with the Whispering Disease
by Carissa Andrews - March 30th, 2020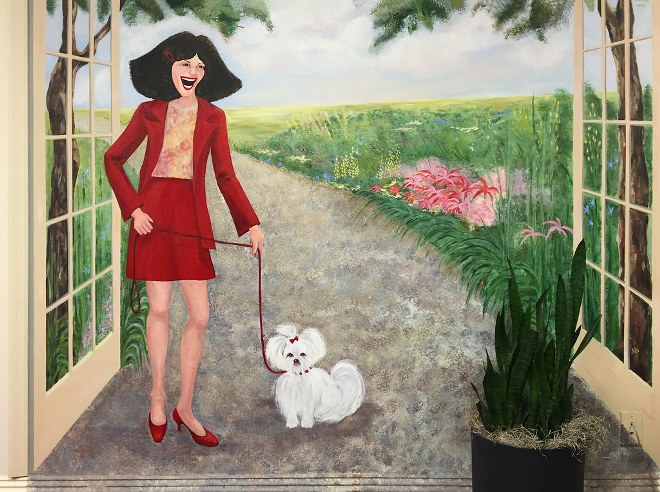 Photo Credit: Gilda Radner, Ken Bergman by Ken Bergman from flickr.com
March is Ovarian Cancer Awareness Month, so it's a great time to talk about some of the inspiring women who have battled this whispering disease. Ovarian cancer is the second most common gynecologic cancer in the United States and it's also the most deadly. Part of the reason for it has to do with the fact that its symptoms could be masked as many other diagnoses, making it very often, a silent killer. Often, by the time women are diagnosed, the cancer is in a later stage or has spread to other parts of the body.
More than 23K women will be diagnosed with ovarian cancer this year, according to the American Cancer Society. In 1989, Gilda Radner's death sparked the beginning of ovarian cancer awareness, as she died very young from the disease. When celebrities die or battle cancer (or diseases of any kind), it turns the spotlight to their disease and helps to provide some much-needed education to the public. Often times, it leads to more funding for research and treatment advancements.
Today, we wanted to give a shout-out to some of the inspiring celebrities who have fought ovarian cancer. Some of them have battled the disease into remission, while others were not so lucky. However, all of them have given us something new to learn about the disease and their battles give us hope for a better future. Let's take a closer look.
1. Kathy Bates – Kathy is an American actress and director, and the National Spokesperson for the Lymphatic Education & Research Network (LE&RN). Originally diagnosed with ovarian cancer in 2003, and then breast cancer in 2012, she is a survivor of both. She has become an advocate for people around the world struggling with cancer and lymphatic diseases that can accompany cancer after it's gone.
2. Coretta Scott King – Coretta was an American author, civil rights leader and activist, and the wife of Martin Luther King Jr. Over her years, she fought for equality on multiple fronts and was a long-time advocate for world peace. She was public speaker well into her 70's as she worked to encourage support and bring awareness around areas of race, class, gender, diversity, and social justice. She was 78 when she succumbed to advanced ovarian cancer and respiratory complications.
3. Gilda Radner – Gilda was an incredible American comedian and actress. She is best known for being one of the original Saturday Night Live cast members. Unfortunately, she died at age 42 due to ovarian cancer. However, her dying wish was for her husband, Gene Wilder, to spread her story to support cancer research. He honored her request and went on to establish the Gilda Radner Hereditary Cancer Program at Cedars-Sinai in Los Angeles. Gilda's Club, a network of affiliate clubhouses, were established for people living with cancer, along with their support network, to learn more about living with cancer.
4. Shannon Miller – Shannon is a former American Olympic gymnast with a legacy of seven total Olympic medals—making her the most decorated US gymnast. With a total of 16 World Championships and Olympic medal between 1991 and 1996, she is the second most decorated gymnast in US history, as well. In 2011, she was diagnosed with ovarian cancer and a baseball-sized cyst was removed from her body. After undergoing chemotherapy three times, she is in remission.
5. Congresswoman Rosa DeLauro – Rosa is a Democratic Congresswoman from the state of Connecticut. She is also the dean of Connecticut's congressional delegation. She has a passion for health policy issues, and in particular, women's health. She has been a vocal critic of the FDA's failure to protect the public from unsafe foods and medical products as well as continuing to support biomedical research to develop reliable screenings for ovarian cancer. As of 2020, she is a 35-year ovarian cancer survivor.
6. Carol Channing – Carol was a prolific American actress, singer, dancer, and comedian. She's' best known for Broadway appearances and her roles in Gentlemen Prefer Blondes and Hello Dolly. She died just last year of natural causes, but she was a long-time ovarian cancer survivor. She encouraged women to keep going and "never let the thought of illness slow you down."
7. Jessica Tandy – Jessica was an English-American actress, best known for her role in Driving Miss Daisy, but her career stemmed back into the 1920's. Despite being diagnosed with ovarian cancer, she refused to stop working. She died at the age of 85 years old.
8. Jolie Christine Rickman – Jolie was an American feminist, humanitarian, social activist, and musician. Early on, Jolie suffered from juvenile onset macular degeneration and was pronounced legally blind by the time she was eleven years old. She worked with Coretta Scott King at the King Center in Atlanta and cited it as a source of inspiration for her musical activism. In 2004, she was diagnosed with ovarian cancer and passed away a year later at the age of 34.
9. Elly Mayday – Born Ashley Shandrel Luther, she is better known as Elly Mayday. Elly was a Canadian model and women's health advocate. She is well known for having brought awareness of ovarian cancer through her modelling career, where she was often photographed showing her surgical scars and even bald head from chemotherapy. She died last year after many surgeries and battles with the recurring disease. She was only 30 years old.
10. Joyce Wadler - Joyce is an American reporter and journalist, as well as humorist writer. She currently writes for The New York Times, but has also written for The Washington Post, New York Magazine, and Rolling Stone Magazine. She was diagnosed in 1991 with breast cancer and in 1995 with advanced ovarian cancer. After five years of treatment, she has been in remission since 2000.
As you can see, there are some incredible, inspiring stories from celebrities who have succumbed to their cancer, and those who are survivors. Be sure to educate yourself on the signs and symptoms of ovarian cancer, such as unexplained weight loss, bloating, or unusual urinary symptoms. Treatment for ovarian cancer typically consist of two forms of attack: surgery and/or chemotherapy. While it's never fun to think about, finding affordable chemotherapy treatments doesn't have to be hard. Here at Canadian Pharmacy King, we carry two treatments typically prescribed to women battling ovarian cancer: Paraplatin (Carboplatin) and Taxotere (Docetaxel). Both medications come in injectable form. If you suspect you might have ovarian cancer, or something just doesn't feel right, contact your doctor right away to be screened.
###
Carissa Andrews is an author and freelance writer who is trying to raise funds for cancer awareness. In 2016, her brother died from cancer and in 2020, a close friend is fighting for her life as she tries to eradicate her cancer. In honor of them, Carissa is donating 50% of her royalties from her new title Secret Legacy to the American Cancer Society.