<< 25 Common Medications: The Same Drug, Different Names? Part 2
9 Heart Healthy Tips Just in Time for Valentine's Day >>
12 Lucky Recipes for Your Chinese Lunar New Year's Dinner
by Carissa Andrews - January 23rd, 2020
If you're feeling a little out of sorts since 2020 began, you aren't alone. Many people are enthusiastic and excited as the new year hits and by this third week in January, they're already throwing in the towel. However, did you know you can regroup and celebrate the new year all over again and make sure this time, luck is on your side?
Saturday, January 25th is the Chinese Lunar New Year for 2020, in celebration of the first new moon of 2020. It's important to note, however, the new year doesn't officially begin until February 4th. This is because the Chinese calendar itself combines a combination of solar, lunar, and 60 Stem-Branch counting systems which include the yin yang, five elements (metal, water, wood, fire, and earth), 12 animals, and five elemental colors (white, black, green, red, and brown). Thus, 2020 is known as the year of the Male Metal/White Rat.
The Chinese New Year celebrations are a very engaged and festive time for Chinese people the world over. It features brightly colored (traditionally bright red) holiday hanging lanterns, fireworks, new clothes, red envelopes filled with money for children, and most importantly yummy food for families to enjoy together.
So, if you're looking to bring in a little more luck into your life, why not embrace the traditional Chinese celebrations with some healthy eating? We have some delicious recipes with dishes you can cook and eat right at home, all while honoring this age-old spring festival. Let's have a closer look at the choices for this three-course meal to make the menu planning and prep a breeze:
Starters
While dishes vary all over the world, these are some of our favorite appetizers to start off the day of delish dishes.
1. Dumplings (Shui Jiao, 水饺): : We love to make the pork chive dumplings with homemade dumpling wrappers. Sometimes, you might also find us making vegetable dumplings. While this recipe has you boiling the dumplings, we have also been known to pan fry them, too. It adds just a little crispiness to the shells.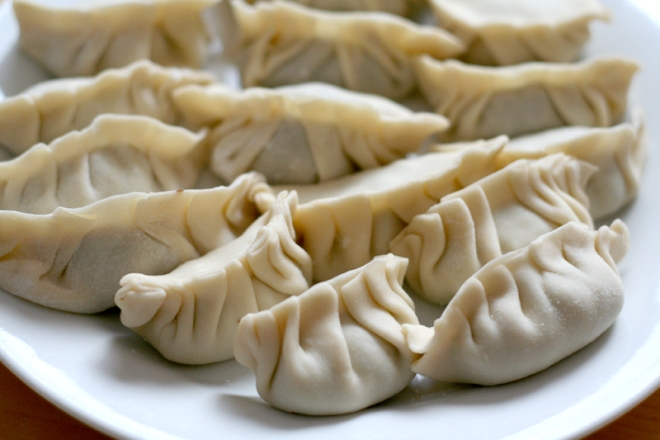 Photo Credit: by spicyicecream, flickr.com
2. Homemade Spring Rolls: Crispy, great for dipping, and look like little gold bars—so obviously eating these homemade spring rolls will bring good luck. Right?
Photo Credit: by Piyush Bedi, flickr.com
3. Turnip Cakes (Lo Bak Gou / 蘿蔔糕): : These mouth-watering brunch bites taste way better than they sound. Not only are turnip cakes healthy, they have a flavor blast of turnips, mushrooms, scallions, and Chinese sausage. Get the recipe here.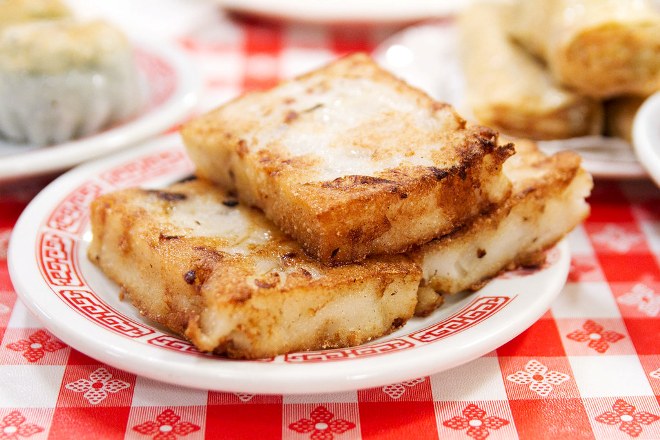 Photo Credit: by roboppy, flickr.com
Main Dishes
Moving on to the main course, there is something to celebrate for everyone. Take a look through this list, and we're 100% sure you'll agree.
4. Steamed Whole Fish: This recipe is a classic Chinese New Year's recipe and one that must be created very intentionally. Fish is a symbol of abundance and you want to bring on as much of that as possible over the next two days. The steamed whole fish must be cooked whole and there must be two of them, but both cooked on New Year's Eve. One is for Chinese New Year's Eve and one is saved for Chinese New Year's Day. The next day, follow this recipe for celebrating New Year's just right.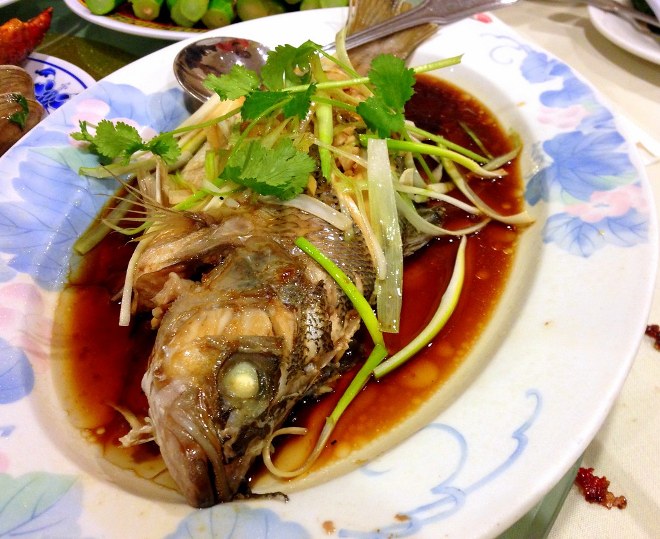 Photo Credit: by hwgirl, flickr.com
5. Peking Duck: Duck is a symbol in Chinese culture for fidelity. Coming to us from Beijing, this dish is a famous, centuries-old dish that takes whole ducks, roasts them in wood-fired ovens (which renders out any of the fat, but leaves behind crispy, delicious skin). Then, thin shavings of the duck are cut off and served with Mandarin pancakes, along with a myriad of condiments. Check out our favorite recipe to get you started.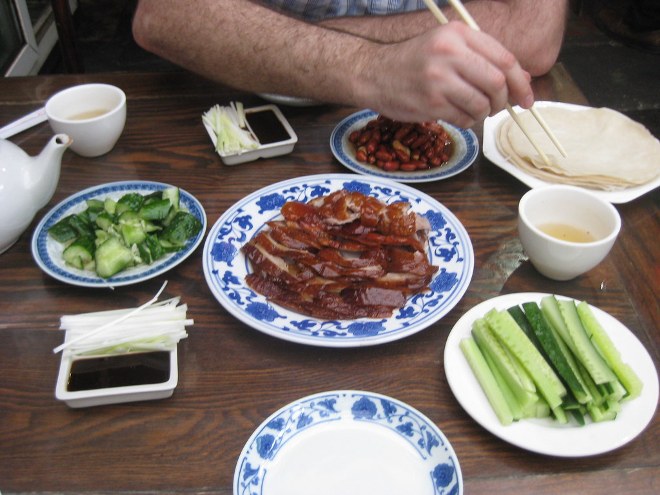 Photo Credit: by Helen K, flickr.com
6. Lion's Head Meatballs: No, don't worry, you don't have to go on the hunt for a lion for this meal. Traditionally made from pork and bok choy/cabbage, lion's head meatballs represent the lion and the cabbage, it's mane. The results? An explosion of deliciousness for your mouth. So, if bringing in the energy of power, strength, and family togetherness is your wish for 2020, you definitely want to add this recipe to the mix.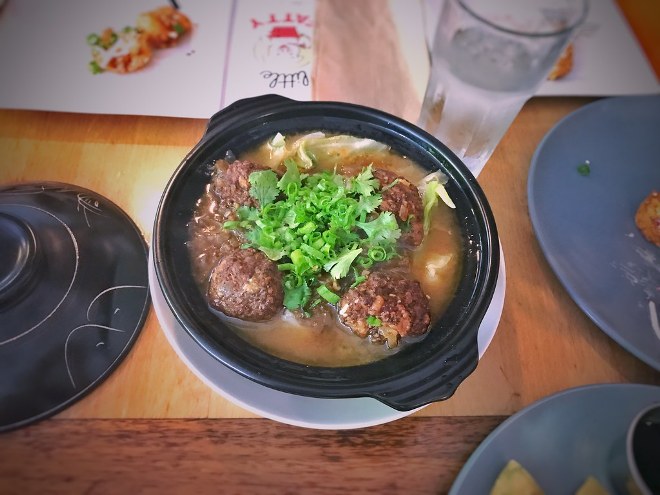 Photo Credit: by T.Tseng, flickr.com
7. Whole Cut Chicken: To bring together a feeling of prosperity and togetherness (wholeness), serving a whole chicken is just the ticket. Cooked to be extremely tender, this flavorful dish with get your mouth watering the moment you see it.
Photo Credit: by gwodesign, flickr.com
8. Mixed Veggie Recipes: An iconic vegetarian new year dish contains at least 8-10 ingredients. One of our favorites is a Lotus Root Stir-Fry. If you've never tried lotus root, now's the time to give it a try. You may find lotus root is difficult to find in mainstream American stores, but they should be readily available in most Asian markets. If you find it, be thankful because harvesting the roots yourself is a muddy, labor intensive experience.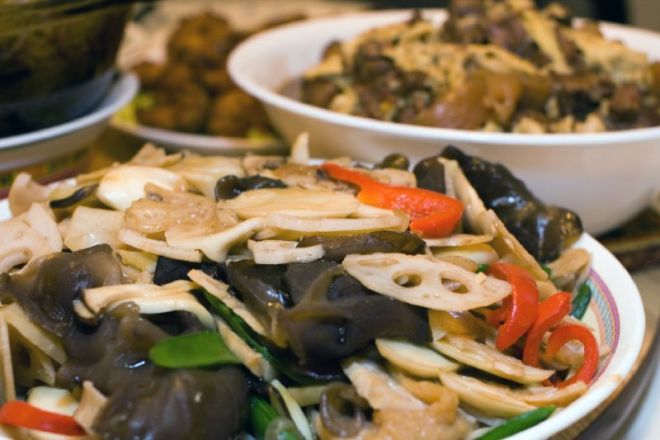 Photo Credit: by Karen Ngai, flickr.com
9. Eight Treasure Rice (Ba Bao Fan / 八宝饭): This easy, sweet, and pretty dish is rooted in history. There are a couple of historical accounts of how it was created, but it's safe to say, it's meaning represents good luck. The number eight is a lucky number for the Chinese and it's also a symbol of balance. Not only that, but the Ba Bao Fan recipe itself balances its tastes with its medicinal properties.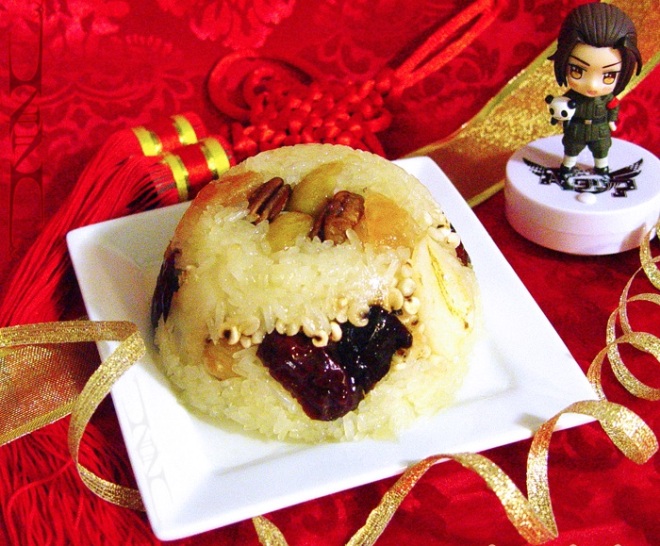 Photo Credit: by hongzhizhu, flickr.com
10. Longevity Noodles: Just like the name suggests, this healthy Chinese New Year's recipe represents and inspires longevity. At nearly any Chinese home during big celebrations, you will most likely find this at the banquet table. The noodles themselves can be fairly bland, so you'll definitely want to try out this recipe to bring out a flavorful punch.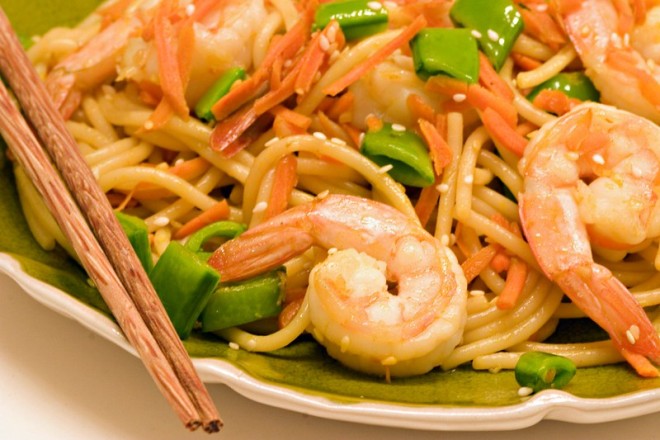 Photo Credit: by Micha, flickr.com
Desserts
Last, but certainly not least, is the moment nearly everyone is waiting for. Desserts. The following recipes are our favorites and certainly ones you'll want to have at your Lunar New Year's celebration.
11. Tang Yuan (sesame or red bean filling): The tang yuan is an important recipe for holiday celebrations because it symbolizes harmony and reunion. Often, it will be consumed at the Lantern Festival, which is the 15th day of the Chinese New Year (and if you're counting, that makes it February 20th this year. If you haven't yet tried these sticky, sweet-filled rice balls, it is sure to become one of your holiday favorites.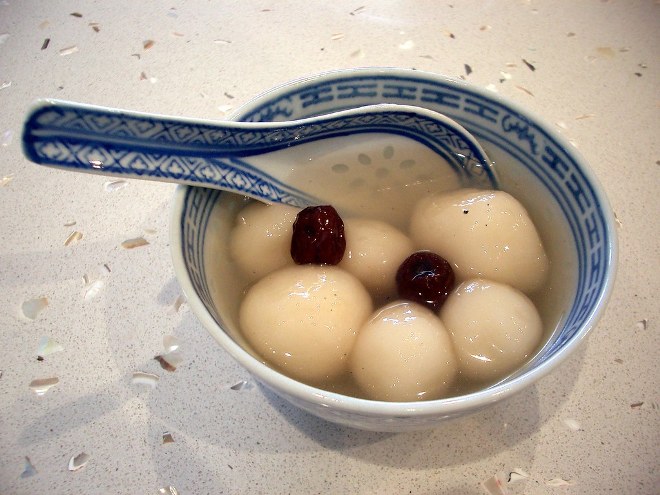 Photo Credit: by Alpha, flickr.com
12. Sticky Cake (Nian Gao): The sweetness and richness of a cake symbolizes a sweet life and one that often gets better as the year goes one. Abundance for the new year is what it's all about, right? The circular nature of these cakes also signify family togetherness, so at family gatherings, it's a must. Click here for one of our favorite recipes.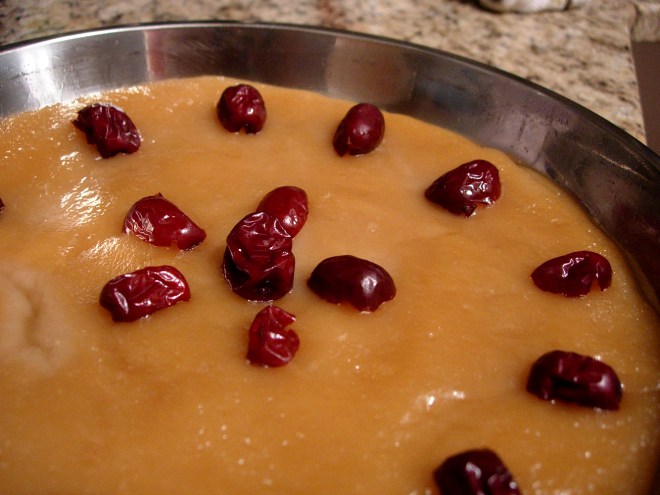 Photo Credit: by wEnDy, flickr.com
As you can see, family gatherings during the Chinese New Year bring much more together than family and good food. It also brings many wishes for prosperity, abundance, luck, and family togetherness. Each and every dish is an opportunity to focus on these things and bring in an energy where luck is on your side. We hope these recipes help you plan and cook the best dishes to celebrate this spring festival. Leave us a comment about which ones you've used in your Lunar New Year's Dinner this year, or offer a few suggestions of your own.
###