<< Why Your Child's Weight Could Be a Big Deal?
25 Common Medications: The Same Drug, Different Names? Part 1 >>
Could House Bill Put American Patients First by Lowering Drug Prices?
by Carissa Andrews - December 23rd, 2019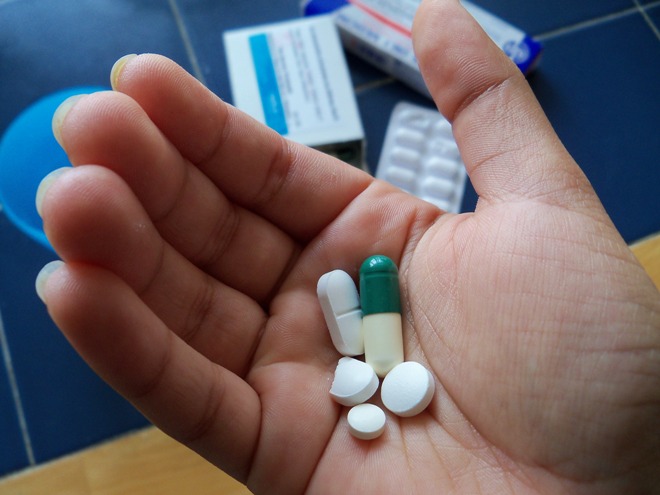 Photo Credit: by Kiran Foster, flickr.com
American prescription drug prices are some of the highest in the world. In fact, according to a study by the Ways and Means Committee, it's four times higher than comparable countries. What's worse, most of the medications are life-saving ones that, without the accessibility to them, a patient could likely die. This includes everything from cancer medications, to insulin. The fight for lower drug prices has been on for decades, but it's really making a strong appearance as we head into the 2020 elections. For the past four years, Trump has been promising to lower drugs and support Medicare negotiations, but now that he has his chance, it's hard to say if he'll actually follow through. The likelihood of it seems to be slipping by with each passing day and his administration is actively breaking that promise by opposing a new bill that promises to lower medication costs. However, the fact remains, drug reform is desperately needed in the United States and the system is only getting worse.
Prescription Drug Pricing Reduction Act
The Elijah E. Cummings Lower Drug Costs Now Act of 2019 (H.R. 3) was introduced in September of this year and is strongly supported by Speaker of the House, Nancy Pelosi. It's frightening to think that in 2019, people are still rationing their medications, such as insulin, simply because they can't afford to maintain their therapeutic dosage. If the bill were to pass into law, it would empower the Health and Human Services Secretary to negotiate the best prices for up to 250 of the costliest drugs, including insulin, annually.
The bipartisan legislation was introduced to give Medicare, the government's health insurance for the elderly, the power to negotiate lowered prices that would affect not only Medicare patients, but consumers with all sources of coverage, both public and private. While some conservative opponents claim this gives the government unprecedented power, private insurers have benefitted from pharmacy benefits managers doing the very same thing. They are able to get rebates from drug makers in exchange for better coverage. So, why not the rest of Americans?
When looking at the cost savings H.R. 3 would bring taxpayers and patients, the numbers are staggering. Americans would be saving in the hundreds of billions of dollars—reducing the prices of some medications by up to 55%. Early estimates say diabetics could save nearly $1000 a year on certain types of insulin.
Opposition to H.R. 3
While the Lower Drug Costs Now Act was passed by the House of Representatives last week, it's unlikely that the president or the Republican held Senate will support the legislation. Despite the fact that this policy has an 85% approval rating by Americans, the Trump Administration is facing pressure from drug companies and is backpedaling on their desire to "negotiate like crazy" to get drug prices down. In fact, President Trump, who faces an impeachment inquiry brought on by Pelosi, vows to veto it, should it land on his desk.
Nancy Pelosi responded that the legislation "delivers on President Trump's promise to the American people that he would negotiate the cost of drugs. Negotiation is what this bill is all about."
As of present time, it is the only bill that includes drug price negotiation in it.
Unsurprisingly, the drug companies are doing everything they can to kill the bill and block it from becoming law. In addition to putting pressure on the current administration, Big Pharma is attacking anything that might look like a benefit coming out of this deal. This includes touting that it will crush innovation or kill small biotech firms. However, according to Politifact, that's simply not true. The Congressional Budget Office (CBO) estimates a potential loss of only 5% of projected FDA approvals. While it is a slight reduction in the name of immediate cost-savings for consumers, it's nowhere near the drastic blow to innovation they like to make it sound. In fact, there is even reason to believe the 5% that would be lost are the drugs that have the smallest benefit and highest price tag.
Of course, Senate Majority Leader Mitch McConnell has publicly denounced the bill, claiming it, "dead on arrival." So far, Senate leadership is refusing to even bring the Lower Drug Costs Now Act up for a vote, which adds it to the stack of bills laying in waste for the Senate to look over.
Trumpcare and the 2020 Election
The 2020 Election is shaping up to be a fight, for sure. With the strong support for the Lower Drug Costs Now Act up, Democrats are drawing a line in the sand on how their platform is different from the Republican's. In terms of healthcare, this could end up being a deciding factor for many voters come election time.
Over the past few years, Trump has said he plans to do whatever he can to lower prescription drug prices, however, not much has changed. This past November, Trump said his administration was working on a plan that would allow states to import discount drugs from Canada legally. Of course, nothing yet has been accomplished, and again, the drug makers are against this proposal.
There's more at stake than simply drug prices for the Trump Administration as we head into this big election year. It's likely Trump's impeachment proceedings will be a black cloud over his re-election bid and even filter to the rest of the Republican races. It's safe to say, many of them are going to turn to big donors like those coming from Big Pharma. However, the refusal of the Republican-controlled Senate to even look at the H.R. 3 bill will certainly impact the direction of the upcoming election and the electability of much of his party.
Putting American Health First
Most Americans believe that lowering healthcare costs, and in specific, drug prices, should be a top priority for Congress. The 2020 election proves to be the battleground for the future of how it might look. However, nonprofit organizations such as Patients For Affordable Drugs Now (P4ADNOW) are doing what they can to educate the American public on the ways to lower drug prices. As one of the leading drug pricing advocacy groups, they engage in electoral activity and direct advocacy support for legislation that would effectively lower drug prices. You can follow them on Twitter (@P4ADNOW) for their latest efforts or get involved.
If you believe H.R. 3 should be brought to a vote in the Senate, call your local legislators and tell them why it's important to you. Be sure to get the conversation going on social sites like Facebook and Twitter. Follow hashtags such as #LowerDrugCostsNow and #HR3 to stay in the loop and help educate those around you. Together, it is possible to lower drug prices in the United States.
###