<< Facts about Triptans in Migraine Management
The Facts and Fiction Behind Male Pattern Baldness >>
Viagra, Cialis, Levitra - Which Male Impotence Prescription is Best
by Carissa Andrews - February 25th, 2019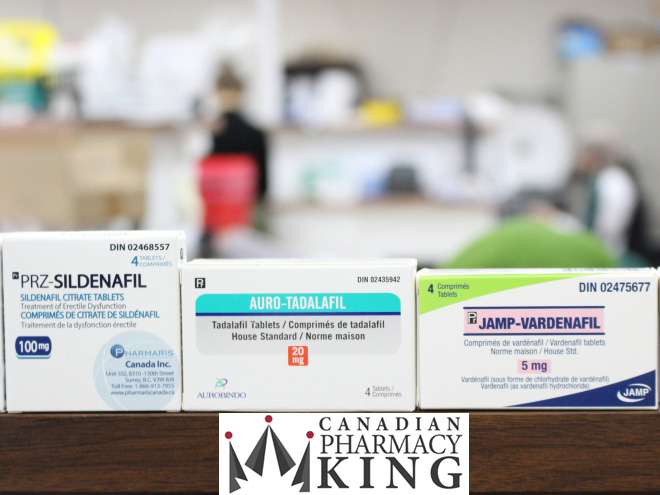 Photo Credit: Viagra vs Cialis vs Levitra by @CANPharmacyKing
Sexual intimacy is an important aspect of our romantic relationships. It brings us closer as a couple, reduces stress, and actually has a host of health-related benefits as well. As a relationship ages an active sex life is a way to remind our partner how interested in them we are. This translates into a confidence booster for both sexes.
So, what happens when sex becomes difficult due to male impotence? The first thing your doctor will want to check into is your heart and cardiovascular health. Men with diabetes and heart problems are at a higher risk for developing erectile dysfunction (ED)—particularly over the age of 40.
For some men, changing their diet and lifestyle can have the desired effect they're looking for. However, many men get a little added nudge with a prescription medication provided by their doctor to combat their ED. If you're one of the millions of men looking to overcome this condition, you'll be happy to know you have a number of options ahead of you.
Viagra, Cialis, Levitra – How Are They Different?
Technically, there are four erectile dysfunction prescription medications approved for combatting male impotence. They include: Viagra (sildenafil), Cialis (tadalafil), and Levitra (vardenafil). Each of them works in basically the same way—by bringing needed blood flow to the penis to maintain an erection.
Which one will be best for you really depends on some of the other aspects of each drug and how it will interact with your sex life. Knowing known side effects, drug interactions, speed of onset, and duration are all important to determining the ED medication that's right for you. Let's give them a closer look.
SIDE EFFECTS
For the most part, the side effects are comparable across Viagra, Cialis, and Levitra. Most common side effects include headache, flushing, and upset stomach. For those worried about persistent, painful erections that last longer than anticipated, the cases are rare—but can happen. If this happens, it should be treated immediately because permanent damage can happen if priapism is prolonged.
DRUG INTERACTIONS
This is another area where the medications are fairly equal. The most notable ones include other ED drugs, medicines used to treat a prostate disorder, blood pressure medications, antibiotics, antifungals, Hepatitis C and HIV/AIDS medicines, nitrates, and drugs used to treat pulmonary artery hypertension. Cialis has an added issue with seizure mediations, while Levitra should not be taken if you are on heart rhythm medicines.
SPEED
All of the medications are active in the system within an hour of taking. If you're looking for a faster onset, you might want to consider Stendra—which can work in as little as fifteen minutes.
DURATION
How long an ED drug lasts is also an important distinction for couples who prefer spontaneity as opposed to pre-planned sessions. Viagra and Levitra last for about 4-5 hours, where Cialis can last much longer—36 hours, in some cases.
Choose the Right Pill to Treat Male Impotence
For those of you who would like to look more into the details of the top three medications, let's do some detailed comparisons. Each medication has its pros and cons, so knowing what's important to you will be key.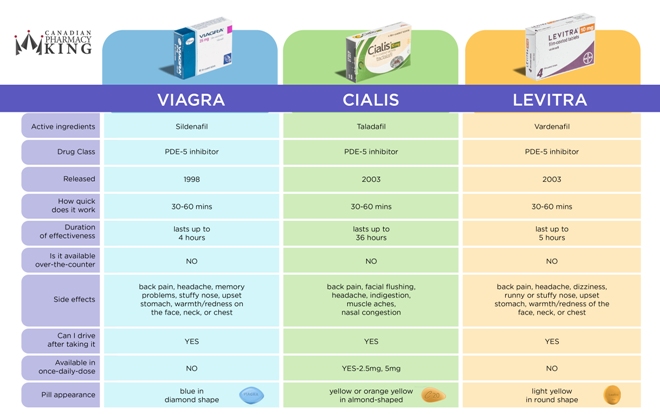 Photo Credit: Viagra, Cialis, Levitra Product Compare Chart by @CANPharmacyKing
ED Products Availability and Price Comparison: Here's How to Save Now
If you're ready to break through the barriers your ED diagnosis has left you with, it's time to consider one of the top-selling medications on the market. Please keep in mind you won't want to buy your ED medications from just anyone. Check to make sure the Pharmacy is CIPA (Canadian International Pharmacy Association) approved, requires a prescription from your doctor, and is backed by a GEO Trust safe shopping cart—all of which Canadian Pharmacy King is proud to be a part of.
We sell name brand and generic Viagra, Cialis, Levitra, as well as the brand name Stendra at a fraction of the cost of U.S. pharmacies. We stock a variety of generic equivalents for erectile dysfunction drugs from different suppliers & countries at the most competitive prices. Please check out the blow graphic to learn about the product availability and price at CPK.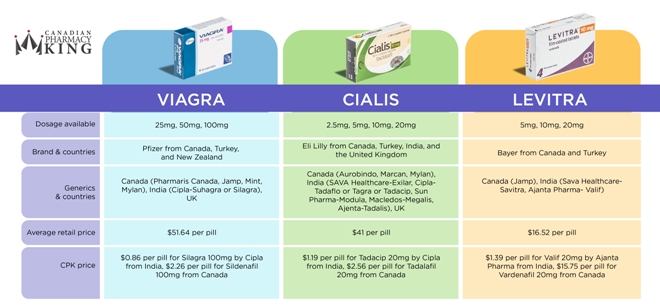 Photo Credit: Viagra, Cialis, Levitra Price Compare Chart by @CANPharmacyKing
Prices and items may vary. Contact our customer service department toll free at 1.877.745.9217 for details. You don't have to take our word for it. Check out our prices and see for yourself. We look forward to having you as a customer.
###