<< Top 20 Best-selling Prescriptions Filled by Canadian Pharmacy King
15 Health Symptoms Women Shouldn't Ignore >>
Why American's Favorite Beverage Might Help You Slim Down
by Carrie Borzillo - September 4th, 2018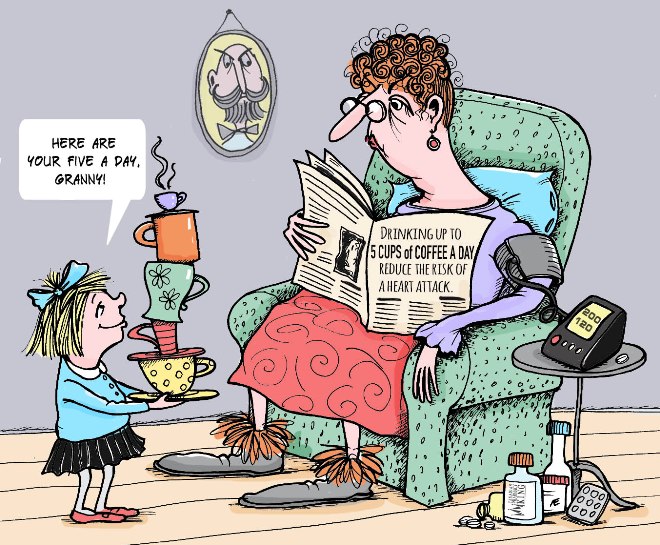 The health effects of coffee are a confusing topic. Depending on the study, coffee can either have such negative health effects as raising blood pressure, the risk of heart attacks, the onset of gout, or even death.
The biggest negative is caffeine's link to blood pressure issues. A study performed by the Mayo Clinic, based in Rochester, Minnesota, found that people with hypertension who were given 160-mg dose of caffeine (or the equivalent to about a cup of coffee) saw an elevation in their blood pressure for about 2-3 hours after drinking it.
Even so, coffee is the most consumed beverage among Canadian adults (yes, even more than water!), according to a 2017 study by the Coffee Association of Canada (CAC). And, 54% of American adults drink coffee every day, averaging about three cups a day.
On the flip side, other researchers say that coffee can actually help decrease heart disease or stroke. A study published in July 2018 by JAMA Internal Medicine found that coffee might boost your changes for a longer life. The study showed that those who consume coffee had a slightly lower risk of death over 10 years than those who didn't drink it.
"We observed an inverse association for coffee drinking with mortality, including among participants who reported drinking at least one cup per day, up to eight or more cups per day, as well as those drinking filtered, instant, and decaffeinated coffee," said the study.
And, now, new research shows it can even help you lose weight.
So before going for an over-the-counter weight loss product, try these tips for changing your coffee habits a bit. (A little more exercise and healthy eating of non-processed, whole foods will help too!)
1. Drink More Coffee
A recent research study has shown that drinking coffee can help suppress your appetite and boost your metabolism — both of which can help one lose weight by eating less food and burning more calories.
Nutritionist Sarah Flowers The Express drinking one to two cups of coffee first thing in the morning can help you "boost both concentration and energy levels," but also to aid weight loss. "Your daily cup of coffee can help boost your metabolic rate, by stimulating thermogenesis, helping you in turn to burn more fat," says Flowers.
Coffee also contains the helpful weight loss aid Chlorogenic Acid, which is known to help slow down the absorption of carbohydrates and breaking down of fat.
Flowers' findings are backed up by other studies. For instance, the International Journal of Epidemiology, which studied the dietary habits of more than 93,000 people, found that those who drank more coffee had a lower risk of obesity and a decreased risk of Type Two Diabetes.
But, tread lightly here. Drinking more than four cups of coffee a day has actually been linked to early death. Another Mayo Clinic study recently found men who drank more than four 8-ounce cups of the caffeinated beverage had a 21% increase in all-cause mortality.
2. Cut Out the Sugar
Let's say you're a fan of the very popular Turbinado sugar in the raw, and think it's a healthier choice. It's actually not. ABC News reported that "sugar is sugar" regardless of the color, and none of it is good for you. And, the raw sugar still has 20 calories per packet.
On average, people put two packets (1 teaspoon of sugar in each) in each cup of coffee. Two thirds of adult Canadians have at least one cup of coffee a day with the average actually being 3.2 cups per day, according to the Coffee Association of Canada. This can bring the sugar calories, which are empty calories as they do zero good for the body, up to nearly 130 calories a day.
According to the Cancer Treatment Centers of America, people eat more refined sugar today than previous generations, which has resulted in increasing obesity rates among adults and children. Obesity has been associated with such cancers as breast, prostate, uterine, colorectal, and pancreatic.
If you prefer artificial sweeteners, well we all know they might be lower in calories, but they're higher in unhealthy ingredients, such as chemicals that the body just doesn't need. One popular artificial sweetener, sucralose (aka Splenda) has zero calories, but has been linked to health issues.
"If it's artificial sugar, it might not have the calories and sugar, but it has chemicals that your body can't break down easily," says coffee expert Lori Lefcourt, who is co-founder of a new product, Unicreamer, which is the first portable, plant-based vegan coffee creamer with 5 grams of protein per serving.
"We can't stress it enough. Seriously, stop adding all the sugar. Long story short, real sugar and [artificial sweeteners, such as] Splenda are not good for you, so leave it out of your coffee," adds Lefcourt.
3. Say "Goodbye" to the Milk, Too!
Milk and sugar go together like peanut butter and jelly when it comes to coffee preparation. Most people prepare their coffee with 2-3 packets of sugar, or teaspoons, and 2-3 packets of creamers, or up to a quarter to a half a cup of milk.
"When we go to Starbucks, we see people adding almost a half of cup of milk to their coffee. That can add up to 50 calories to your cup," says Elise.
Each day, you're talking about an additional 150 calories that is simply not needed. "And, when combined with the sugar, the average coffee drinker is consuming 300 extra calories per day. Some people might say their coffee creamer is sugar-free or low-cal, but it is full of chemicals. Your body has such a hard time breaking down the chemicals. It is best to leave out those creamers are they aren't even milk," says Unicreamer's other co-founder, Elise Lefcourt.
4. Try a Plant-Based "Creamer"
Sure, the Unicreamer co-founders might be biased here, but they are not wrong to recommend a plant-based creamer, such as their product to those looking to cut calories where they can.
"It's the perfect compromise to no sugar and no milk in your coffee," Lori explains. "Elise and I are not fans of black coffee, so we get why you want your milk and sugar. However, with Unicreamer, you won't need it anymore, we promise."
Unicreamer features 5 grams of pea protein and coconut oil per serving, which helps to curve cravings due to the addition of protein. Pea protein and coconut oil protein are healthier than whole milk protein, but it doesn't have the high fat content.
"By lowering your sugar and caloric intake, losing weight and being healthier becomes a lot easier. In addition, with your daily average of three cups of coffee, you'll be adding in 15 grams of protein. It's a win-win if you ask us!" adds Elise.
###
Leave your comment:
Your email address will not be published. Required fields are marked with *.