<< Mental Health Challenges for the Adopted Child - What Are They? How to Handle Them
Domperidone Only Available on Prescription from Canadian Pharmacy King >>
20 Super Simple Tips to Save Thousands on Healthcare this Year
by Carissa Andrews - July 16th, 2018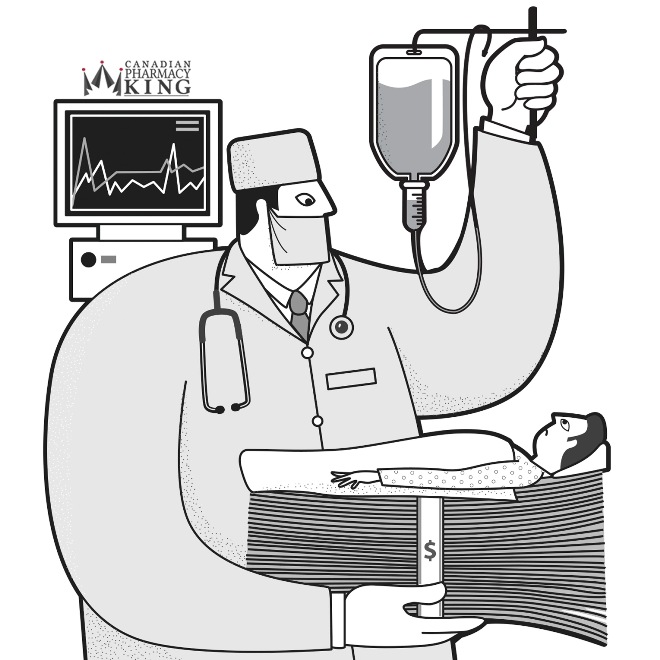 It's no secret, healthcare can be expensive. This is especially true for those who live in the United States where healthcare and prescription drug costs continue to soar to new heights. However, there are some surprisingly simple ways you could cut your healthcare costs—saving you hundreds, if not thousands of dollars.
Patients with ongoing medical conditions, monthly prescription refills, and necessary repetitive medical procedures know all too well how depleting medical bills can be to a bank account. The #1 cause of bankruptcies occurring in the US each year are due to healthcare bills and subsequent debt. But this doesn't have to be the way of things. There are some surprisingly easy ways to reduce costs and keep medical spending down. Let's take a closer look at some of the ways you may not even be aware of:
15 Tips to Reduce Healthcare Costs
1.Shop around for the right plan
Every family's healthcare needs will be different. What a single woman in her 20's wants will be different from an aging couple with medical issues, or a family of five. Don't automatically assume a plan with a high-deductible won't save you money or a low deductible plan will. For example, even high-deductible plans could save money if your family doesn't visit the doctor often—because it reduces the monthly premiums you and your family have to pay. Determine what's most important to your health and financial needs; choosing a plan that fits the bill.
2.Nonurgent Procedures
When you have a deductible that must be met before your insurance plan truly kicks in, plan to schedule any nonurgent procedures toward end of year. This way, you're more likely to have the deductible met—saving you potentially thousands of dollars.
3.Boost your FSA/HSA spend
Flexible and Health Spending Accounts are at important part of smart healthcare planning. Not only can you set aside up to $3350 (or $6650 for families) tax-free, but any leftover money at the end of the year can be rolled over and invested. If you have an off year, you can even adjust your FSA and HSA mid-year and after an injury or diagnosis—allowing you to spread out the savings and cover the surprise cost. But only if you have your FSA or HSA open at the time of the health event.
4.Review your bill before you
pay – Did you know, up to 50% of healthcare bills can have mistakes or other issues resulting in the wrong amount being owed? Perhaps your insurance company simply hasn't paid their portion yet. Before you write that check, look over your bill and review everything with a critical eye. Make a call to the billing department right away if you suspect an error has been made.
5.Appeal a denial of
coverage – Sometimes insurance companies decide they don't need to cover a particular procedure or medication. However, more often than not, this decision can be an arbitrary one, not taking into account all of the ailments you may have to contend with. If you feel a denial has been made by mistake, don't just accept it and pay the bill. File an appeal to the denial yourself, or hire an attorney who specializes in this sort of thing, if the medical expense could put your financial health in jeopardy.
6.Know your network
– As we discussed, not all healthcare plans are created equally. Be sure to pick doctors who are in-network for the plan of your choice and avoid those who are out of network. Double checking on hospitals and doctors for big procedures, even if you've been referred, is also smart—as your doctor or the one scheduling your appointment may not be aware of your network of providers. A phone call early on can save you a lot of hassle and tons of money in the long run.
7.Get regular checkups
– A lot can happen in a year—which is why it's important to visit your doctor regularly for checkups. You'd be surprised how many times a checkup can alert you and your doctor of potential problems before they become expensive medical issues.
8.Stay up-to-date on immunizations
– Even adults require immunizations from time to time. By staying up-to-date on these vaccines, you can ward off some potentially life-threatening diseases and avoid preventable trips to the doctor.
9.Have better hygiene
– Your skin is the first line of defense against coughs, colds, and other sicknesses. By learning how to properly wash your hands—and teach family members in your home to do the same—you can avoid many medical maladies and stay much healthier throughout the year.
10.Don't use the ER in place of doctor visits
– If you're having a non-life-threatening issues, don't go to the ER to have them addressed. This can skyrocket your costs, turning a more affordable doctor visit into one that's financially unmanageable. Instead, make appointments, stick to them, and leave the emergency room for truly important injuries and illnesses.
11.Talk logistics first
– Before you jump into that test, procedure, or new prescription, ask if they're necessary and/or if there is a cheaper option. Often, doctors don't think to prescribe generic medications, for example—or know if a procedure is going to cost you thousands out of pocket. Take down the information for what your doctor would like to have done and call your insurance provider to find out costs beforehand. If a procedure isn't truly necessary and would cost you more than you can afford—you'll be able to confidently make the decision to walk away until another time.
12.Show up for appointments
– Many hospitals and clinics are beginning to charge patients who don't show up for their allotted appointments. Some even go so far as to refuse service to patients who don't show up to three or more appointments. Time is money and with the amount of people seeking medical professionals in a day—it's important for those who really need to be seen to get in on time. Be both courteous of other people's time—as well as aware of how a no-show can impact your medical debt.
13.Pay your bills on time
– This may be a no-brainer, but you would be surprised how many people see a medical bill and set it aside for another day. This can be good if you have something you need to review or have questions on—but when you know the bill is legitimate and still don't pay—you're costing yourself money by incurring late fees. If you're financially unable to pay the bill, move on to tip 14 to see if there's financial assistance available as soon as possible.
14.Talk to Your Clinic/Hospital
– Some hospitals and clinics have financial assistance programs that can reduce or completely eliminate your bills if you are uninsured or underinsured. Give the billing department a call to find out if they have an application you can fill out. This simple act can alert the billing department of your need, as well as minimizing or eliminating and late fees and compounding the medical debt further.
15.Keep test results on-hand
– By having all of your medical tests and records on file and at your fingertips, you can save yourself time and money. By being able to produce the results to your doctor (especially new or different physicians) you can avoid having the same tests duplicated when they're unnecessary.
5 Tips to Reduce Prescription Drug Costs
1.Look for patient assistance programs (PAPs)
– For lower income bracket families, these programs can cover your prescriptions—reducing the amount of out-of-pocket costs by up to 60%. Even if you already have prescription coverage, PAPs can help. Your eligibility may depend on income, amount of the copay, etc.
2.Use discount prescription cards
– Even if you don't have insurance (or are underinsured), you don't have to pay full price for all of your prescriptions. There are
free discount programs
you can sign up for to reel those costs in.
3.Go generic
– Forget those spendy brand name medications. Whenever possible, go for the generic medication. Not only are they equivalent to the brand name medication, but they can save you a ton of money on your prescription or over the counter medication.
4.Cut higher dosage pills in half
– As long as you don't have a controlled-release medication, you can ask your doctor to prescribe a higher dosage medication to cut them in half. The copay for a lower dosage medication is often the exact same price for its higher dosage counterpart. By getting the higher dosage and cutting it in half, you can extend your savings and the number of days your prescription carries you.
5.Order from a Canadian Pharmacy Online
– This might go without saying, but ordering your prescription from an affordable, reputable online Canadian Pharmacy, like
Canadian Pharmacy King
, can save you hundreds of dollars on your medications. Be sure to utilize services like
PharmacyChecker.com
to ensure the Canadian Pharmacy is in good standing and offers the medications at an affordable price.
Saving money isn't always easy, but luckily, saving money on your healthcare just might be if you follow some or all of these tips. Whether you're already insured, under-insured, or have no insurance at all—everyone can find ways to save on their medical expenses—potentially keeping them from filing bankruptcy when unexpected medical expenses arise.
###
Carissa Andrews is a freelance writer, graphic designer, and author. You can learn more about her at her website.
Leave your comment:
Your email address will not be published. Required fields are marked with *.