<< Pharmacy or Drugstore? Things You Should Know About Canadian Pharmacy
More than Money Saving: Facts About the Evolution of Online Pharmacies >>
Here or Gone: 15 Ways to Celebrate Dad this Father's Day
by Carissa Andrews - June 11th, 2018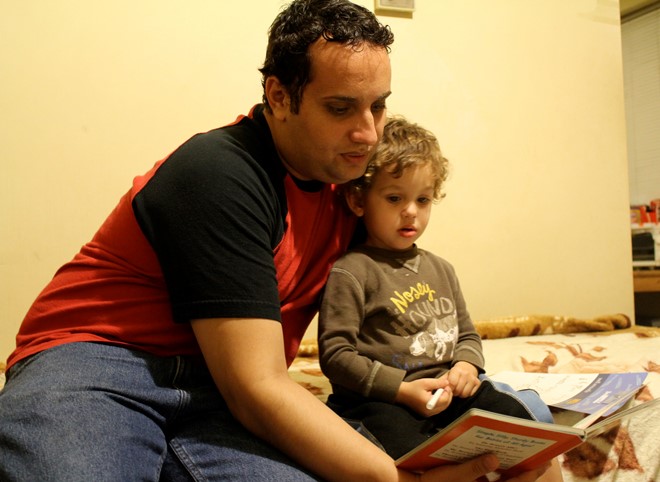 Photo Credit: Cody Wiegand, Flickr.com
Your dad may be getting older, but it doesn't mean you should celebrate his role in your life any less. Believe it or not, regardless of age, every dad wants to feel loved, appreciated, and still be actively a part of your life. As generations move on, it's easy to think your older dad doesn't want to be doted on. You may even be busy being celebrated as a father yourself (or celebrating the fatherhood of your spouse). However, as time continues to pass, the older your father gets, the more important it is to stop and take some time to not only be with him—but to let him know how much his love and support mattered to you.
There is honestly no better way to do this, then by simply spending time together. At this stage in the game, your dad likely has all he needs. Tools, toys, etc. are probably no longer on his list—which makes buying something for him more difficult anyway. So why not give your dad the gift he's really hoping for.
The Best Gift: Spending Time Together
Rather than spending money on your day (because let's face it, he's told you a million times he doesn't need anything, right?), spend your time on him instead. Take a couple of hours out of your day to go visit your dad or talk with him over the phone if you're too far to pop in. Put away your cellphone or shut off alerts and just be present with him while you still can. Here are a few ways you might want to try. You could pick one, or even mix and match a couple all in the same day.
1.Take a walk together
Was your dad the outdoorsy type? Does he still go for his daily walk? Go out and join him or get him off the couch to take in the fresh air. It's June, after all! Not too hot, the bugs aren't nearly as bad as they are in July. And the breeze feels lovely. Take him on an actual hiking trail, or just simply walk out the front door. The choice is yours.
2.Talk about old times
While you're on the hike (or even if you're just at home or on the phone), talk to him about old times. It's nice to reminisce about things we've seen and done as we age. Your dad may actually appreciate the opportunity since those memories are likely clearer—thanks in part to younger brain cells that held the memories—but also thanks to illnesses that may arise or medications we may start taking as we get older.
3.Listen to his stories
Sure, you may have heard your dad's stories millions of times, but they're comforting to him. They also bring him joy, or inspire laughter, or have really made an impact on his life. Allow him to regale you again and this time—dig in deeper by asking questions.
4.Tell your own stories, memories, etc.
Some dads out there may not be able to speak anymore. Often, dementia patients struggle to find words, or their conversations don't make sense. If this is the case with your dad, tell your own stories to him. Allow him to sit with you while you tell him what your son or daughter has been up to, or your own grandchildren, depending on your age. Fill him in on your latest adventures.
5.Sit together and watch his favorite TV show/channel or sports event
If talking isn't an option, due to outbursts or other health issues—sometimes sitting together and enjoying each other's company is the best thing you can do. Spend time watching his favorite TV show or sports event. The simple act of sitting side by side will still let him know you care and are here for him.
6.Take him for a day on the boat
Do you live near a lake, river, or ocean? If your dad is healthy enough to go out for the day, why not take him out on the water for a little fresh air. Rent a nice pontoon for the afternoon or go out on your family boat if you're lucky enough to have one. Bust out the fishing poles and see who can catch the most fish.
7.Play a game of pool
Do you have a pool table? Why not enjoy it with your dad? If you don't have one, treat your father and take him to a local pub or restaurant with a set of tables. Getting out of the house or nursing home might be just thing you both needed.
8.Enjoy a meal out together
If your dad has a favorite restaurant or one he hasn't been to yet, surprise him with a meal out. Enjoying a good meal where you can focus on each other's company is just the thing you need to listen and tell all of those wonderful stories.
9.Play a card or board game
Does your dad love card games? Why not bust out the card deck and play a game or two of cards. Or dust off the cribbage board or backgammon set and play a quick game.
10.Have a family BBQ
Send out the invites to all the friends and family and make a big deal about the day—or keep it small and quaint. Whatever works for you. Bust out some music, get the grill going, and set up the lawn games together with dad.
Celebrating Dad When He's No Longer Here
Not everyone reading this will be lucky enough to have their dad still around, come Father's Day. If this is the case, you're not alone. Losing your dad—at any age—is hard. It can leave an emptiness inside you that's hard to fill, and even more so on the days he's meant to be celebrated. Don't hide from the sadness or try to ignore the calling to still celebrate his life. Emotions are healed by moving through them. If you're looking for ways to remember your dad this Father's Day, here are a few ways to consider.
1.Tell a story to your kids about grandpa
Your kids may or may not have gotten to spend much time with your dad. While your memories may be fresh in your mind, your kids may only know Grandpa by some fleeting childhood memories or photos around the house. Sit down with them and tell them some of your favorite stories about times you spent with your dad and let them hear about his wonderful life.
2.Go through old photos
Whether alone or with others in your family, take a little time out of the day to go through old photos and remember your dad. It will surely bring a smile to your face, and probably a few tears, too. But that's okay—it means his life did its job by impacting you and touching your heart.
3.Enjoy his favorite meal
Was there a favorite meal you always had to have when your dad was around? Did he love his pot roast? Lasagna? Something else? If it's been a while since you last enjoyed his personal favorite, look for a good recipe (or better yet, see if you can find his) and make his favorite meal in honor of him today.
4.Watch his favorite movie or sports team
Settle down on the couch and watch your father's favorite movie, show, or sports team on the TV. Even if you share those in common with your dad, the simple act of watching it because they were his favorite will bring him to mind and help you acknowledge his presence in your life.
5.Gather with family
No one knows how much impact your dad had than others in the family who share your love of him. Get your brothers and sisters, aunts and uncles together for a meal, a BBQ, a party, or just to sit around and talk over coffee so you can pay homage to the man you all miss this Father's Day.
Even if your father is aging or has already passed away, Father's Day makes for a wonderful opportunity to celebrate his life, love, and accomplishments. There are so many ways to show your dad how much he means to you by giving him the gift he really wants: your time. We hope these ideas sparked some interest, so you can create a fun and relaxing day to celebrate your dad. Happy Father's Day!
###
Carissa Andrews is a freelance writer, graphic designer, and author. You can learn more about her at her website.
Leave your comment:
Your email address will not be published. Required fields are marked with *.