<< Sidestep Arthritis with a Better Gut Biome
Eliminate Hypertension by Dialing Back Salt >>
Gluten-Free Meal Planning that Won't Break the Family Budget
by Carissa Andrews - May 7th, 2018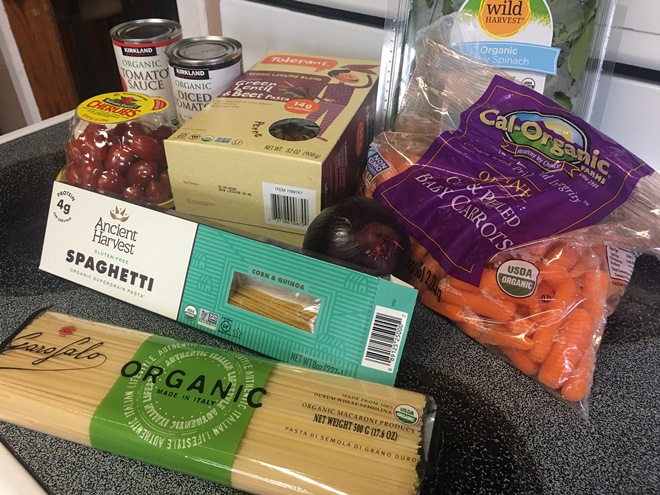 Photo Credit: by Carissa Andrews
When you have a big family, meal planning on its own can be an adventurous endeavor. From making sure there are enough plates to cover everyone, all the way down to keeping everyone's individual tastes happy, you need to be prepared. This is especially true when you have kids, or people with specific food allergies.
In our house, I'm the one with a gluten intolerance. It's not Celiac disease, but a subtler sensitivity that causes a lot of problems anyway. I suffered from lots of headaches, bloating, and even weight gain I couldn't get rid of regardless of how hard I worked out or how I restricted my calories. In order to sidestep the side effects of gluten, I've deliberately cut it out of my diet. While I feel better than ever, it was originally a learning curve for our large family to contend with. Especially when I'm not the one cooking. However, I feel better in knowing I'm not alone—and I'm helping my family to be more considerate and contentious of people with food allergies.
Since humans began adding preservatives, artificial dyes, and genetically modifying our food, food allergies have risen. More than 15 million Americans suffer with food allergies—5.9 of which are children. That's almost 30% of kids with a food allergy. In fact, approximately 200K people visit the ER each year over food allergies. Some of the most notable and common allergies we see around the world today include:
1. Gluten Intolerance
• Celiac Disease
• Sensitivity
2. Lactose Intolerance
3. Food Dyes
4. Artificial Preservatives
5. Peanut or other tree nuts
6. Sesame
According to the Centers for Disease Control and Prevention (CDC), the prevalence of food allergies has increased by a whopping 50% between 1997 and 2011. For me, gluten is just a sensitivity, but every three minutes, a food allergy reaction is sending someone to the emergency room. So, what do you do if you have a food allergy in your family when you're trying to put food on the table?
Figure out Goals/Needs
If you have a large family to feed, like I do, figuring out the best way to feed them all while avoiding allergens can be a test in creativity. This is increased even more when you have a budget to stick to. So, is it possible to make big family healthy meals on a budget and without allergens in them? In an answer, yes.
In our family, we have a few different food allergies we're working to avoid: gluten intolerance being the big one. We also have extended family members who can't have liquid smoke flavorings and artificial dyes.
The interesting thing is, as soon as you know what you have to avoid, meal planning and goals are super easy. You can do it by asking yourself a few simple questions and moving forward accordingly.
Ask yourself:
• Based on your family's allergies, what do you have to avoid?
• Are there substitutions you can include to continue eating meals you enjoy?
• Are there meal items that are hard to buy?
• Can you get what you need in bulk?
• What is the biggest hurdle?
Once you answer these questions, you'll have a better idea of how to move forward with your meals, so you don't completely destroy your budget or go crazy with time and effort.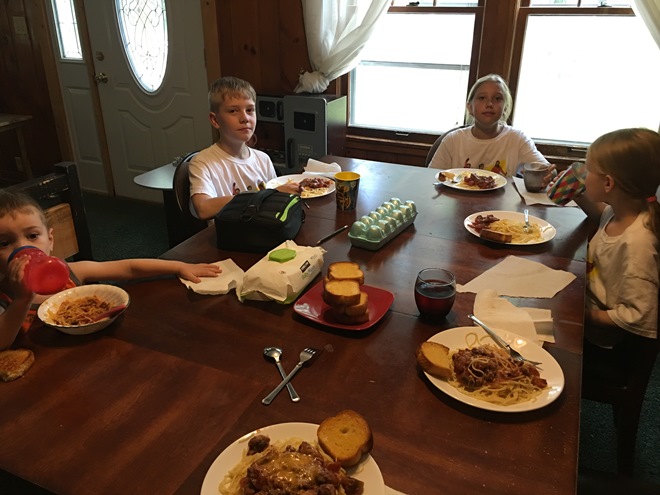 Photo Credit: by Carissa Andrews
Budget-Friendly, Gluten-free Big Family Dinner Recipes
When we have all five kids at home, plus their girlfriends/boyfriends, we're cooking for a ton of people. Without overcomplicating things too much, it is possible to still cook a healthy, allergen-free meal for your troop. Here are three of our tried and true dinner meals we have each week. Not only are they yummy, but they keep the whole clan happy and fed without killing the budget.
Sunday Roast with Gluten-free Gravy
2-3 lb roast (beef, pork, chicken, lamb)
1 ½ potato per person (for roast potatoes)
Frozen veggies (broccoli, cauliflower, peas, corn)
Carrots (cut)
Gluten-free gravy
We always end our weekend with a Sunday roast. We rotate the meat each week, but the rest of the meal is almost always the same. This helps us buy potatoes and frozen veggies in bulk to keep costs down.
Start by peeling, then boiling the potatoes in large chunks. At the same time, prep the roast in its pan with a dash of oil and some rosemary and sea salt sprinkled on top. Determine how much time your roast needs to cook based on its size and meat type. When there's roughly an hour left of cook time, throw your drained potatoes in another pan with a little bit of oil. Sprinkle with rosemary and sea salt and mix in 15-minute intervals as they roast alongside the meat. With a half-hour left, get the carrots boiling. In the final 15 minutes, heat the frozen veggies to boiling, then turn off and allow to slowly cook. Make gluten-free gravy (McCormick's has a great one!) and serve. Prep time: 20 minutes. Cook time: Approximately 2 hours.
Spaghetti with Gluten-Free Noodles
Organic spaghetti noodles
Gluten-free spaghetti noodles
Sauce:
½ lb ground beef
½ onion (chopped)
1-3 cloves garlic (diced)
1 small package mushrooms, chopped (optional)
1 can diced tomatoes
1 can tomato sauce
Dash of dried sweet basil
Dash of dried oregano
Dash of dried marjoram
Worchester sauce to taste
Maple Syrup to taste
Salt to taste
Grated cheese (optional)
We like our spaghetti homemade around these parts. For the majority of us, we buy organic spaghetti noodles in bulk at Costco. Then, for me, I get the gluten-free noodles from our local grocery store. Other than needing two different pots to boil the noodles, and two different spaghetti stirrers so we don't cross-contaminate, everything else cooks the same. Follow the boiling instructions on the noodle packages. Don't start the noodles until the sauce has simmered for at least 15 minutes.
For our sauce, I always start by sweating the onions and garlic in a bit of olive oil. Next, I add in the ground beef, Worchester sauce and bit of syrup to bring out a slightly sweeter flavor for the kids. When the meat has browned, add in the mushrooms (but it tastes great without, too!) As the majority of the water from the mushrooms has evaporated, add in the diced tomatoes (canned or fresh) and can of tomato sauce. Stir to mix. Next, add in the seasonings: sweet basil, oregano, marjoram, and salt to taste. Stir to mix again, cover, and simmer for 15 minutes. Turn on water in both pots and bring to a boil. Add noodles and cook to your liking or package instructions. Be sure to drain the gluten-free noodles first and don't mix up stirring utensils so you don't cross-contaminate. Once all the noodles are laid out, add sauce, and top with grated cheese of your choosing. Enjoy! Prep time: 15 minutes. Cook time: 45 minutes.
Gluten-free Tacos
Gluten-free soft tortillas
Corn-based hard-shell tacos (check labels for gluten)
1 lb ground beef
Toppings:
Mushrooms
Cucumber
Spinach/lettuce
Tomatoes
Onions
Taco sauce
Sour cream
Cheddar cheese
Tacos are a favorite amongst the kids in our house. It's nice for us, too, because it means they can each build their own meal without us trying to do it for them. You will need some extra bowls or serving platters ready for this one. Be sure to read all labels on the taco shells and tortillas. Most soft-shells are made with wheat, so visit the gluten-free or organic section of your store to get some that are made with corn instead.
The most time-consuming part of this is chopping all the veggies. If you have kids, get them in to help and it will make it go a lot faster. Sautee up some ground beef in a pan. Chop up mushrooms and onions next, so they can be sautéed quickly in some oil before putting in their own bowls. The meat, mushrooms, and onions can be done while you chop everything else. If you like green onions instead of cooked red, yellow, or white onions, go for it. Preheat the oven if you're making hard-shell tacos. Next, chop spinach or lettuce and put in a bowl. Chop tomatoes and set in their bowl. For those who like cucumbers in tacos (like my husband), chop some cucumbers and put in a bowl. Have one of the kids shred some cheese. Pop the hard-shells in the oven (usually for about 5 minutes) and set all of the bowls, with spoons to serve, on the dining table. Put soft-shell tortillas in the microwave for 10-15 seconds to warm and put out on the table. Put sour cream and taco sauce out. Let everyone grab their own plates, napkins, and silverware. When the hard-shells are ready, let the build-a-taco commence! Prep time: 10-20 minutes. Cook time: 5-10 minutes.
As you can see, food allergies and meal planning can be a challenge. The good news is, it doesn't have to break the bank or take a ton of time. Gluten intolerance is only one food allergy, but it's on the rise along with the rest of them. If your family's allergy is different, dig into your options and know that creating healthy meals to satisfy everyone doesn't have to be as crazy as you may originally believe. It just takes a little bit of prep time to consider your goals and find out what alternatives may be available to you as you move forward with your allergen free cooking.
###
Carissa Andrews is a freelance writer, graphic designer, and author. You can learn more about her at her website.
Leave your comment:
Your email address will not be published. Required fields are marked with *.