<< Singles Day, Black Friday, & Cyber Monday: Beware the Health Hazards
How Smartphone Use Affects Teens' Mental Health >>
Bestselling Gadgets to Please Even the Toughest on Your List
by Carissa Andrews - December 27th, 2017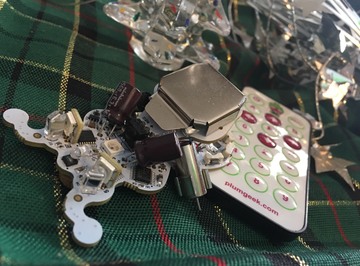 Photo Credit: by Carissa Andrews
If you're still looking for some really unique gifts for the people on your Christmas list, we have a few ideas you won't want to miss. From the Health Nut, to the Survivalist, and even the kiddos… Some people are harder to buy for than others, and each have their own unique loves. After some extensive research, we've broken the gadgets down into five categories, so you can quickly and easily identify the person on your list. Who knows, after checking them out, you may even want to add them to yours. Let's take a closer look:
The Health Nut
Know someone who loves to try the latest and greatest tech for keeping healthy? Or perhaps someone who could benefit from a little tech nudge in the coming year? Here are a few great products for keeping fit and staying healthy for 2018.
• Finis Neptune – Do you know a swimmer who loves music? Why not give them the unique gift of being able to listen WHILE they swim? This unique gadget uses bone conduction audio to relay the music; no need for earbuds at all! It has tons of song storage and an 8+ hour rechargeable battery. What's not to love?
• HAPIfork – We all know people who snarf their food way too fast. Maybe it's even you. This handy gadget helps the user slow down and enjoy their meals by sending vibrations through the fork if it senses "speed eating." It also tracks some great data, such as eating duration and the number of fork servings per minute. All of it tracks back to the app when transferred by mini USB.
• Sensoria Fitness Socks – These super smart socks are designed for runners and can give the user more details about how your runs have been going, as well as tips on how to improve. It syncs to a smartphone app and provides tips on your ideal pace and if you need to alter the way you land your feet. And it's 100% washable.
The Techie
We each have people who simply have to have tech for everything. Here are a few awesome products that are sure to thrill each and every one of them.
• TrackR pixel – Know someone who's great with technology, but always losing stuff in the real world? This Bluetooth tracking device may be just the thing. Never lose your keys again. Easy peasy. Wanna track your kid without a smartphone? No problem. This versatile tracking system is just the thing.
• Anker PowerCore 5000 – This super compact charger is awesome for kids who are constantly running down the batteries on their phones. They're also superb for the camper looking for a little boost for a day or two. It's super-fast at charging up smartphones, tablets, and more.
• Livescribe 3 Smartpen – This Bluetooth enabled smartpen does more than just take notes. It gives you a way to turn everything you write or draw into a digital image or text. Sync it with your smartphone or tablet's mic to record audio that flows with everything you write down. Great for the college student who loves to try out new tech to take learning a step further.
The Car Enthusiast
There are a number of great gadgets for the Car Enthusiast who's always looking for the next cool addition to their vehicle. Here are some of the trends hitting the market this year.
• FixD App – What Car Enthusiast doesn't want to make it easier to self-diagnose car troubles? With the new FixD app and sensor, you can do just that. This handy new gadget plugs into your OBD-II port and translates specifically what your car's warning lights are trying to tell you.
• BlueDriver Scan Tool – Another fantastic tool to diagnose your car, BlueDriver takes the FixD app and ups it a notch. Not only does it read all the codes other scan tools read, it gives verified fixes for your specific problem and it's backed with some pretty awesome support.
• Pocket Jumper – Do you know someone who always needs a jump? Or maybe you just want to make sure you're never stuck in a spot without a way out. The Pocket Jumper by Survival Frog is a complete jump powerback, complete with mini jumper cables. No more awkwardly parked jumps necessary.
• Navdy Heads Up Display & GPS Navigation – Bringing the world of augmented reality to your dashboard, this is a GPS and smartphone interface that allows you to stay connected, all while focusing on the road ahead. Entrepreneur, C|Net, and TechCrunch all have rave reviews. Great for the driver who wants to stay connected, but without the distracted driving experience.
The Audiophile
Music is the voice of the soul. It speaks to each of us on many levels. If you know someone who has a love of music—here are some stellar gift ideas that will totally delight them this year.
• Amazon Echo – It's likely you've already heard of this amazing device, but in case you haven't, it's worth mentioning. The Echo is a speaker with voice controls that allow you to access music, make calls, control smart home devices, and tons more. It also comes in a smaller version, the Echo Dot. Both are equipped with Amazon's AI, Alexa. For those who are really ambitious, there's also the new Echo Plus.
• VicTsing Shower Speaker – This super affordable shock-proof, dust-proof, waterproof speaker is perfect for the bathroom singer in your family. It's even equipped with a silicone case and suction cup, for convenient placement anywhere. Best yet, it has a Bluetooth Mic capabilities, allowing you to control your music—hands free.
• Rayway LED Music Bulb – You've never experienced music until you experience it through the mood lighting of the Rayway LED Music Bulb. With sixteen colors to choose from, you can use it to kick off a party, or simply to relax and unwind. This lightbulb comes with a built-in 3.0 speaker and can be paired via Bluetooth to stream music.
The Survivalist
We all know someone who loves to future-proof themselves. Why not help them find the gear they're already looking for? Whether they're into camping, backpacking, or hardcore survival, here are some must-have gifts and gadgets to consider.
• Lifestraw – Who doesn't want personal water filtration? Whether you're going out for a hike, camping, or getting a bug out bag ready, these handy straws are a must-have. Even if they already have one, the Survivalist on your list could always use another. They're lightweight, and removes up to 99.9999% of all waterborne bacteria. They also make a number of other water filtration products worthy of checking out.
• ZeroLemon SolarJuice Solar Charger – Shockproof, rain resistant, this solar charger is the perfect companion for campers and Survivalists alike. It's portable, has an LED flashlight with four modes, and charges up your smartphone, Nintendo Switch, and more—all with the powerful energy of the sun.
• Wazoo Adventure ™ Paracord Survival bracelet – Know someone planning to survive the zombie apocalypse? Or just someone who likes to be super-prepared? Look no further than this awesome survival bracelet. It comes equipped with more than 15 survival tools—all in the guise of a bracelet. Get a compass, Firestarter buckle, fishing line, straw, and much more in this comprehensive wearable survival kit.
The Kids
Kids love to fiddle with things. If you want to encourage STEM learning, or give your kids something totally new this year, why not have a look at some of these unique gift ideas that take fun to the next level.
• Wink2 Robot – If you haven't had the pleasure of checking out Plum Geek's new STEM robots, you'll want to get started. Kids all across the country are using them in classrooms, as well as at home for diving into the basics of robotics and coding. Plum Geek currently has three robots kids can play with as they start out. The Wink2 is the beginner bot, but if your budding engineer or developer has already been writing code, definitely check out the Ringo2, and the Spirit Rover.
• Lego Mindstorms – For kids who have just about every Lego kit known to man, this is the ultimate challenge. With Mindstorms, kids are combining the familiar world of Legos with the ability to create and code their own robotic creations. Everything is possible—from a humanoid robot, to a slithering snake, a racing truck, and more. Each with the ability to program and control from the Commander App for your smartphone or tablet.
• Fingerlings – Both boys and girls of all ages will love these adorable critters that cling to your fingers. They're super interactive: they make noises, respond to sound, and move in some delightful ways. Definitely worthy of adding to your list.
As you can see, there are a ton of great gadgets, gizmos, and devices making waves this year. It doesn't matter what kind of person you're shopping for, we have you covered. Most of these gadgets make life easier—and if nothing else, a lot more fun. We hope these gift ideas have sparked your curiosity and imagination on your journey to finding the perfect gifts for everyone on your list this year. Best of luck, and Happy Holiday from all of us at Canadian Pharmacy King!
###
Carissa Andrews is a freelance writer, graphic designer, and author. You can learn more about her at her website.
Leave your comment:
Your email address will not be published. Required fields are marked with *.