<< Fidget Spinner Health Safety Every Family Should Know
Improve Your Mental Health with Gardening This Summer >>
How To Avoid Food Poisoning At This Summer's BBQs
by
Carrie Borzillo
- July 17th, 2017
Summer is a time for backyard BBQs, picnics in the park, and hot dogs at the baseball game. But, if your summer treats are not handled, prepared, or cooked properly, you could end up with a bad bout of food poisoning. And, nausea and abdominal pains are no walk in the park. Here is what to look out for before packing your picnic basket or firing up the grill...
Burgers & E. Coli
What it is: E. coli is one of the biggest food poisoning killers. Undercooked meat and fish are the main culprits, but it's also found in feces of infected people. That means if the grill-master didn't wash his or her hands after going to the bathroom and has been in contact with the bacteria, it can be transmitted to the food they handle and then onto you.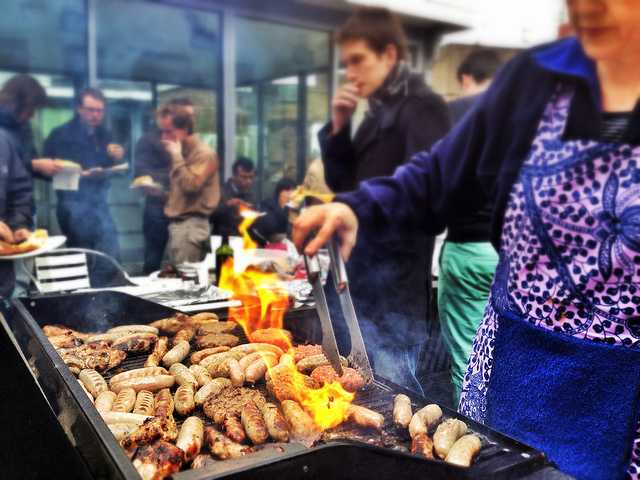 Photo Credit: by teller on flickr
Undercooked meat isn't the only danger, though. E. coli can show up in strange places, such as the Robin Hood brand of flour that plagued Canada earlier this year. There were 30 cases of E. coli in Canada between November 2016 and April 2017, forcing the recall of several flour products.
Symptoms: Fever, abdominal cramps, diarrhea, bloody stool, gas, and nausea.
How to avoid it: While that outbreak is over, the Public Health Agency of Canada reminds people that it's unsafe to eat raw dough or cookie/cake batter. On the summer grilling front, though, keep these tips in mind: If the fish looks slimy or blood is dripping from the burger, throw it on the grill for a little longer. If you are the food-preparer, make sure to wash your hands before handling food.
Hot Dogs & Listeria
What it is: Listeria is a bacterium that is common in the baseball stadium's most popular snack - hot dogs! It's also found in other read-to-eat meats, such as sliced deli meat, as well as soft cheeses and smoked seafood. The high-risk group for Listeria includes pregnant women, older adults, newborns, and those with a weak immune system.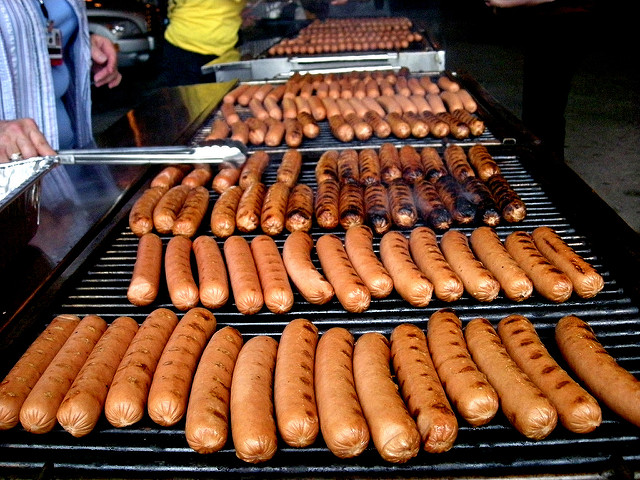 Photo Credit: by drmillerlg on flickr
Typically, hot dogs have already been subjected to a pathogen-killing step when the meat is cooked at the factory, so contamination is usually the result of in-plant contamination after that step, according to AboutListeria.com.
Symptoms: Fever, muscle aches, diarrhea, nausea, and headache.
How to avoid it: If you are in the high-risk group, simply avoid eating these foods. In general, make sure food is always cooked thoroughly, rinse raw vegetables before eating them, separate your leftovers, and mind the expiration dates on read-to-made foods very carefully.
BBQ Chicken & Salmonella
What it is: Salmonella is one of the most common causes of food poisoning, according to the Canadian Food Inspection Agency. According to the Public Health Agency of Canada, it's is commonly found in raw or undercooked poultry, but it can also be found in beef, milk, eggs, fruits, vegetables, and herbs as well.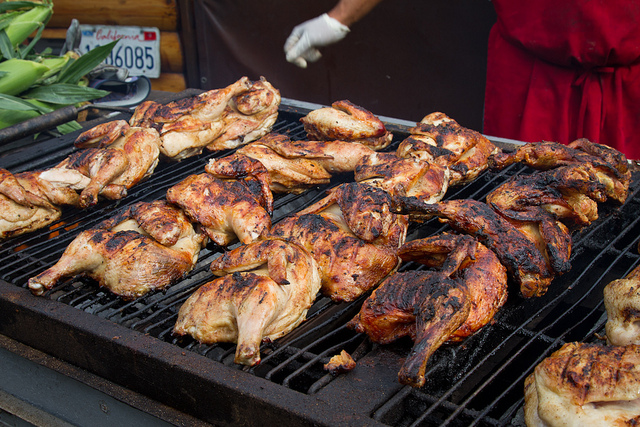 Photo Credit: by randychiu on flickr
A salmonella bacterium is actually found naturally in the intestines of animals, reptiles, and birds. It can be transmitted when people are in a rush to get that tray of BBQ chicken legs onto the table without noticing that the meat wasn't cooked all the way through.
Symptoms: Nausea, vomiting, diarrhea, fever, abdominal cramps, dehydration, chills, headache, and bloody stool.
How to avoid it: Before chumping into that chicken leg, cut into the meat near the bone and if no blood comes out and it looks tan, not pink, it's good to eat.
Shrimp-On-the-Barbie & Hepatitis A
What it is: Beware of killer shrimp! Shrimp-on-the Barbie might be a nice way to treat your guests this summer BBQ season, but if not prepared or cooked properly, it could give them Hepatitis A.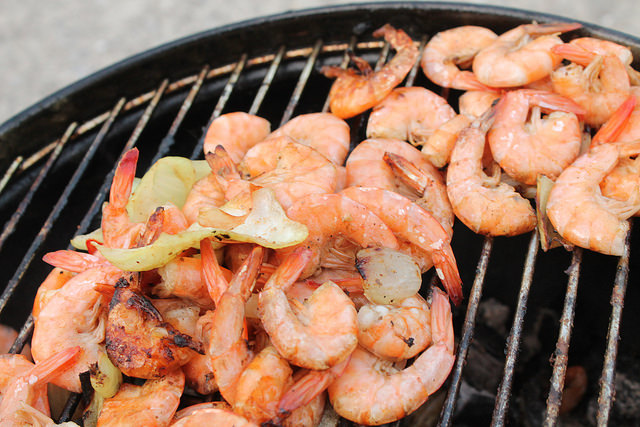 Photo Credit: by bettanyblueamazon on flickr
Symptoms: Fatigue, nausea, vomiting, abdominal pain, clay-colored bowel movements, loss of appetite, low-grade fever, dark urine, joint pain, and jaundice.
How to avoid it: When cleaning shrimp, make sure you discard of their fecal matter. The thin blue or black-ish line you see from the tail to the head is what we're talking about here. You need to devein the shrimp by first peeling it from the shell, then use a knife to make a slit from head to tail and scrape out the blue/black vein. Rinse the shrimp and wash your hands well before cooking. Make sure it's cooked until it doesn't have that glistening slimy look.
###
Carrie Borzillo is a freelance sex/relationship writer for Mens Health, SELF, DAME, Sexpert & CanadianPharmacyKing.com
Leave your comment:
Your email address will not be published. Required fields are marked with *.