<< The Best Bug Sprays and After-Bite Itch Remedies for Summer
How To Avoid Food Poisoning At This Summer's BBQs >>
Fidget Spinner Health Safety Every Family Should Know
by
Carissa
- July 11th, 2017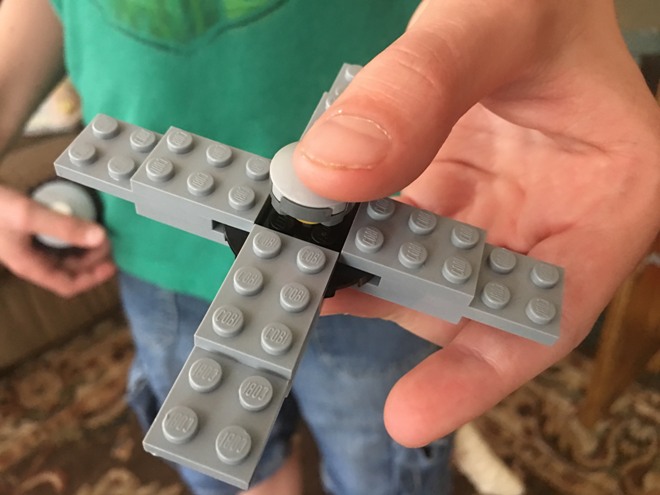 Photo Credit by @CarissaAndrews
I first heard about fidget spinners from my eleven-year-old son about six months ago. Shocking, right? I'm pretty sure that's how most adults learned about these unique, albeit parental sensory overloading toys. Within milliseconds (or so it seems), they were the talk of the town and a huge trending toy amongst kids.
Truth be told, I get the allure. Most are relatively quiet, and when the ball bearings are made with quality materials, they can be super quiet, too. All of my kids love the way they'll spin for ages without stopping—a particular favorite of even my toddler.
However, as a parent, I wasn't entirely thrilled when they first arrived in our home. The kids were overly obsessed with spinning them non-stop. I know it's sorta the deal with them; more on that in a minute. However, I actually had to tell my son to put his away in the car, because it was simply too distracting as a driver.
The claim:
Fidget spinners are supposed to be a stress-relieving toy to help kids dispel energy and enhance focus—particularly for children who have ADHD. Sure, while it sounds great in theory, the concept doesn't take into account everyone else's external input sensitivity. According to Scott Kollins, a clinical psychologist and the director of the ADHD program at Duke University, there is no evidence to support this claim. In fact, he went on to tell ABC News there hasn't even been research into the efficacy, or safety of the toys in regards to managing such symptoms.
There are studies out there, however, to support movement as a focus enhancer for ADHD students. More research needs to be conducted, but it's a start.
What do teachers say?
Teachers and schools across the country are banning this crazy toy. The reason for this seems to be consistent: Fidget spinners are being misused by children who don't use them for their intended us. Instead of bringing on more focus, they're an added distraction for both the child with the spinner, and those in the immediate vicinity.
A full-out-ban in some schools isn't necessarily the case. Instead, they treat the ban on a case-by-case basis. Children who misuse a spinner are not permitted to bring theirs into class, while also taking into consideration any children with a previous diagnosis of ADHD.
What do parents say?
As a parent, I can't say I'm overly thrilled about fidget spinners and I can see why they'd be banned in school. What started with my eleven-year-old, quickly spread to my eight-year-old, and even my two-year-old likes to get in on the action (with supervision, of course!). They would test each other to see who could spin it longest, fastest, or in the silliest location (spin on a nose, anyone?).
However, the over-obsession was detrimental in our home, despite the claims of helping kids focus. And I'm not alone. Many other parents I've spoken to have said the same thing.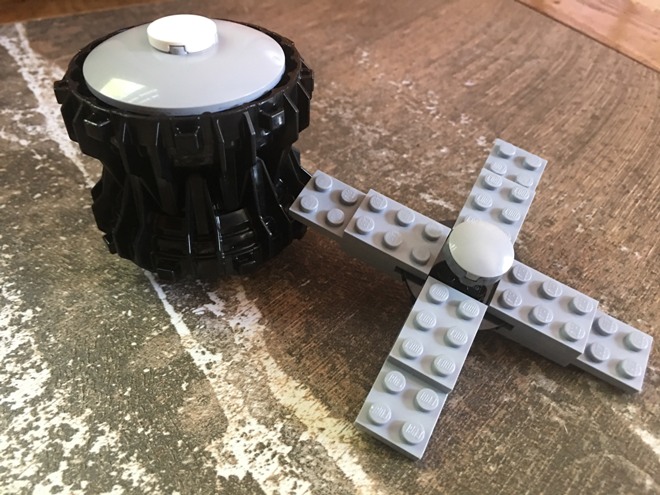 Photo Credit by @CarissaAndrews
Health Risks:
In recent months, there have been a number of stories regarding the health risks involved with fidget spinners. Some of them are common sense based, others not so much. Let's take a look:
LEAD
In early June, articles across the internet were using fear tactics, urging parents to throw away their kids' fidget spinners. The claim was alleging dangerous lead levels found in fidget spinners. While there is some truth to the concerns, they were also widely blown out of proportion.
Here's the deal: If you plan to buy a fidget spinner (or ten), do so from a reputable retailer. Stores selling products in the US and Canada go through a rigorous testing and must comply with the safety standards.
CHOKING HAZARD
It should come as no surprise that the ball bearings in most fidget spinners can become dangerous choking hazards for toddlers and babies. For those of you unfamiliar, the ball bearings at the end of each prong weigh the spinner and keep it spinning. However, they're removable and interchangeable. Not all of them are easy to remove mind you, but if left on the side, or if an unattended fidget spinner is left to chew on—they could eventually pop out and become lodged in a tiny throat.
It's also important to mention this to older kids, too. A 10-year-old from Houston Texas was recently hospitalized and had to undergo an endoscopy in order to remove a ball bearing from her throat. She's lucky to be alive.
Additionally, light-up spinners can come with button batteries—also very dangerous if swallowed. Add on top the lead contamination, and you've got yourself an all-around scary situation. Best to talk with your kids about keeping them out of their mouths, and keeping them up and out of reach of younger siblings.
EXPLODING SPINNERS
You might very well be wondering how in the world a fidget spinner could explode. Here's the deal: latching on to the spinner craze, there's a while subsection of electronic and/or light-up spinners. Some of the new electronic spinners come with tiny button batteries you replace, while others have a recharging port. It seems it's these rechargeable ones with the biggest risk of catching fire. The Consumer Product Safety Commission recommends staying with products as they charge, and never charge a product with batteries overnight while you sleep—just in case.
If you live in the United States, the Consumer Product Safety Commission would like you to report any incidents here: www.SaferProducts.gov
What would be better?
MAKE YOUR OWN
The cool thing is, kids are pretty inventive. Why not ditch the prefabricated fidget spinners and put their minds to work. My son recently built his own fidget spinner out of Legos, and ironically, a video popped up in my newsfeed a couple days later, showing how you could make one.
EXERCISE
C'mon guys, the main reason most children need to fidget has to do with the pent-up energy they're not releasing (perhaps thanks to lax recess times at school). When kids' main job is to process information streaming at them all day, of course they're going to need an outlet for the physical energy. Wouldn't you? Kids need to move—heck, everyone needs to move—in order to spur neurogenesis and keep their brains active.
While fidget spinners may not be the deadly devices we've been hearing about, they're also not all they claim to be. As long as we take into consideration these toys are for entertainment more than for concentration, we're already pointed in the right direction. Then deploying some common safety sense and parental oversight, we'll be able to keep our kids safe while they enjoy them.
###
Carissa Andrews is a freelance writer, graphic designer, and author. You can learn more about her at her website.
Leave your comment:
Your email address will not be published. Required fields are marked with *.