<< Got Kidney Stones? Try Roller Coaster
Brain Benefits from Mediterranean Diet >>
Will FDA Approvals in 2017 Fair Better Than 2016?
by Carissa Andrew - February 6th, 2017
There is a lot of upheaval happening in the United States right now and the FDA is certainly not immune to its effects. With the transition of power to the Trump Administration on January 20th, a lot has been left to uncertainty. The first official week of being in office, Trump has set off a firestorm of controversy and has higher disapproval rating than any incoming president. Plus, in only 8 days, he managed to gather a majority disapproval rating–something that's taken past presidents years to acquire. And he's just getting started.
As we look ahead at the year in life-saving medications, we have to wonder how this year will pan out. There are a few interesting things at play beyond presidential politics. In 2016, the FDA only approved 22 new drugs, which was far below the average of 29 over the past ten years. In fact, it was in sharp contrast to 2015's 45 tally (which happened to also be the highest approvals in 20 years), and the lowest new drug approval numbers since 2002. So with everything that's going on, we want to take a closer look at 2016, and consider the what's yet in store for the FDA.
What happened in 2016?
Retired Director of the Office of New Drugs (OND), John Jenkins attributed this drop to a reduction in submissions, as well as expedient reviews of five drugs slated for 2016, but approved in December 2015. Additionally, 61% of the FDA's decisions were approvals, compared with 95% the previous year. Though, to be fair, the FDA filed more complete response letters in 2016, as well. Basically, what these letters mean is that their drug won't be approved until the companies make changes and collect more information at the request of the FDA.
The 22 drugs approved in 2016 run the gamut. From February's Briviact, which treats partial onset seizures, to Nuplazid, which treats hallucinations and delusions experienced by some Parkinson's disease patients. The small list covers such a broad spectrum, there's no one major theme for the year.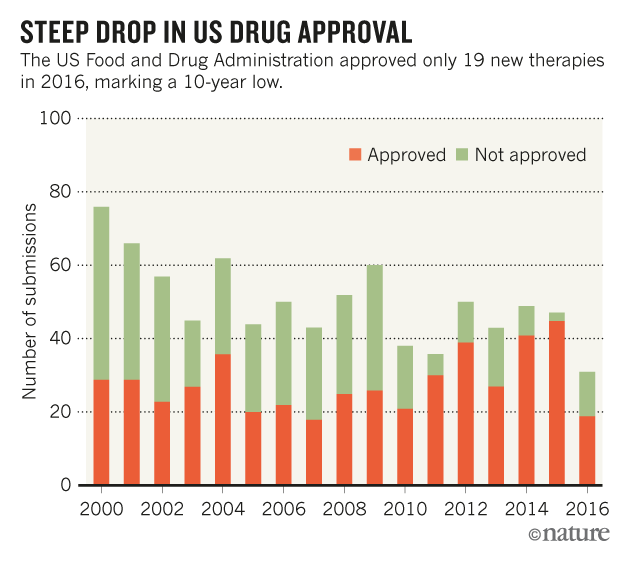 Picture credit: Nature
What's in 2017's future?
Longtime OND director, John Jenkins retired this month, with Janet Woodcock, Center for Drug Evaluation and Research (CDER) Director temporarily taking over his position. Jenkin's retirement comes after a controversial showdown between top officials at the FDA and Woodcock regarding the approval of Sarepta's Exondys 51, a biotech medication for muscular dystrophy.
After the approval, many have viewed the move with distain and even going so far as claiming this has resulted in a lower bar at the FDA. With Woodcock taking over the Office of New Drugs, it's likely this fact alone will result in more approvals than last year. Particularly if the bar is, indeed lowered.
Michael Gaba, the federal policy leader for the life sciences team at Holland & Knight has stated, "There's an interesting confluence of events taking place that may very well shape the FDA's future under the next [Trump] Administration. I would agree that the Jenkin's departure could certainly signal a near-term consolidation of Janet Woodcock's authority at CDER. How that plays out will be a function of who is selected to serve as the next FDA Commissioner."
Trump has said he would like to speed up drug approvals and cut through the "red tape at the FDA." If Trump's first week in office is any indication, he's likely to choose someone who will not only flip the department upside down, but who will be somehow monetarily tied to it.
As of the writing of this article, there are four potential candidates swirling around the rumor mill: Joseph Gulfo, Scott Gottleib, Jim O'Neill, and Balaji Srinivasan. Gulfo is an outspoken critic of the FDA and has even written about its need for reform. As a former CEO of drug and medical companies, this seems to be a possible conflict of interest, but one shall see.
Gottlieb is a former FDA staff member and resident fellow at the conservative American Enterprise Institute. He is a contributing writer to Forbes on policy, regulation, and public health (per his bio).
O'Neill and Srinivaan are both Silicon Valley figureheads. O'Neill is a tech capitalist, while Srinivasan is a specialist in computational biology, as well as a tech advisor. Both have been very oppositional toward the FDA in the past.
Reportedly, some have rumored Balaji Srinivasan to be Trump's top pic to lead the FDA. If his Twitter feed is any indicator, there may be merit behind those claims. The entire history of his tweets, including those that demonstrate his outright contempt for the organization he would be meant to run—have all been deleted. However, another hypothesis could be the myriad tweets painting Trump in an unflattering light. One thing's for sure, none of these people have significant medical backgrounds, which doesn't seem to be a setback in our Trumped-up democracy here in the United States.
###
Carissa Andrews is a freelance writer, graphic designer, and author. You can learn more about her at her website.
Leave your comment:
Your email address will not be published. Required fields are marked with *.