<< How Modern Health Care is Being Revolutionized by Social Media
Demi Lovato: Start Conversations on Living Well with Mental Illness
by Natasha Tracy - February 28th, 2017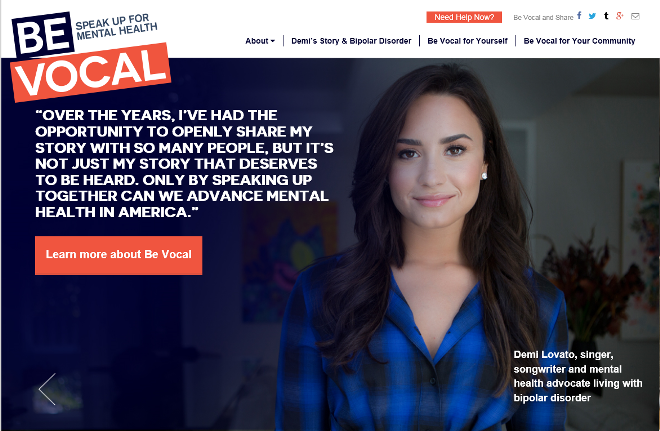 Photo Credit: by bevocalspeakup.com
Demi Lovato is one of the most successful former Disney kids turn pop starts and she's using her fame to advocate for those with mental health conditions. Demi Lovato lives with bipolar disorder. But Lovato doesn't just live with bipolar disorder, she lives well with bipolar disorder. According to 24-year-old signer Lovato on the Ellen DeGeneres Show: "I'm bipolar and proud and I live well with it".
This Cool for the Summer hitmaker has also talked about her struggles with the mental health issues of self-harm, bulimia and addiction.
And not only does Lovato consider herself "living proof" that one can live well with a mental illness, she believes others can, too:
"I think that that's the goal for everyone with a mental illness. The reality is, one in five Americans has a mental health condition, so as long as they get the right treatment team in place and the right treatment plan, then they can live well with it."
Demi Lovato's Conversation Around Mental Illness
Lovato went through kind of a breakdown six years ago and found out she had bipolar disorder. At the time, she thought to herself, "There's nobody talking about this. There must be a reason why I'm going through this, and maybe the reason is so that I could help others."
Lovato said to The Cut:
"Mental health is something that people don't talk about. I think there is a lot of stigma around it because of the unknown. People don't know about it, so they are afraid to talk about it."
Lovato realized she could help people by speaking out and starting a conversation about mental health. She says she feels "spiritually" better when she talks about what she goes through.
She furthered this conversation in 2015 by partnering with five organizations, together known as Be Vocal: Speak Up for Mental Health. This organization encourages people to share their stories of mental illness.
Lovato also believes that individuals need to speak up about mental health conditions because in order for things to get better, you need to first open up to someone. No one can get mental health treatment without first talking to a professional, and, possibly, personal supports in his or her life.
"The advice I'd give to somebody that's silently struggling is, you don't have to live that way. You don't have to struggle in silence. You can be un-silent. You can live well with a mental-health condition, as long as you open up to somebody about it, because it's really important you share your experience with people so that you can get the help that you need."
Lovato Aids in Powerful Mental Health Documentary to Further Mental Health Conversation
As part of her partnership with Be Vocal, she also served as an executive producer on a powerful mental health documentary called Beyond Silence. The documentary follows three people with mental health conditions and shows the reality of what it's like to live with schizophrenia, bipolar disorder, anxiety and depression and how these people cope.
Of the film she said:
"I hope that this film will show people that there is nothing wrong with having a mental health condition. If you do have one, you are able to live well and thrive with a mental health condition, if you are able to speak up and be vocal about the things you are going through."
Lovato's Beyond Silence can be seen for free at BeVocalSpeakUp.com.
References
The Hamilton Spectator, Demi Lovato wants to have a conversation about mental health. Feb. 24, 2017.
Khoo, Isabelle, Demi Lovato Opens Up About Her Mental Health: 'I'm Bipolar And Proud'. Feb. 24, 2017.
Ryan, Lisa, Demi Lovato on Boxing, Eating Well, and Speaking Up About Mental Health. Feb. 24, 2017.
###
Natasha Tracey is a professional writer and author for Bipolar Burble. She currently worked as a freelancer for Kingsblog.