<< Approach Love with A Viagra Spray
Alleviate Arthritis Pain with Anti-inflammatory Food & Recipes during Winter
by
Carissa
- December 19th, 2016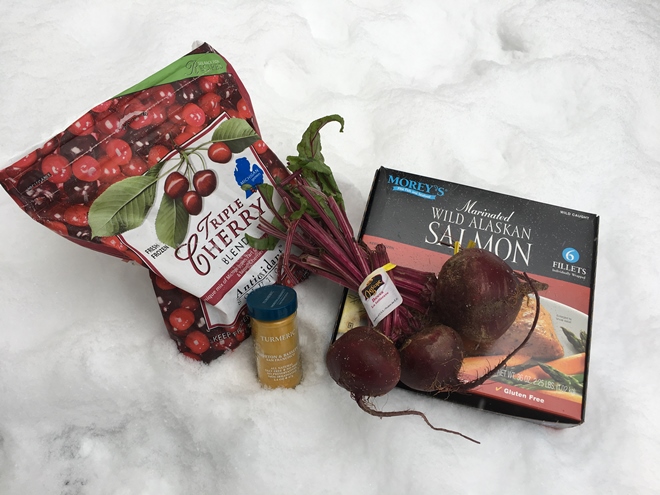 Photo Credit: by Carissa Andrews
As they said in last season of Game of Thrones—Winter is here! For many of us, it's not the most anticipated season. From icy, slick roads, to achy, painful joints; winter often causes anxiety. Thankfully, when it comes to battling inflammation, there are more ways to ease swollen joints without overdosing on NSAIDs.
Depression, stress, age, and simple wear and tear on the body has been linked to triggering the inflammatory response. Add in the added pressure and stress of colder weather, and you've got a mixture meant to keep you reaching for the pain killers.
Studies are conflicted about how winter weather affects the body. Many people suffering from arthritis have a harder time with joint pain when the barometric pressure shifts. Others have a hard time with joint stiffness due to joint fluid thickness in colder weather.
Check out our list of anti-inflammatory foods to incorporate into your diet, as well as some recipes you might enjoy.
7 Foods to Load Up On
1. Omega 3's – Animal based omega 3's found in fish such as Alaskan wild-caught salmon, mackerel, tuna, and krill oil have been shown to decrease inflammation in the body.
2. Vitamin K – Making meals featuring spinach, cabbage, and kale is a great way to get your daily intake of this inflammation fighting nutrient. As an added bonus, many leafy greens also contain vitamin E, another great anti-inflammatory. Vitamin E gets rid of cytokines; molecules that are often the cause of inflammation within the body.
3. Vitamin C's – These foods slow down the cartilage loss often associated with arthritis pain. Think colorful foods such as oranges, broccoli, red peppers, tomatoes. Not only will you protect yourself from pain, but increase your immune system's natural defenses.
4. Antioxidants – Look out for berries and other foods that are high in antioxidants if you want to reduce inflammation pain. Cherries, for example, are high in anthocyanin, which is a powerful antioxidant that helps cut inflammation. Other great examples include beets, tomatoes, and blueberries.
5. Fermented foods – According to Dr. Mercola's website, "optimizing your gut flora is important for a well-functioning immune system, and helps ward off chronic inflammation. Fermented foods such as kefir, natto, kimchee, miso, tempeh, pickles, sauerkraut, olives, and other fermented vegetables, will help 'reseed' your gut with beneficial bacteria. Fermented foods can also help your body rid itself of harmful toxins such as heavy metals and pesticides that promote inflammation."
6. Garlic – The allicin found in garlic is thought to have many health-benefitting properties. Garlic exerts many benefits in multiple ways: as an anti-bacterial, anti-viral, anti-fungal, and antioxidant.
7. Water – While not a food, it's still one of the best natural defenses against inflammation. If prevention is your goal, start by upping your intake of water, and at the very least, make sure to hit that coveted 8, 8oz glasses a day.
Bonus food tip: Avoid Omega 6's and refined grains because research suggests they have an inflammatory effect. Stick with Omega 3's and whole/multi grains instead.
3 Anti-inflammatory Recipes to Try
Breakfast:
Cherry Coconut Oatmeal
1 cup coconut milk
¼ cup steel cut, organic oatmeal
1 tbsp maple syrup
1 tsp ground flax seeds
¼ cup fresh, frozen, or dried cherries
Pinch of salt
Bring coconut milk to boil, stir in the oatmeal, maple syrup, flax seeds, and salt. Continue stirring until much of the water has been soaked into the oatmeal (5 minutes). Add the cherries and stir repeatedly until oatmeal is desired consistency. Enjoy!
Lunch
Delicious Veggie-Beet Soup
1 medium onion (coarsely chopped)
2 cloves of garlic (diced)
1 32oz organic butternut squash soup box
2 32oz organic vegetable broth soup boxes
1 head of organic cauliflower (chopped)
I heart of organic celery (chopped)
1 16oz bag of organic baby carrots (chopped)
2 cans organic diced tomatoes
1 can fire-roasted diced tomatoes
3-4 organic beets (roasted or boiled prior, chopped into 1 in cubes)
1 tsp turmeric
1 tsp ginger
1 tsp salt
Pepper to taste
Sweat the onion and garlic in a large soup pot until onion is translucent and garlic is fragrant. Add in the soups and stir. Next, add in the chopped cauliflower, celery, and carrots. Stir. Add in the cans of diced tomatoes (with liquid). Add in the beets, turmeric, ginger, salt, and pepper. Stir together. Bring to a boil, then simmer for 40 minutes; until carrots and cauliflower are tender. Serve with multi-grain crackers and enjoy!
Dinner:
Salmon with Quinoa and Kale
Salmon –
2 wild-caught Alaskan salmon steaks
3 cups seafood stock
10 peppercorns
Add the seafood stock, and peppercorns to a deep skillet or heavy pot over high heat and bring to a boil, then immediately reduce the heat. Cover and cook for about 5 minutes. Season salmon steaks with salt and pepper and gently lower into simmering liquid, ensuring the steaks are at least ¾ covered. Reduce heat to a simmer, cover and cook for about 6 minutes--until salmon is opaque and flakes easily. Remove salmon from the liquid and set aside on a towel lined plate.
Quinoa –
1 cup multi-colored quinoa
½ small red onion, diced
1 ½ cup water
1 cup of asparagus, chopped
1 tbsp olive oil
1 tbsp fresh lemon juice or white wine vinegar
½ tsp salt
¼ tsp pepper
Meanwhile, add 1 ½ cups water to a small pot with the quinoa. Bring to a boil, then reduce the heat to a simmer and cook for 10-12 minutes (until the water is absorbed). Fluff with a fork. Heat ½ tbsp olive oil in a skillet over medium heat. Sauté onion for 8 minutes, then add asparagus; sauté additional 2-3 minutes. In a large bowl, whisk together the other ½ tbsp olive oil with the lemon juice or white wine vinegar, salt, and pepper. Add the onion and asparagus, add the quinoa to the veggie mixture, and combine thoroughly.
Kale -
3 tbsp extra-virgin olive oil
3 cloves garlic, thinly sliced
¼ tsp red chili flakes
2 bunches kale, rinsed, dried, stems removed & leaves thinly sliced
Salt and pepper to taste
Heat the olive oil in a large skillet over medium heat. Add garlic and chili flakes until garlic is fragrant and browning. Add the kale in small bunches until they've all been added. Cover and sauté for 5 minutes. Add the salt and pepper and continue to sauté uncovered until all the liquid has evaporated. Serve with the rest of the meal immediately.
Additional Winter Joint Tips:
For those of you looking for additional alternatives to NSAIDs when winter has your joints achy, try some of these: gentle exercise, acupuncture, biofeedback, heat (like warm showers, baths, and heating pads), and reducing the amount of weight you're carrying to minimize the stress on your joints.
We all can agree winter's tough on joints and can make inflammation feel far worse. By incorporating healthy tips like the ones above, and eating for inflammation reduction – keeping pain in check without NSAIDs is completely doable. We'd love for you try out the recipes and leave us a comment on how they work for you.
###
Carissa Andrews is a freelance writer, graphic designer, and author. You can learn more about her at her website.
Leave your comment:
Your email address will not be published. Required fields are marked with *.