<< Ask Your Dentist How to Live Well
Quit Smoking and A Prolong Life: It Can be Done >>
8 Effective Ways to Overcome Post Election Stress Disorder
by
Ainsley Smith
- November 21st, 2016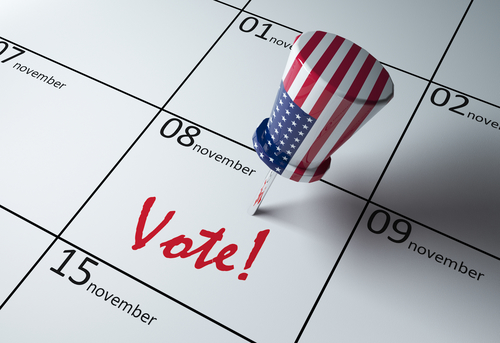 by aaz-z.mail.ru, despositphotos.com
Over the past few weeks has your stomach constantly been in knots? Or do you spend your evenings tossing and turning only to wake up in a panic. If these symptoms sound familiar, chances are you're suffering from election stress disorder.
Election stress disorder might not be well known, but it's definitely real and it should not be overlooked.
According to the American Psychological Association, the 2016 election has been a significant source of stress for 52% of Americans. While another poll, from the University of Minnesota, found that 93% of people surveyed agree this is the worst election ever.
On November 8th, America made the decision between Hilary Clinton and Donald Trump - a historic decision that not only affected the USA but the world as a whole.
And to the shock of many - both Americans and Canadians - Donald Trump has been elected as the 45th president of the United States. As the results rolled in, viewers from all over were left feeling betrayed, hopeless, hurt, angry, and above all, confused.
While this outcome might seem surreal and unimaginable, the truth is, it's reality and it's the something that we all need to deal with and make the most of. You might feel like you want to give up - hey, it's the easy thing to do. But the reality is, you can't give up. You need to pick yourself back up and continue on with your life even though that might feel like the last thing on earth that you want to do.
And the thing is, there are so many things that you can do to cope with your disappointment and the stress that you feel from the outcome of this election.
So, if you're unhappy with the outcome of the election and you're trying to find ways to keep your anxiety in check we've rounded up some ways to deal with post-election stress.
1. Avoid Social Media
If you're dealing with any sense of election dress or disappointment, the easiest way to clear your mind is to refrain from using social media - because the last thing you need is to scroll through your Facebook news feed only to be greeted by frustrating statuses from your uneducated friends. Put down your phone, tablet or laptop and steer clear of Facebook, Instagram, Twitter, Snapchat and whatever other social channels you use and do something different.
Try:
Turn on some music, take a bath, take the dog for a walk, or listen to a meditation app. Breathe. Whatever it is that brings you calm, take this as your chance to disconnect from the social world and relax.
2. Turn Off the News
People who are feeling anxious shouldn't necessarily cut out television completely. But they should avoid watching the news.
Try:
To keep your mind off of the situation at hand, turn the channel to something less stressful like the Food Network or put on a cheerful movie.
3. Let Your Body Calm Down
The days following the election are going to leave you feeling down and out-of-sorts and that's perfectly normal. But the key is to remember to let your body calm down so you can star to relax.
Try:
Doing things that you find enjoyable and relaxing and that will take your mind off of the election. Try taking a bubble bath, going for dinner, taking a yoga class or going to the spa.
4. Don't Jump to Conclusions
If your presidential candidate didn't win, you might start to think about stressful scenarios in your head that are based on fear and what you hear in the news. The truth is, we don't know what the future holds and rather than imagining the worst outcome, it's best to remain in the moment and focus on the present. Because there's no point in stressing yourself out over something that might not actually ever happen.
Try:
If your thoughts wander to stressful scenarios, take a series of deep breaths and just focus on your breathing. This will help you regain focus and you'll slowly begin to relax.
5. Focus On The Good
While the outcome of the election feels like the worst situation in the world, we all have so much to be grateful for.
Try:
Use this uneasy time to focus on all of the good things and the wonderful people you have in your life and it will overpower any negative feelings you have.
6. Try Meditating
Following the election results, you're going to feel overwhelmed and bombarded with headlines and social media posts. Use this time to take time away from technology and try some meditation.
Try:
The most important thing is to focus on is your breathing as it will help you feel calm and relaxed as meditating can help ease any anxious feelings that have developed during this stressful time.
7. Talk With a Loved One
Chances are if you're stressed out someone else that you know probably is too. Call or visit them and talk about what you're feeling and you can work through the situation together.
Try:
At any point over the next few weeks you feel anxious or stressed, give a relative or a friend a quick phone call to discuss your thoughts and what you're feeling.
8. Visit Your Doctor
If you're still feeling anxious or stressed in a few months, you visit your doctor to discuss how you're feeling and come up with a more long-term solution.
Try:
You can speak with a health care professional about taking something to ease how you're feeling.
Abilify drug
can be prescribed to treat any symptoms of depression or panic disorders and can help improve your mood and reduce panic attacks.
Remember you're not alone in your election anxiety, but do your best to take care of yourself and remember that you don't have to feel anxious or hopeless because you're more powerful than you think and you can get through this.
###
Ainsley Smith is an outgoing and energetic writer that she hopes the content that will inspire and influence Canadian millennials and young professionals.
Leave your comment:
Your email address will not be published. Required fields are marked with *.