<< Will Robot Replace Pharmacist?
6 Dangerous Summer Diets To Avoid
by
Carrie Borzillo
- June 13th, 2016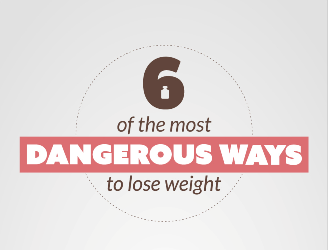 Summer is upon us, and for many that means there's a mad rush to get into bikini shape FAST! If you do a Google search on "how to lose weight fast," 13.5 million results appear. You'll find some legitimate tips from reputable health sources, but you'll find a lot more information on dangerous diet trends and fads that might do more damage than good.
Infamous diets such as the Cabbage Soup Diet and the Master Cleanse promise to help you practically shed pounds and inches in your sleep. But, buyer beware - You might lose weight fast, but some of the risks and side effects include serious health complications and even death, and none of them bode well for long-term, permanent weight loss.
For those scrambling to look better in their bathing suit, short-shorts, and backless dresses this season, LabDoor.com unveils the dangers of 6 of he most famous, and most dangerous, diets that you might be tempted to try.
1. Unverified Weight Loss Pills
Just because you can buy weight loss pills at your local drugstore or even health food store, doesn't mean they are good for you. The United States Food and Drug Administration has cited more than 300 weight loss, bodybuilding, and even sexual enhancement products on the market as dangerous.
Scary Side Effects: Unsafe supplements are responsible for 23,000 emergency room visits a year. Other side effects reported include stroke, liver injury, kidney failure, heart palpitations, seizures, and even death.
2. The Grapefruit Diet
This diet is so popular that it's been around since the 1930s. This diet limits followers to just 800 calories a day, which is dangerously lower than the recommended average of 2,000 calories. (Some doctors say its okay to lower your daily caloric intake to 1,100 a day when dieting if done properly.) Each meal begins with half a grapefruit, which is a healthy snack but the low calorie count is the issue here.
Scary Side Effects: Malnutrition, photosensitivity, and odd medication interactions. Grapefruit interacts with about 43% of all meds, causing severe effects like arrhythmias, kidney damage, and gastrointestinal bleeding.
3. The Cotton Ball Diet
Clearly, this is the most obvious "no-no" of all of these diets. Yet, many young anorexic women have been doing this since it became popular on a YouTube video in 2013. "Meals" consist of up to 5 cotton balls dipped in a juice a day.
Scary Side Effects: Choking, malnutrition, increased risk for eating disorders, and life-threatening intestinal obstruction.
4. The Caffeine Diet
It is true that green tea and coffee can help with weight loss, but one should not focus their entire weight loss plan on this. 2 cups of coffee might help you burn about 14kcal/hr, but this doesn't work on people who already drink a lot of caffeine and have a higher tolerance for it. 500+ mg of caffeine can mimic stress, which actually makes the body store fat instead of burning it.
Scary Side Effects: Stomach ulcers, accelerated bone loss, arrhythmias, muscle tremors, and cardiac arrest.
5. The Master Cleanse
Beyonce's done it. Jared Leto swears by it. And it's been around since the 1940s thanks to alternative health practitioner Stanley Burroughs. It's a 10-day fast where you only drink water with lemon, cayenne pepper, and maple syrup. But, celebrities typically say that they only do it to lose weight before a big shoot, as it is not known to lead to long-term weight loss.
Scary Side Effects: Mood swings, fainting, nausea, lean muscle loss, suppressed immunity, heart palpitations, and low blood pressure.
6. The Cabbage Soup Diet
This is an oldie as well dating back to the 1900s. Contrary to its name, you can eat more than just cabbage soup, but it's not much more. The 1,000-calorie diet includes specific fruits, vegetables, proteins, and juices as well.
Scary Side Effects: Stomach ulcers, accelerated bone loss, arrhythmias, muscle tremors, and cardiac arrest... and gas!
Remember, the healthiest way to achieve long-term weight loss is by changing your lifestyle by improving your diet and upping your exercise routine.
###
Carrie Borzillo is a freelance sex/relationship writer for Mens Health, DAME & CanadaPharmacyOnline.com.
Leave your comment:
Your email address will not be published. Required fields are marked with *.