<< Grab Your Sunscreen As Summer is Here
Surprising Health Benefits of Highland Whiskeys in Scotland >>
Knock Your Socks Off: The Best Socks for Your Feet
by Kristy Alpert - May 16th, 2016
Kristy Alpert is a freelance writer and editor with extensive experience covering travel, food, and lifestyle topics.
Your feet are the foundation for the entire body. Which is why when your feet aren't feeling great, the rest of your body suffers. Unhappy feet can cause everything from calf tension and swollen legs to tight hips and even back and shoulder alignment issues.
"People need to start paying more attention to their foot health because feet are the basis of proper body mechanics," adds Dan Murphy, president for KENTWOOL Performance, the leaders in innovative socks and textiles. "If any of the ligaments, tendons, or muscles are strained or stressed in any way, the mechanics of your entire body are affected. For example, oftentimes the cause of hip or knee pain actually originates in the feet. As the foundation of the body, if your feet aren't being properly cared for, your entire body is going to suffer."
The human foot has more than 26 bones, 33 joints, and more than 100 tendons, muscles, and ligaments that work to absorb the impact of your body weight with each step. Even with so much going on inside your foot, it's actually what's on your foot that matters. Socks are so much more than an accessory; they are a piece of performance equipment that serve in protecting your feet from a number of different ailments, from protecting against foot odor to helping with blood circulation. Feet stuck into shoes for hours tend to get sweaty and attract bacteria, but certain socks can actually combat those odors while working to improve foot health.
"It is important to wear quality socks because your feet are the basis of healthy movement," Murphy explains. "They can reduce the chance of getting blisters, help wick moisture away from feet, eliminate bacteria growth and reduce foot fatigue and stress. This all adds up to improved foot health. Improved foot health means that you're able to lead a healthier and more active life. With low quality socks, you aren't offered these same features and benefits. The result is overly-stressed feet and disrupted body mechanics."
From PGA certified anti-blister socks made for caddies to compression socks designed for travel, check out these amazing and specialized socks for your feet.
1. KENTWOOL. This premium line of socks is made with superfine Merino wool and is the preferred high performance piece of foot equipment for a number of PGA and LPGA Tour professionals, and for pretty much anyone who spends their profession on their feet. In fact, more than 100 PGA Tour caddies rely on these socks to keep their feet healthy during the more than 50 million steps they'll take during each tour season. KENTWOOL socks naturally wick and control moisture (reducing bacteria, odors, and the chances of getting blisters), regulate foot temperature in both hot and cold climates (reducing the chance of injury since muscles are held at the ideal temperature for performance), and reduce foot stress and fatigue with nylon reinforcements in spots of high stress and wear and plush terry cushion throughout the sole of the sock. www.kentwool.com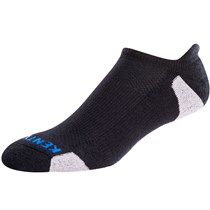 Courtesy by Kentwool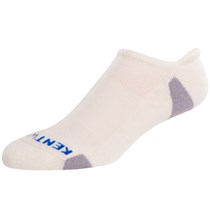 Courtesy by Kentwool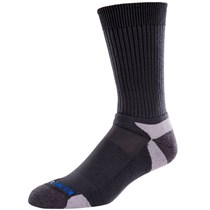 Courtesy by Kentwool
2. Toe Socks. These five-pronged socks are designed as an alternative to bare feet. With Toe Socks, the toes are separated in a way that enhances and supports natural movement while eliminating moisture between the toes (i.e., reducing the chance of blisters or bacteria growth). By allowing the toes the ability to spread wide and wiggle and bend with each movement, these socks actually strengthen the toes and feet to create a stronger foundation for any activity (walking, yoga, Pilates, running, etc.). The socks come with a fitted heel to reduce bunching and twisting, and the grip sock collection features non-slip soles that are perfect for practicing yoga, Pilates, Barre, or even martial arts. The company also offers a line of leg warmers that work to enhance the five-finger model by warming the muscles in the lower body for peak performance. www.toesox.com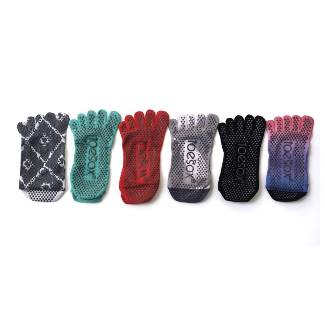 Courtesy by Toesox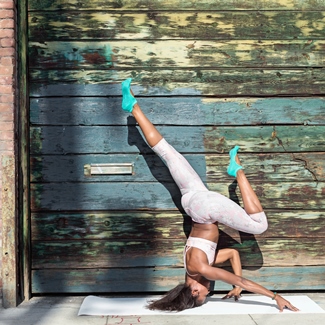 Courtesy by Toesox
3. VIM & VIGR. The beauty of these compression socks is that not only do they provide relief for people who sit in an office, car, or airplane all day, but they're also stylish enough for any situation your feet may walk you into. Scientists estimate that sitting for 90 minutes or more throughout the day can cause blood flow below the knees to decrease by 50 percent, increasing the chance of blood clots while reducing the amount of oxygenated blood to the legs. Compression socks work to combat this with graduated compression knitting that tightens around the ankle and gradually becomes less tight above to increase circulation and bring freshly oxygenated blood back into the legs. VIM & VIGR's line of compression socks don't just stop at recirculation though, they also offer a wide range of patterns, colors, and fabrics that makes it easy for wearers to find their perfect pair. www.vimvigr.com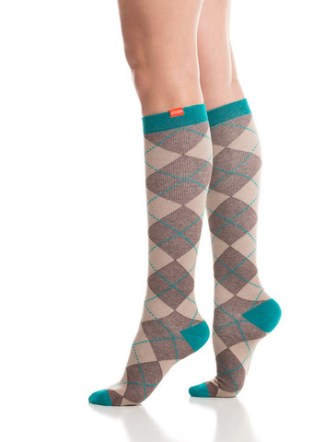 Courtesy by Vimvigr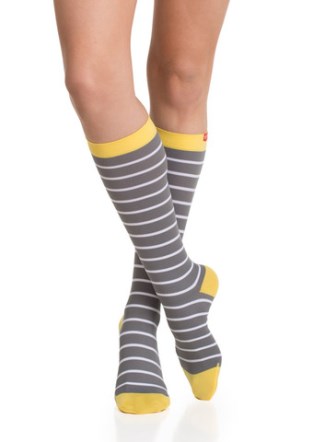 Courtesy by Vimvigr
4. Preggers by Therafirm. This line of specially targeted compression legwear takes into consideration what every pregnant woman knows: pregnancy equals painful legs and swollen feet and ankles. During pregnancy, blood volume and pressure increase in the body, a symptom that eventually leads to swelling, fatigue, and varicose veins. During the first trimester alone, the onset of varicose disease is estimated to be 70 percent for expectant mothers, a number that only increases with each subsequent pregnancy. Preggers maternity support and compression legwear is uniquely suited to energize tired, achy legs while reducing and preventing swelling with gradient compression for the entire leg. The company makes a line of socks, but the most popular remains the maternity leggings that work to increase circulation in the entire leg. The leggings come in a variety of stylish colors and include a support top that expands for a growing belly for comfort. www.preggers.com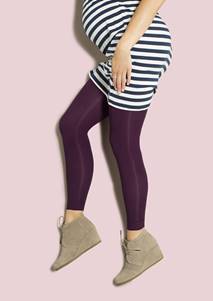 Courtesy by Preggers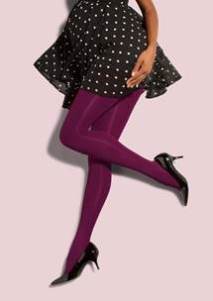 Courtesy by Preggers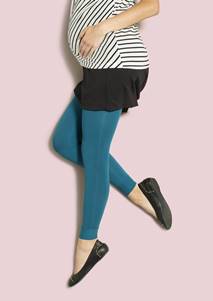 Courtesy by Preggers
5. Thorlo. Originally engineered as a protective, sport-specific athletic sock back in 1980, Thorlo holds the patent on its innovative padding design that makes these socks stand apart from the rest. The socks are clinically-tested to protect against various foot conditions, including blisters cause by friction and shear forces, foot pain, pressure, and moisture. The brand has a variety of socks specially-suited for a variety of activities, sports, weather conditions, and lifestyles. Their EXCOU Unisex Extreme Cold Thick Cushion wool sock has become a favorite for any one who plays or works for extended amounts of time in the cold weather, including snowmobilers, dog sled racers, Canadian construction workers, and Lake Superior ice fisherman, while the TF Unisex Over-Calf Hunting Sock is the choice for anyone wanting to avoid wool while keeping their feet healthy on the rough terrains in sub-zero weather. www.thorlo.com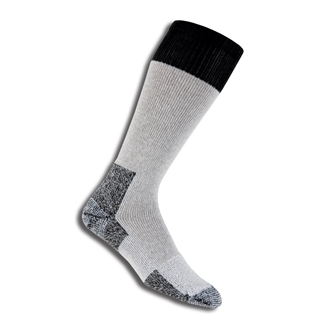 Courtesy by Thorlo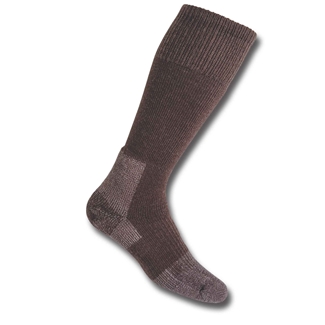 Courtesy by Thorlo
6. DryMax. Sweaty feet can't stand up against these moisture wicking socks. DryMax guarantees that their socks will keep feet drier and more comfortable than any other sock, and they offer a full money back refund guarantee to prove their point. DryMax socks have been designed with two different fiber technologies that work together to form a dual-layer sock that uses protective padding in four densities and a series of air vents to keep feet dry and control odor. The fibers are unlike anything else on the market, and are actually recommended as an aid in the prevention and cure of Athlete's Foot and toenail fungal infections. These socks have become the favorite for college and pro athletes, and the brand offers a huge array of options for every sport. Their line of running socks includes no less than 10 designs, each offering their own varieties of colors and support. www.drymaxsports.com
Courtesy by DryMax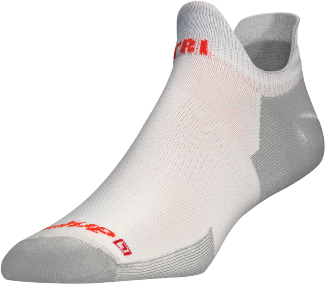 Courtesy by DryMax
7. SmartWool. These socks were born beneath the mountains of Colorado, and have become the favorite sock for snow skiers and snowboarders around the world. Made from an improved version of Merino wool that uses thermal body mapping in its innovative fabric creation and construction, these socks use more wool where the body tends to get cold and less where the body has a tendency to run warmer. The socks act as a baselayer for any cold weather activity (with three different baselayer weights to choose from to match the climate) to regulate foot temperature, and include moisture management and abrasion resistance to fight against blisters. While the company makes more than just socks for snow, the ski and snowboard line has become popular for anyone looking to improve their performance on the mountain, and the line features a sock for each ski level (downhill racer, ski light, ski medium, snowboard light, etc.).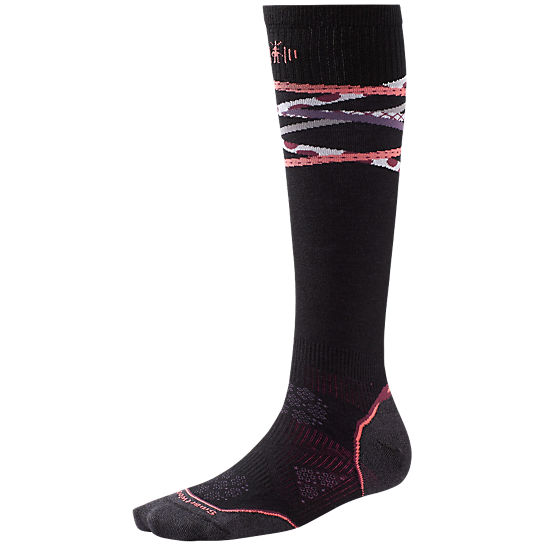 Courtesy by SmartWool
8. X-Socks. Engineered in Switzerland, crafted in Italy, and worn around the world, these socks are some of the most high tech pieces of apparel on the market. The brand offers more than 150 models, patents, and functions, and is one of the leaders in cycling performance socks. Their X-Socks Bike Pro is the choice for professional riders, and comes with a unique airflow system that ensures a fresh supply of air beneath the soles of the feet. The socks also feature a self-adjusting cuff, a patented cross bandage stability, patented ankle pads, patented tendon protectors, and so much more. www.x-socks.com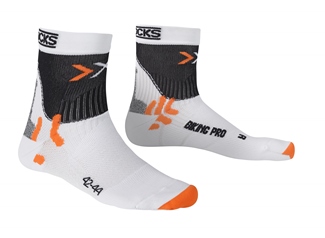 Courtesy by X-Socks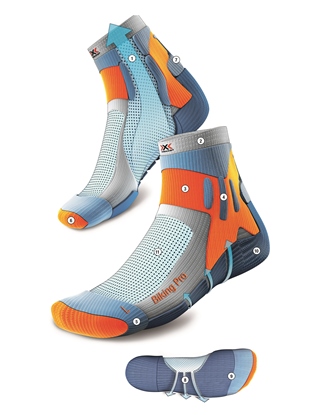 Courtesy by X-Socks
Just because things are heating up outside doesn't mean it's time to ditch your socks. Performance socks (like the ones listed above) work to regulate foot temperature and can actually keep your feet dry from daily moisture accumulated during normal activities and even for more intense sweating that occurs before and after a workout. While no one is suggesting wearing socks with your sandals (still a fashion faux-pas, sorry!), the one way to keep your feet healthy all summer long is to keep them protected with a quality pair of performance equipment … a pair of socks.
###