Virtual Reality is About to Redefine Yours
by
Carissa
- April 18th, 2016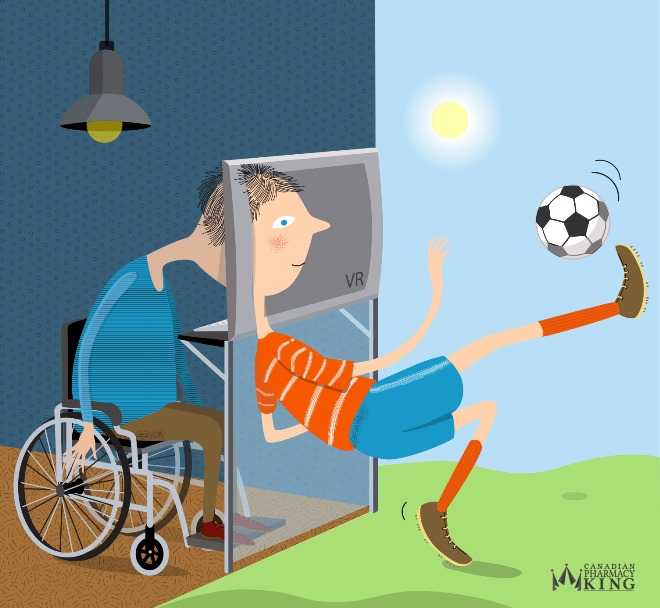 Virtual Reality (VR) is one of the biggest buzz words, industries, and investments of 2016. In fact, one could even say this may be the technology advancement of our lifetime; which is not something said lightly. Especially when you consider the myriad biotech advancements, or even 3D printing, just to name a couple. Virtual Reality is estimated to be a $7B industry in 2016, and a whopping $13B by 2018. When you consider in 2014, the industry was virtually (pun intended) worthless, this is an astronomical leap in just two short years. VR Devices alone are predicted to reach $14M in sales this year.
Augmented Reality (AR) is similar to VR, but it blurs the lines between your real world and what's computer generated. Developers like Microsoft's HoloLens and Google's Project Tango are a couple examples to those delving into AR as well as VR.
Released on the 28th of March, 2016, Facebook's much anticipated Oculus Rift has begun the VR race in true form. The Rift is probably the most talked about and well-known of the VR headsets. While it's Oculus Touch motion control system has been delayed until the later part of the year, it hasn't stopped consumers from clamoring to both preorder and purchase the headset now that it's available. Designed specifically for VR ready PCs, the Rift comes with a headset, remote, VR sensor and an Xbox One controller. It was announced that Xbox One owners will be able to stream their games to the Rift as well, making both devices combined very competitive with the other gaming consoles who are already into VR. Other big names who are already invested into the VR and AR momentum include, of course, Microsoft with their HoloLens, Sony's PlayStation VR, Samsung's Gear VR which pairs with the Samsung Galaxy S6 and partnered with Oculus, and even the HTC Vive.
More affordable virtual reality options include Mattel's View Master, which resembles the old-school device we all probably used as kids. In fact, after researching this article, I have one on order for my daughter's 7th birthday. Another is Google Cardboard, which can either be bought as a kit or created from specs provided by Google. As I type, my 10 YO and I are in the middle of creating a prototype from cardboard we have lying around. I'll let you know how it turns out.
Others you may have heard about include Youtube 360º - which is less of a device and more of an experience with their video streaming. Nokia is trying to resurrect itself with the 360-degree Ozo Camera. This devices is a deviation from the others because it's being developed for professional content creators, not consumers. IBM is in the game as well, having earned a number of patents in the realm of AR and VR over the past few years, though we have yet to see how their investments will truly be directed.
These aren't the only big tech companies who are venturing into the VR realm. Netflix is currently developing their already released VR app designed to run on Samsung's Oculus-powered Gear VR headset. While Netflix's app currently only gives users access to their current titles, Hulu's app is now available for the Gear VR as well and offers 30 360º videos along with the rest of their movie catalog available for viewing from the virtual livingroom space. Both Amazon and Apple are developing into the VR space as well, but their intentions aren't yet known. In fact, the news of Amazon's development came in an unorthodox way – a Glassdoor job posting. It's thought that at this time, Amazon is working more on a platform rather than hardware.
At this point, you may be asking, what really are the uses of virtual reality? What makes this such a big deal? I was asking myself the same question, but unearthed so many uses, I can't possibly list them all out here. However, I'd like to offer you a brief look into the industries VR and AR have the ability and, more importantly, probability of touching within the next decade.
Gaming
This is the most obvious, since it's already a realm that's well under way.
Medical
There are thousands of ways VR could impact the medical realm. Here are just a few examples.
o Surgery simulations
o Helping patients heal by transporting them to a different, more relaxing environment
o Remote robotic surgery
o Help for PTSD
o Stroke Rehabilitation
o Dental training
Overcoming Fears
Think of all the ways you could face your fears and work through some of the emotions involved, without any real risk.
o Heights
o Spiders
o Confined spaces
o Public speaking
Education
The possibilities here really are endless. Think of all the places you could go, things you could see, or experiences you may otherwise not be able to have in traditional education. Here are just a few subjects that could be greatly impacted.
o Astronomy
o Physics applications
o Chemistry
o Biology
o Engineering
o History
Entertainment and Culture
Think of all the places you could visit, things you could experience, but because of location you simply aren't able to. With VR, that limitation isn't so limiting.
o Plays. Want to see a play on Broadway, but live in Central MN? You got it!
o Concerts. Live in a rural area where your favorite bands won't ever visit. No problem with VR.
o Museums. Visit the Louvre, the New York Museum of Natural History, or any other museum of your desire.
o Movies. Truly immersive movies are a reality; Oculus Rift has 2 out already.
o Porn. As odd as it may sound, in my research, I found that PornHub has already launched a virtual reality porn site.
Business
I can't even imagine all the ways this could impact daily life in a business setting. Here are just a few off the top of my head.
o Virtual tours of the office
o Virtual training
o 360 products for testing and for advertising
o Testing of hazardous products
o Construction
 Virtually explore a floorplan before it's built
 Testing the design
o Car Designs
o Shop wherever you want, virtually. Try on clothes, test out products before you buy them. The sky is really the limit here.
Military and Police
o Training
o Testing of weapons
Courtrooms
o Virtual Jury
o Virtual evidence
Driving
o Virtual testing for learner's permits
o Test drive a vehicle before you buy and without ever stepping foot in a dealership
Sports
o 360 views of stadium to help you find your seat before the game
o Immersive games, allowing you to be at a live event in the comfort of your own home
o Driving ranges
o Shooting and archery ranges
o Learning a new sport
Telecommunication.
Well, you can forget Skype. This would be huge for my family, seeing as my husband's entire side lives in England and we're here in MN. Someday, we could virtually be a part of a family gathering, or dinner. Or maybe we could get together for a virtual cuppa. ;)
Vacations and Relocation
Need a vacation, but can't afford one? Try a VR vacation on for site. Or maybe you want to visit a new location, but you aren't sure if you really want to be there in person. Try it out virtually first. Maybe you're planning to move, but want to see the sites of the proposed spot. Plan a VR trip and decide if it's really the place for you and your family.
When you think about it, the applications and uses for virtual reality truly are limited only by our own far reaches of the imagination. While the obvious applications of gaming and entertainment are pioneering the technology, I have no doubt that within my lifetime, the uses will far exceed them. In the coming years, we'll wonder how we ever got along without the use of VR and AR in our daily lives, just as we wonder how we ever got along without the internet.
###
Carissa Andrews is a freelance writer, graphic designer, and author. You can learn more about her at her website.
Leave your comment:
Your email address will not be published. Required fields are marked with *.