High-Glycemic Carbs Add Lung Cancer to Their Rap Sheet
by
Carissa
- April 11th, 2016
Carissa Andrews is a freelance writer, graphic designer, and author. You can learn more about her at her website.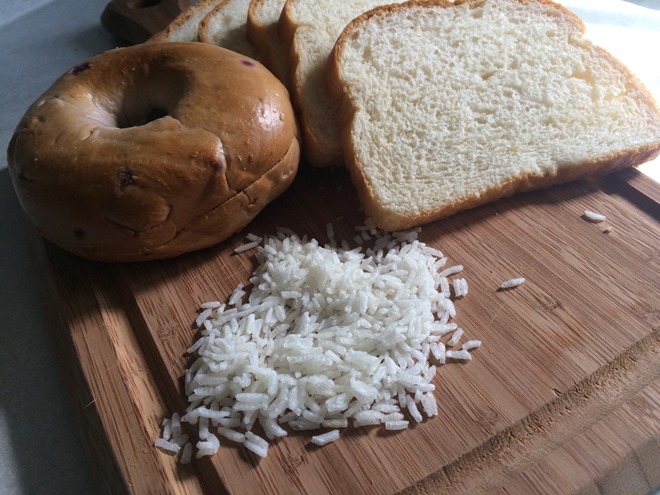 Photo Credit: by Carissa
First it was bacon we should be worried about; now it's carbs. If it's not one thing, it's another in the journey toward fully understanding how our diet affects our longevity and overall health. As for carbs, it's not as if they're any stranger to getting a bad rap. Heart Disease, obesity, insulin resistance, Type 2 Diabetes … now, add Lung Cancer to the list of things eating too much of the wrong kinds of carbs can do to your body. Researchers by the University of Texas MD Anderson Cancer Center has released a study linking high-glycemic diets to lung cancer – even if you've never smoked a cigarette in your life. In fact, according to the study, never-smokers whose diet was high on the glycemic index increased their chances of developing lung cancer by a whopping 49%.
As a never-smoker, myself, this news is quite alarming. Growing up with a family of smokers, I could see the damaging effects that were taking place. As I got older, I understood the psychological effects and addiction – not to mention the physical devastation it wreaks. Even as a young child, I vowed to never smoke and to value my health while I have it. While I don't consider my diet high on the glycemic index anymore, there certainly was a time when it was. So what could this mean to people like me?
In the United States, lung cancer is the second most common cancer in both men and women. According to the American Cancer Society, more than 150,000 people are expected to die from lung cancer this year alone – partially due to late diagnosis. When the typical death rate of a never-smoker from lung cancer is 12% - understanding this connection is certainly something to take note of. How does this happen?
Seems like a weird connect to make, doesn't it? Why would carbs be linked to lung cancer – a cancer predominantly caused by smoking? At present time, the theory behind the GI-cancer connection has to do with the increase in blood glucose and insulin. This in turn influences cell proliferation (growth of cells) and can cause tumors and other cancer in the body.
"Insulin-like growth factors have been shown to play a critical role in regulating cell proliferation and differentiation in cancer and there is evidence to suggest that IGFs are elevated in lung cancer patients," Dr. Xifeng Wu, who led the Cancer Center study, said in a statement.
In the study, which was published in Cancer Epidemiology, Biomarkers and Prevention, Dr. Wu and the other researchers compared 1,900 people with lung cancer and 2,400 control subjects using information from population data and their diets. However, they didn't control for other known factors of lung cancer, such as air pollution, radon gas, and even secondhand smoke – all known causes for lung cancer.
That being said, many factors can and do play a roll in the development of cell proliferation from eating too much red meat, to that sedentary lifestyle, to a lack of fruits and vegetables. Diet, of course, plays a part in the way our body reacts to the world and the way it maintains its equilibrium. To me, this is the point of the study. It's a reminder that we have important choices to make every day in regards to our future health. Carbs may not be the only thing to be watchful of, but it's a start on the way to developing a more holistic viewpoint and Dr. Wu agrees.
"The results from this study suggest that, besides maintaining healthy lifestyles, reducing the consumption of foods and beverages with high glycemic index may serve as a means to lower the risk of lung cancer," said Wu.
While a non-smoker's chance of getting lung cancer overall is still quite low, altering our diet to be healthier can be an easy way to ward off the chance even more. With this news, it's important to have a good understanding of what makes a carb high on the glycemic index and what isn't. Here's a quick and dirty list to get you started:
Foods High in the Glycemic Index
• White bread, bagels, French baguettes
• Corn flakes, puffed rice, bran flakes, puffed wheat, Cheerios
• Instant white rice, short grain white rice, rice pasta, macaroni and cheese from mix, instant mashed potatoes, fresh mashed potatoes, French fries
• Russet potato, pumpkin, parsnips
• Melons, dates
• Pretzels, rice cakes, popcorn, saltine crackers, water crackers, donuts, scones, maple syrup
Foods Low in the Glycemic Index
• Wholegrain, whole wheat, sourdough rye, sourdough wheat, or pumpernickel bread
• Oatmeal (rolled or steel-cut), oat bran, muesli, all-bran cereal
• Whole wheat pasta, new potatoes, buckwheat, wheat tortillas
• Cherries, plums, grapefruit, apples, pears, coconut, kiwi, oranges, strawberries, grapes, and peaches
• Sweet potato, yam, corn, peas, carrots, broccoli, cauliflower, mushrooms, tomatoes, lettuce, green beans, onions, cabbage
• Lima/butter beans, legumes, lentils, kidney beans, chick peas, navy beans, black-eyed beans
• Whole milk, yogurt, custard, soy milk, coconut milk
• Nutella, milk chocolate, hummus, peanuts, walnuts, cashews, corn chips
While the overall chance of developing lung cancer is approximately 7% for women and 6% for men – regardless of whether or not you smoke – the overall impact your diet has may only increase that chance by a percentage point or two. This, of course makes this study much less scary and a bit more manageable. For someone like me, who has never smoked, but still doesn't want to take the chance I may acquire it, I'm more than happy to have another reason to ditch the bad carbs for a healthier option.
Leave your comment:
Your email address will not be published. Required fields are marked with *.