<< Could Dating Apps Be Responsible for HIV
Health and Safety Tips for Santa >>
Tips to Picking Safe Toys for Kids this Christmas
by Carissa Andrews - December 21st, 2015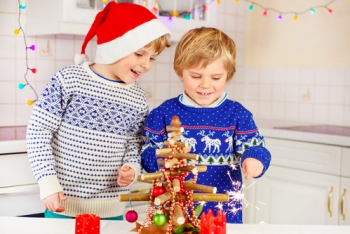 by romrodinka, despositphotos.com
December is synonymous with toys for the majority of us who have kids in our lives. It's hard to imagine a Christmas without the hustle and bustle of toy aisles, or red circles in the latest toy catalogue indicating a beloved wish. As we get closer to Christmas, we picture the faces of the little ones in our lives as they open their special gifts under the tree. We anticipate the excitement, and the joy. Not a single one of us thinks about what happens when gift giving goes terribly wrong. Unfortunately, as unseemly as it seems, safe toy-giving is something we should put a fair amount of thought into. Many of the toy-related injuries and deaths could have been prevented, had a little forethought and presence been brought into the equation.
SEE ALSO: Parenting is Hard Enough
Because of the importance of keeping our kids safe during this time of year, the Consumer Product Safety Commission (CPSC) has pronounced December as Safe Toys and Gifts Month. Very appropriate, don't you think?
I do, considering last year the CPSC staff received 11 reports of toy-related deaths. In addition, all 11 victims were younger than 12 years old. Riding toys were associated with seven of the 11 reported deaths in 2014, and of the deaths were due to motor vehicle involvement. The most startling thing is the yearly trend of toy-related injuries however. The number seems to consistently hover near the 250K mark. 2014 was no different with an estimated 251,800 toy-related injuries treated in U.S. hospital emergency rooms.
One of the biggest safety-conscious things you can do as a parent or someone buying a gift for a child is to keep their current age in mind and purchase only age appropriate toys. The CPSC ranks toys specifically to keep children safe, so if a toy says for ages 3+ but your child is only 1 and a bit, wait to buy it. Let go of the mindset of "they'll grow into it" because you're not buying clothes. You're buying toys that are developmentally too old and can contain parts and pieces completely inappropriate for a younger child. You wouldn't want your one-year-old to go to the hospital or die from swallowing a marble, or another piece off a toy that wasn't developmentally meant for them yet.
So, how do you know if the toys you're buying are suitable for your child? The first step, and possibly the most important, is to read all labels and safety information before giving the toy to your child. I know this can be cumbersome, but if you're not willing to put some attention into your child's safety, no one else will.
The CPSC has also given some basic guidelines for toys to avoid during certain ages. Check it out our toy tips according to the CPSC.
For children under age 3:
• Avoid small toys that can fit inside a choke test cylinder or no-choke testing tube, which measures 1¼ inch wide by 2¼ inches long.
• Children under 3 tend to put everything in their mouths. Avoid buying toys intended for older children that may have small parts that pose a choking danger. These include stuffed animals with eyes, noses, or other pieces that could be chewed off and swallowed.
• Never let children of any age play with deflated or broken balloons because of the choking danger.
• Avoid marbles, balls, and games with balls that have a diameter of 1.75 inches or less. These products also pose a choking hazard to young children.
• Children at this age pull, prod, and twist toys. Look for toys that are well-made with tightly secured eyes, noses, and other parts.
• Avoid toys with sharp edges and points.
For children ages 3-5:
• Avoid toys that are constructed with thin, brittle plastic that might easily break into small pieces or leave jagged edges.
• Look for household art materials, including crayons and paint sets, marked with the designation "ASTM D-4236." This means the product has been reviewed for chronic health hazards and, if necessary, the product has been labeled with cautionary information.
• Never let children of any age play with deflated or broken balloons because of the choking danger.
• Teach older children to keep their toys away from their younger brothers and sisters.
Ages 6-12:
• If buying a toy gun, be sure the barrel, or the entire gun, is brightly colored so that it's not mistaken for a real gun.
• If you buy a bicycle for any age child, buy a helmet, too, and make sure the child wears it.
• Never let children of any age play with deflated or broken balloons because of the choking danger.
• If your child gets a bike, scooter, or skateboard, be sure they also have a helmet and use it.
• Teach all children to put toys away when they're finished playing so they don't trip over them or fall on them.
For all children:
Toys should be inspected by adults periodically for anything broken or presenting other kinds of hazards. Damaged or dangerous toys should be thrown out or repaired upon finding.
Don't forget, once gifts are open this Christmas:
• Immediately discard plastic wrapping paper, plastic, clips, wires, and/or other toy packaging before it can become dangerous play things.
• Keep toys appropriate for older children away from younger siblings and remind them to do the same.
• Adults should always supervise battery charging. Chargers and adapters can pose thermal burn hazards to young children, and some instances, can cause death if a young child puts a live charger into their mouths. Pay attention to instructions and warnings on battery chargers.
Every one of us wants to have a happy, and fun-filled Christmas spent at home with family – not in the hospital worrying about a child. It takes only a few moments to safe-guard your children from their new toys by reading the labels, inspecting components, and making sure each toy is age appropriate before turning it loose with your kiddo. By being a diligent, and thinking through the gift-giving process before your child takes over with their new toys, you can save yourself a lifetime of regret.
###
Carissa Andrews is an passionate author and freelancer from Minnesotan with a focus in creative writing.