<< Birthday Wishes to King Kong Bundy
Postpartum Depression Can Be a Family Affair
by
Carissa
- November 9th, 2015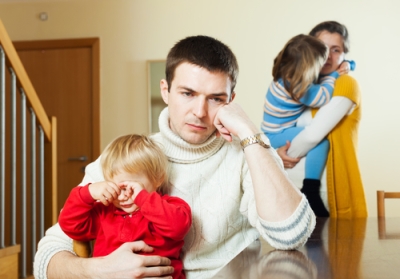 by Jim_Filim
Most parents, new or otherwise, have at least heard the term postpartum depression (PPD) in passing. It's a pretty common term these days. Recently,
Hayden Panettiere
of the television show "Nashville" took the spotlight by taking leave from the popular show to focus on her PPD. Her daughter Kaya was born last December, but she's struggled since then – making her one of the few celebrities willing to tackle this issue in the limelight.
Last month, she openly discussed her battle with PPD on Live! with Kelly and Michael. In her interview, she stated, "When [you're told] about postpartum depression you think it's, 'I feel negative feelings towards my child, I want to injure or hurt my child' — I've never, ever had those feelings," she said on the show. "Some women do. But you don't realize how broad of a spectrum you can really experience that on."
This spectrum Panettiere describes is part of the reason as many as 50-60% of postpartum depression cases go unreported, undiagnosed, and ultimately untreated.
However, it's important to note it's not just women who can suffer depression after a baby is born. As many as 15% of new dad's are known to also suffer from paternal postnatal depression (PPND), but the knowledge of this type of depression can be overshadowed. In many cases, PPND is exacerbated by lack of sleep, as is PPD. However, a history of depression can also play a role; as can a wife or partner who is also suffering from PPD.
What is does baby blues or daddy blues have to do with it?
One of the key things we need to mention is that the 'baby blues' and 'daddy blues' is actually something very different to postpartum and paternal postnatal depression. While both can start here, PPD and PPND is a much more devastating state for both parents.
Baby/daddy blues generally begins sometime in the first two weeks after birth – and who can blame a new parent? I mean really, you're now responsible for a little being 24/7. Most of the time, what parents would really love to do is sleep, but it's also the one thing both parents are sorely lacking. For women, 80% will start with the baby blues and about 20% of men will get daddy blues. This is described as mild sadness, irritability, and anxiety – and the key is that it will generally resolve itself within a week or so.
Postpartum depression and paternal postnatal depression is not so forgiving.
How do I know PPD and/or PPND when I see it?
With postpartum depression and paternal postnatal depression, the main thing to note is the line being crossed from mild to severe depression and the duration of which the feelings persist.
Postpartum Depression in new moms presents itself as weeks or more of:
• Depressed mood or severe mood swings
• Excessive crying
• Difficulty bonding with the baby
• Withdrawing from family and friends
• Loss of appetite or eating much more than usual
• Inability to sleep (insomnia) or sleeping too much
• Overwhelming fatigue or loss of energy
• Reduced interest and pleasure in activities you used to enjoy
• Intense irritability and anger
• Fear of not being a good mother
• Feelings of worthlessness, shame, guilt, or inadequacy
• Diminished ability to think clearly, concentrate, or make decisions
• Severe anxiety and panic attacks
• Thoughts of harming herself or baby
• Recurrent thoughts of death or suicide
Paternal Postnatal Depression in new dads presents itself as weeks or more of:
• Uncharacteristic irritability or agitation, and anger a lot of the time
• Distancing from his wife/partner and baby
• Gambling, drinking, taking drugs, or engaging in other reckless behaviors
• A personal or family history of depression
• Sad, tearful, or uninterested in doing things he used to enjoy
• Comments on feeling worthless or shares suicidal thoughts
• Spending more time than usual at work
One thing to note is PPD/PPND can begin months after the baby is born, and even after the parents have successfully bonded with their infant. If either you or your partner have any of the above symptoms and they've lasted longer than a couple of weeks, it's important to seek help.
Untreated PPD/PPND isn't something a person can just "get over". Without effective treatment, it can result in damaging, long-term consequences for everyone one involved. The good news is, both PPD and PPND are treatable and can be completely recovered from.
How do we get help?
Many new moms and dads often worry about the stigma of being seen as a "bad parent" by being diagnosed with postpartum or paternal postnatal depression. The fact of the matter is, PPD and PPND does not discriminate. You can be a great new mom or dad, with a fantastic life and support system – and still suffer from PPD/PPND; just like Hayden Panettiere. There is no shame in seeking help—in fact, it's a necessity. You can't will PPD/PPND away. The good news, they are both very treatable condition, so there's no reason why you or someone you love should suffer through it. In fact, if suicidal thoughts or harmful thoughts about your baby arise, it could be said that getting treatment may indeed be lifesaving.
The first step is seeking help from a medical professional who has experience diagnosing and treating PPD/PPND. They'll work with you to come up with a treatment plan that's best for you and your situation. This may include antidepressants, ongoing therapy, and finding support in family, friends, or even local groups. For new moms, it's important to note that there are a number of different antidepressants that can safely be taken while nursing—so don't feel that medicines are not an option for you, should you really need them.
The good thing to come from Panettiere's admittance into treatment is how it's managed to get people talking about PPD/PPND and just how many women and men struggle after the birth of a child. While it won't be the be all, end all to total acceptance—it's at least another crack in the wall shining light through. Even if only one person decides to get help and end their struggle alone, Panettiere's story has been worth spreading.
###
Carissa Andrews is a passionate author and freelancer from Minnesota with a focus in creative writing.
Leave your comment:
Your email address will not be published. Required fields are marked with *.