<< 3 Ways to Commemorate the Spirit of Labor Day
Protecting Your Mental Health If You're on the Ashley Madison List
by
Natasha
- September 8th, 2015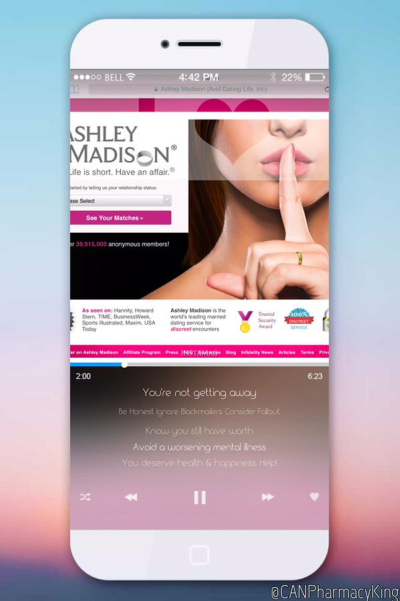 This article was written by award-winning writer and speaker, Natasha Tracy. Please refer to the first article: Online Cheating Can Have Real-World Consequences, Even Suicide
If you've found yourself caught up in one of the biggest data breaches in history – the publication of 37 million Ashley Madison members' information – you'll likely be worried about the fallout. Some people are resigning from their jobs after being found on the list of members of the adultery website while other sources say that outed members will likely be fired.
But one thing you may not have thought of in all the scandal of the Ashley Madison mess is your mental health. If you're on the Ashley Madison List, how do you protect your mental health?
The Ashley Madison List and Suicides
Being published on the Ashley Madison list has actually be linked to suicides and that is simply never okay. No matter what a person may have done on a website, it's not worth ending a life over. Obviously, the guilt and shame these people felt was overwhelming for them and they felt the need to take a permanent way out. These people may have already been suffering from an illness like depression before the news was released that put them at heightened risk.
But there is a saying in suicide prevention circles: suicide is a permanent solution to a temporary problem. And make no mistake about it, while the Ashley Madison hack may have lasting impacts on a person's life, those impacts will not last forever and things will get better. Being found on the list may be a big problem, but it is not one that will last forever.
Steps to Take to Protect Your Mental Health If You're on the Ashley Madison List
1. Realize that you're not getting away scot-free.
When the information about the Ashley Madison clients first came out there were reports of people lying about it. This will not help your situation. This data is real. It contains your name, street address, phone number, birth date, relationship status, what you were looking for, and so on. You cannot run from that type of detailed information. Realizing that you're on the list and that people will know about it is the first step to dealing with the problem.
2. Be honest with your partner.
Look, you did something you didn't want others to know about and you got caught. You cheated on your partner to some degree and you got caught. You need to respect your partner enough to simply lay out the facts and be honest. Not doing that will only bring further guilt and shame and continue to harm your mental health.
3. Ignore blackmailers.
There are reports of people on the list being threatened by blackmailers to make the information more public or, in some cases, remove the member's name from the list for a fee.
Security expert Troy Hunt says
you can safely ignore blackmailers as they can't remove anything from what is already in the public domain.
4. Consider what other fallout may occur.
Some people, for example, have a morality clause in their job contract which may put their jobs into jeopardy. And then there are friends and neighbors who will likely find out the information too. Part of taking care of your mental health is preparing for handling these things in advance.
5. Know that you still have worth.
All this public shaming may make it feel like you no longer have value or worth and this can negatively impact your self-esteem and mental health but, be assured, you are the same person you were before the Ashley Madison hack. Yes, things may be tough now, but you will bounce back.
6. Avoid a worsening mental illness.
It is normal for stressors – and this certainly qualifies – to harm the mental health of people with mental illnesses. If this is you, make sure you see your healthcare professional to head off any possible flare up of your mental illness, if at all possible.
7. Remember that you deserve health and happiness, too.
Again, all this shaming may make you feel like your mental health isn't important because of the way you have hurt others, well, this just isn't true. Whether this was just a single mistake you made or a long-running endeavor, you still deserve to be happy, too.
8. Reach out for help.
When it comes down to it, this might be a situation you just can't handle on your own. If you find yourself in a place where others are shunning you and you feel backed into a corner, the best thing you can do for yourself and your mental health is to reach out to a professional like a psychotherapist. A person like this can help you process your own feelings about this event and help you get your life back on track.
No matter what though, remember that harming yourself will hurt those around you far more than any data breach ever could.
If you feel you may hurt yourself, reach out to the National Suicide Prevention Lifeline at 1-800-273-TALK (8255). Whatever you're going through, you don't have to go it alone; they will listen to you and not judge you.
You may also like:Online Cheating Can Have Real-World Consequences, Even Suicide
###
Natasha Tracy is a bipolar freelance writer for Canadian drug company
Leave your comment:
Your email address will not be published. Required fields are marked with *.