<< The Dad Bod Sleight of Hand
Great Tips for Seniors Staying Sun Safe This Summer >>
Tips and Tricks for Fun Hiking with Little Ones
by Carissa Andrews - June 24th, 2015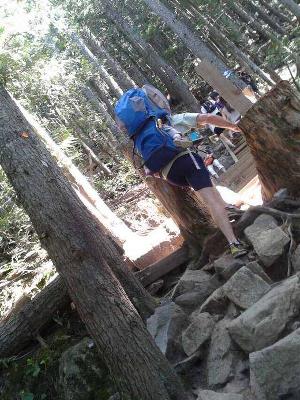 Photo by Tiffany
June is National Great Outdoors (GO!) Month here in the United States and I can think of no better way to celebrate with my little ones than to lose ourselves in nature. We are fortunate enough to live in Minnesota, where state forests, hiking trails, and paved trails are abundant.
When I was a child, my parents never took me places to wander the woods. Instead, I grew up in a part of town with a forest behind our house and I would find myself outside from dawn until dusk, when I could. From a very young age, I would roam the woods, dreaming about what life was like when there were no conventional houses, roads, cars, etc. I'd fight bad guys (broken tree branches) with my "sword" (a large stick), build teepees, and all around explore.
These days, it may not be as feasible for our kids to do the same, but we can ensure they find themselves in a bit of nature so they can build a love for it, too.
Things to Pack When Hiking with Little Ones
1. Water – The obvious one. If you plan to be out for any length of time, you all need to stay hydrated. Have each child bring their own water bottle and encourage them to sip often.
2. Snacks – This is a biggie. Kids get hungry and by having snacks with, you'll have a way to encourage them to go a little further. For instance, "Let's make it to the next big tree and we'll stop for a snack break."
3. Sunscreen – Even in the shade, it's important to wear sunscreen. Because it should be reapplied often, be sure to bring the bottle with and keep an eye on the time so it doesn't lose its potency.
4. Hats – Even the best sunscreens won't protect your scalp unless you apply it there. For people with hair, that's likely not an ideal solution. Instead, invest in a wide-brimmed hat with a UV rating to protect not only your kids' sensitive scalps, but your own as well.
5. Layers – Weather conditions can change quickly – especially when you go early in the morning and plan to spend most of the day out. Wear light layers so you can add or remove them as the weather needs.
6. Good Shoes – Perhaps this is a no-brainer, but there is nothing more uncomfortable on a hike than poor shoes. One I highly recommend are hiking shoes by Keen. They're a bit more expensive upfront, but they are built to last. I've owned mine for over 4 years and I just have to replace them this year. They make them for men, women, and children – so the whole family can easily get footwear that will be comfortable and last.
7. First aid kit – Another one that should be common sense, but you'd be amazed at how often these are forgotten. Children could easily get a bug bite, skin a knee, or something else. Be sure to pack the essentials like bandaids, topical ointment, bug bite cream, and if your little one has bad allergies, bring the EpiPen.
8. Baby supplies – If you are hiking with an infant, don't forget to pack their essentials. Baby bottles, diapers, wipes, and something to throw diapers away. Follow the hiker's rule of "leave no trace".
5 Tips to Hiking with Little Ones
1. Time of the day. Kids function best first thing in the morning (as do many parents!). By going in the morning, you'll all be rested, energized, and ready to go. Not to mention the weather will be cooler, and the sun lower, making it an ideal time.
2. Frequent pit stops. Like I said above, kids need break times to refuel. However, pit stops can also mean encouraging your kids to look around and see the world, rather than focusing on the destination. Take a few minutes to listen to the wind, watch the sunlight filter through the trees, dig your feet into the grass… whatever it is, plan to take time to enjoy the journey.
3. Dangle the carrot. When kids do start to drag their feet, give them a goal to reach for to keep them moving forward. Play a game like, "First one to reach the top of the big hill gets to pick the treat when we're done." Or "when we get to the big rock up ahead, we will stop for a lemonade break."
4. Explore like a kid. Remember that kids are born explorers. They may not want to hike in a straight line like and adult. Instead, they'll want to get down in the dirt and explore the things they find. Remember what it was like to see all the new sights when you were a kid. Look for salamanders, wild flowers, berries, caterpillars, or anything else that may catch your eye and help you connect with your kids.
5. Let them bring a friend. Older kids may think the concept of hiking is boring – especially with their family. By bringing along a friend, they can chill out, laugh, and explore with someone their own age and who isn't related. Sometimes, that makes all the difference.
For some great places to hike in the Vancouver area, click here. If you're like me and live in the Minnesota area, click here. For those of you who live in other parts of the world, be sure to research trails in your area. You may be surprised with the beautiful trails so close to where you live.
No matter what, remember that hiking with kids take time, a dash of patience, and a little imagination. However, the memories you'll make together will be priceless and you'll be giving them the gift of loving the great outdoors.
###
Carissa Andrews is an passionate author and freelancer from Minnesotan with a focus in creative writing.