by Carissa Andrews - June 24th, 2015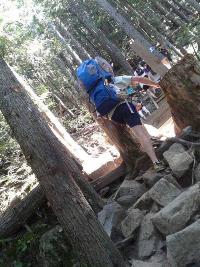 Photo by Tiffany
June is National Great Outdoors (GO!) Month here in the United States and I can think of no better way to celebrate with my little ones than to lose ourselves in nature. We are fortunate enough to live in Minnesota, where state forests, hiking trails, and paved trails are abundant.
When I was a child, my parents never took me places to wander the woods. Instead, I grew up in a part of town with a forest behind our house and I would find myself outside from dawn until dusk, when I could. From a very young age, I would roam the woods, dreaming about what life was like when there were no conventional houses, roads, cars, etc. I'd fight bad guys (broken tree branches) with my "sword" (a large stick), build teepees, and all around explore.
These days, it may not be as feasible for our kids to do the same, but we can ensure they find themselves in a bit of nature so they can build a love for it, too.