by
Natasha
- June 29th, 2015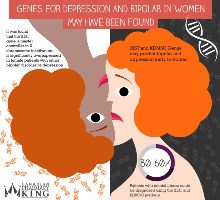 This article was written by award-winning writer and speaker, Natasha Tracy.
According to researchers out of the University of California, specific genes for bipolar disorder and depression in women may have been found. While the genes themselves are not newly-located, their role in mental illness in a general population of women was not previously known. However, due to study of 144 samples, researchers are now saying that these genes may be the basis on which a blood test could be made to test for major affective disorders (depression and bipolar disorder) in women.
Basis for Study of These Genes and Major Affective Disorders in Women
It is known that an extra X chromosome frequently causes psychiatric symptoms in people with rare genetic diseases Klinefelter syndrome and Triple X syndrome.