<< Is Mom Our First Pharmacist?
The Hardest Part of Being A Mommy >>
10 De-stress Methods Better than Pills
by
Carissa
- May 8th, 2015
April is National Stress Awareness Month; so naturally, we want to help you kick the stress habit. Or at the very least, work towards creating a few puddles of bliss between bouts of manic moments. Stress can takes its toll on you physically, mentally, and motivationally.
Sometimes we get so wrapped up in our daily grind, we can't even see the simple ways to alleviate the stresses of being alive. In order to maintain our health, we need to find ways to combat stress. While a bad day won't necessarily compromise your health, compounding weeks or months of stress will dampen your immune system and raise your risk for disease. According to the American Psychological Association, only 29 percent of people dealing with stress say they're doing an excellent or very good job at managing or reducing it.
So with that in mind, here are simple ten tips to overcoming even the most grizzly of days.
1. Clean the house.
Getting rid of clutter in your house helps you to focus on something beyond the problems in your life and can be one of the best things to start with. When your house is tidy, often times your mind can be, too. The movement alone will allow your brain to focus on something else, and sometimes it can even bring about an answer to a problem you've been trying to solve.
2. Cook delicious/healthy foods.
Eating right and getting the proper nutrition does wonders for your stress levels. Adaptogens are also a key component in de-stressing, as they administer a stabilizing effect to your physiology and promote homeostasis: both of which decreases cellular sensitivity to stress. So while you're cooking whole foods and eating organically when possible, don't forget to sip a side of ginseng tea to get a greater sense of calm.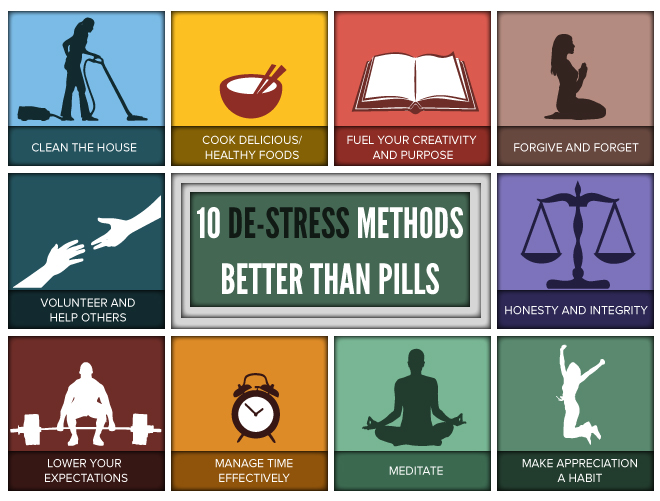 3. Fuel your creativity and purpose.
Taking time for your passions is paramount to living a life free of stress. When you take pride and joy in doing something you love, the troubles of the day seem to fade away. If you don't currently have a favorite past time or hobby, check out your local community education program and learn something new. You never know when a new class might become a lifelong love.
4. Forgive and forget.
Sometimes stress is caused by the resentments we allow to build up in our minds. Not everyone is going to treat us fairly, but holding on to anger only hurts you. Remember the Buddha's saying, "Holding on to anger is like drinking poison and expecting the other person to die." Letting go doesn't mean you have to agree with what's happened in your life, it simply means you are not longer going to allow it to control you going forward.
5. Honesty and integrity.
By living your life with honesty and integrity, you are freeing yourself of the burdens that lies put upon you. You always know the truth of the matter, because you're never having to recall which lies you've told to someone or who knows what. Having a clear conscience will always keep your stress hormones in check.
6. Lower your expectations.
It's okay to strive for the best and reach for the stars; but if you begin to feel the negative effects because you're always falling just short of where you want to be, despite your best efforts, it's time to lower your expectations a bit. Knowing when to be realistic and knowing when to go for the gold will keep you happier, and healthier your entire life.
7. Make appreciation a habit.
Research has shown that people who appreciate what they have in life are far happier, less stressed, and overall more satisfied with their lives.
8. Manage time effectively.
Who doesn't get stressed when they're consistently late, or behind on every work project they do? When you put some effort into proper time management, you eliminate a whole host of stressors. With today's modern society, there are myriad apps available both for your smartphones and your computers to keep you on top of that growing to-do list.
9. Meditate.
A daily meditation practice brings about a deep sense of calm, helping to equip you with much needed stability when days of anxiety come your way. By learning how to watch your thoughts without reacting to them, you'll be able to better handle the down days by remaining grounded in the present and knowing that times like these will shall soon pass.
10. Volunteer and help others.
When we're stressed out, sometimes it's hard to imagine taking time out for one more thing. But when we make the effort to help others, despite our own struggles, we learn that we may not have it as bad as we thought. Additionally, helping someone else brings joy all around; it make the day of the person you help, and you feel good about bringing a smile on their face. What's better than that?
###
Carissa Andrews is an passionate author and freelancer from Minnesotan with a focus in creative writing.
Leave your comment:
Your email address will not be published. Required fields are marked with *.