<< Could Your Credit Score Tank True Love?
Can A Pharmacist Call in Sick? >>
8 Last-Minute Ways to Spend Family Day Together This Year
by
Carissa
- February 5th, 2015
In Canada, the timeframe from New Year's Day to Good Friday has typically been a sparse one for holidays that offer some much needed time off. Family Day is currently observed the provinces of Alberta, Ontario, and Saskatchewan on the third Monday of February. For British Columbia, however, Family Day falls on the second Monday of February. In 1990, Alberta was the first province in Canada to observe Family Day as a way to celebrate the importance of families and family. History states that it was created as a way to reflect the values of family and home that were important to the pioneers who founded Alberta. Not to mention, give workers the opportunity to spend more time with their families over a long weekend. Family Day was later introduced in Saskatchewan in 2007, and in Ontario in 2008. British Columbia observes Family Day as a statutory holiday for the first time in 2013.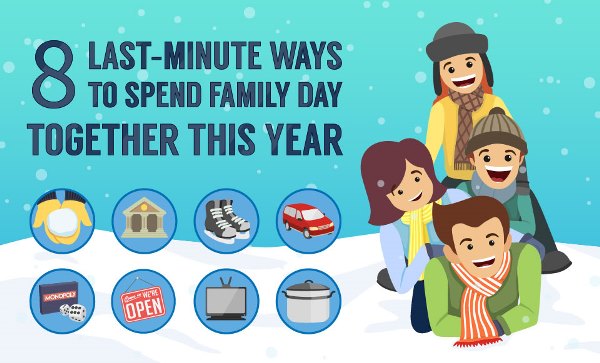 Around the world, Family Day (or a holiday like it) is celebrated. In the Australian Capital Territory, the first Tuesday of November is known as Family and Community Day. In South Africa, the day after Easter Sunday is Family Day. In the United States, Arizona celebrates Family Day on the first Sunday in August. North Carolina and Georgia have also been known to celebrate Family Day. Here in Minnesota, we do not currently have a holiday for families, though I certainly think that would be nice. As a parent, one can never have too many days to spend together.
This year, Canada's Family Day is celebrated on Monday, February 16th, 2015 (or Monday, February 9th for BC) – which means it's coming up quick. Are you prepared? If not, we have some last minute ideas for you to check out and consider, regardless of where you live.
8 Fun Ways to Spend Family Day as a Family
1. Snowball Fight – Winter has its challenges, but it can also be fun if you embrace it. Bundle the kids up and bring the, outside for a good old-fashioned snowball fight! Don't forget to stock up on hot chocolate and marshmallows for afterwards!
2. Museum Escapades – Go to your local museum for the afternoon, and enjoy the time showing your kids something new. Chances are, you'll get special deals, too!
3. Ice Skating – Whether you're an old pro, or teaching a newbie, ice skating is fun, challenging, and rewarding! Watch your little ones light up when they learn to push forward for the first time, or skate on one foot! Laugh when you fall over, and pick yourself back up.
4. Family Road Trip – Get yourself out of the house and hit the road. Travel to a relative or friend's house that you haven't visited for a while. Or just drive to a new place and have lunch as a family.
5. Get Board (Board games, that is!) – Dust off that board game collection and put one (or more!) to good use. Teach your kids a new board game or try out a tried and true game to see how your kids fair this time around.
6. Go Window Shopping – Sometimes it's nice to just get out of the house. Try packing up the kids and head to the local toy store, mall, or other shopping arena to window shop! Get ideas for birthdays, fun days, or even Christmas. Show your kids you can like things, want things, but wait to get them. All you need for this trip is to keep the one rule: You're just there to look, not to buy!
7. TV Show Binge – Do you have a TV show that you have been wanting to watch as a family, but just haven't been able to? Now's a great time to be couch potatoes! Load up on popcorn, snacks, and drinks and watch an entire season of a show you will all enjoy. Make an entire day out of it.
8. Make a New Meal Together – In the winter, we all get a little bored and restless with our food. Put your heads together and make a new meal together. Look up some fun recipes and go all out. Make a three-course meal. Or make up a new recipe all together. Just have fun, and enjoy the process.
Remember, you don't need a day on the calendar to do fun things as a family. So take these ideas, grow with them, and add your own to whatever day! Let us know what you tried out from this list or did this year.
We wish you all a fun, safe, and enjoyable Family Day 2015!
###
Carissa Andrews is an passionate author and freelancer from Minnesotan with a focus in creative writing.
Leave your comment:
Your email address will not be published. Required fields are marked with *.