<< Wishing You A Very Merry Christmas
Sildenafil from Sandoz Canada >>
FDA Approved Bipolar Depression Medications
by Natasha Tracy - December 29th, 2014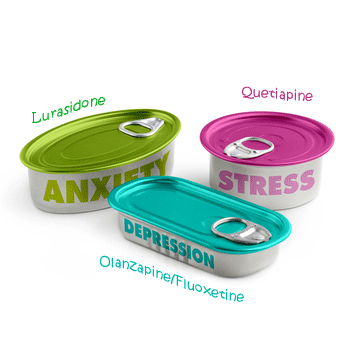 Bipolar Medications by paulistano, despositphoto.com
When treating bipolar disorder (bipolar depression or bipolar mania/hypomania) a psychiatrist has many medications from which to choose. Typically, though, a doctor will choose a medication approved by the United States Food and Drug Administration (FDA) for that specific indication first. Doctors, however, do always have the options of prescribing medications approved for other uses as well.
The FDA approves drugs for specific uses. For example, while there are 13 medications approved for the treatment of bipolar disorder overall, only three of those medications have been approved for the treatment of bipolar depression specifically.
Lurasidone (trade name: Latuda), quetiapine (trade name: Seroquel), and olanzapine/fluoxetine combined (trade name: Symbyax) are the three medications that are FDA approved for bipolar depression treatment.
Basic Information about Lurasidone (Latuda)
Lurasidone is an atypical antipsychotic whose specific method of action is unknown. It is thought that this medication works by mediation of central dopamine type 2 and serotonin type 2 receptor antagonism.
There is a serious warning on Lurasidone (a black box warning) that indicates that this medication is not indicated for dementia-related psychosis and there is the possibility of increased suicidal thoughts in children, adolescents and young adults who take this medication as an antidepressant.
For bipolar depression, lurasidone is approved for use alone or in conjunction with either valproate or lithium. Initial dosing is 20 mg per day, not to accede 120 mg per day. Lurasidone must be taken with a meal of at least 350 calories. This medication is also approved for the treatment of schizophrenia.
The most common side effect experienced with Lurasidone is sleepiness followed by a movement disorder known as akathisia. (Akathisia is characterised by an inner restlessness and a need to keep moving.) Other common side effects include an increase in fasting glucose readings, nausea, and parkinsonism (symptoms of Parkinson's disease).
Basic Information about Quetiapine (Seroquel)
Seroquel is an atypical antipsychotic whose specific method of action is not known. This medication is known to modulate the neurotransmitters dopamine, histamine, alpha1 and alpha2-adrenergic, and serotonin.
There is a similar black box warning on quetiapine as with lurasidone regarding dementia-related psychosis and its use as an antidepressant. Additionally noted is its lack of approval in children less than 10 years of age.
In bipolar depression, quetiapine may be given in immediate or extended release forms thusly:
• Day 1: 50 mg at bedtime
• Day 2: 100 mg at bedtime
• Day 3: 200 mg at bedtime
• Day 4 and onward: 400 mg at bedtime
However, a doctor and patient may agree to a slower schedule of titration to reduce possible side effects. This medication is also FDA approved in the treatment of schizophrenia, bipolar I mania, bipolar I maintenance, and major depressive disorder.
The major side effects associated with quetiapine are dizziness, fatigue, involuntary movements (extrapyramidal symptoms), increased diastolic blood pressure, increased triglycerides, increased total cholesterol, increase appetite, constipation, dry mouth, headaches, and sleepiness.
Basic Information about Fluoxetine/Olanzapine (Symbyax)
This medication is a combination of olanzapine, an atypical antipsychotic, and fluoxetine, a selective serotonin reuptake inhibitor (SSRI) antidepressant. The way these two drugs work is not completely understood but olanzapine appears to work by primarily affecting dopamine, histamine, serotonin, and alpha1-adrenergic receptors. Fluoxetine appears to work by inhibiting serotonin reuptake.
A black box warning similar to those above is included for this medication. Specifically, there is concern over people under the age of 24 and increased suicidal thoughts and an increase in the risk of death in those with dementia-related psychosis taking this medication.
For bipolar I depression this fluoxetine/olanzapine combination may be started with an initial dose of 25 mg fluoxetine and 6 mg olanzapine and, if needed, it may be increased to 25-50 mg fluoxetine and 6-12 mg of olanzapine with a maximum daily dose of 75 mg fluoxetine and 18 mg olanzapine. This medication is also approved for treatment-resistant depression.
Common side effects with this medication include: dry mouth, fatigue, swelling, increased weight, increased appetite, and sleepiness/tiredness.
An Important Note on Medication Information
The information in this article on medication is not meant to be medical advice nor does it cover all information available. Always talk to your doctor before making any medication changes and see the following links for references and complete information:
• Symbyax

###
Natasha Tracy is a bipolar freelance writer for legitimate Canadian pharmacy