<< The New Wave of Pharmacy Design & Architecture
8 Winter Holiday Travel Tips for Seniors >>
Why We Explain this Remembrance Day to Our Kids
by Carissa Andrews - November 10th, 2014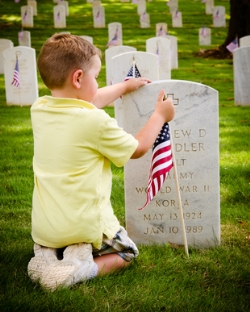 by RobHainer, Depositphoto.com
Remembrance Day (Veteran's Day in the United States) is an important holiday to discuss with our children. However, it is also one that we may have to work at to hold their attention, particularly for the younger ones. There isn't the prospect of candy or presents, and it entails having to explain some of the harsher realities of human nature. War, death, freedom, and valor are each as challenging as they are important to teach. But how do we get our kids to show some interest and even retain what it means to celebrate Remembrance Day or Veterans Day?
Simple Ways to Remember Veterans with Our Children
If you're looking for ways to commemorate your veterans with the children in your lives, we have a few suggestions for you.
For starters, kids need for it to be personal. If they have a story they can connect to, they will not only understand the significance better, but they will want to remember, too. With that in mind, think about all the veterans in your life. Are there any who have made an impact in your children's lives? Perhaps a father, grandfather, aunt, or friend of the family? If so, how can you incorporate their life story into your teachings? If you don't know any one who is a Veteran, think about ways to encourage your children to meet one.
• Tell the story of how poppies became the international symbol of remembrance
• Craft a poppy pin with your children and wear them on your lapels
• Attend your local Remembrance Day, or Veterans Day ceremony
• Thank a Veteran together
• Ask the Veteran in your life to share some of their memories
• Discuss with your children the meaning of Remembrance Day or Veterans Day and encourage them to ask questions
• If you're unfamiliar with the history of this important holiday, research a bit online and talk about it with your children
• Read the poems of "In Flanders Field" and "We Shall Keep the Faith" together
• Read the book "At Vimy Ridge" or "What is Veterans Day" with your children and encourage them to discuss what they learn
• Visit a cemetery and leave poppies for those who lost their lives in battle
• Share your memories of Veterans on Facebook, Twitter, or whatever social media outlets you use. Encourage your older children to do the same.
It's our duty to keep their memories alive and spread gratitude for their sacrifices. However you choose to remember your country's veterans with kids, we hope that it is a memorable and enjoyable process for each of you.
Happy Remembrance Day and Veterans Day!