<< Canadian Drugs Pumpkins Review
Crime Scene Do Not Enter Diabetics >>
25 Light-hearted Things to be Grateful for This Thanksgiving
by
Carissa
- October 13th, 2014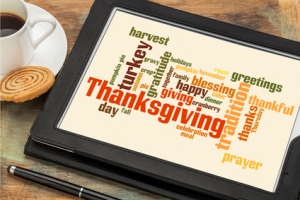 Clouds of Thanksgiving | PixelsAway, Despositphoto
Tis' the season for turkey and stuffing, cranberries and pumpkin pie… and of course, all the things to be thankful for this year. Sometimes, when we struggle with life's ups and downs, it can be a challenge to find the little blessings bestowed in our every day life. But regardless of our circumstances, there's always something to be thankful for.
Here's our list of things to add to your gratitude journal this year.
1. That toilet paper exists.
Just think, in its current incarnation, it has only been around since 1883.
2. Indoor bathrooms.
It wasn't until the turn of the 19th century that outhouses were abandoned for indoor plumbing. As someone who lives in Minnesota, I am extremely grateful I don't have to stumble outdoors in the middle of the night at temps of 40 below (or worse!).
3. Running water.
While we were just discussing indoor plumbing for bathrooms, let's expand it a bit further. Nearly 800 million people live without clean water, so if you're not one of them – be thankful.
4. Coffee Makers.
Without which most of our brains would not work in the morning. And since we have that running water, we are pretty much in heaven with these bad boys.
5. Mosquito repellants.
Since we briefly touched on the subject of living in Minnesota, I enjoy not having to constantly be a pincushion for those nasty little buggers because of the usefulness of a variety of different types of repellants.
6. Underground fences.
When a full, six-foot high fence is completely unattainable, it's nice to know your dog has the space to run without the price tag (and often ugly appearance) of a chain-link fence.
7. Concrete driveways.
Have you ever tried to shovel snow from a dirt driveway? It stinks. I am extremely grateful for concrete driveways and the ease of snow dispersal.
8. Dimmer switches.
Whether used for setting a romantic mood, or just because you don't want to burn your retina's our in the middle of the night, I love these little buggers. They're handy.
9. Memory foam pillows or beds.
They mold to your body and feel ever-so-comfy. I love them both and I'm grateful for not having a metal wire embedded in my back. (Especially this year, being pregnant and all!)
10. Scissors.
Have you ever tried to open a brand new kids' toy from its package without a pair of scissors? They are an essential part of life now and I'm grateful every time I use them.
11. Cloud storage and syncing.
Technology is pretty crucial in our lives now, but the simple fact that we can store and sync our most vital information online without the fear of loss that happens when a computer crashes – is a beautiful thing.
12. Sight.
The simple fact that you have the ability to be reading this list, view the world around you, and take in its wonders is magical. Don't take it for granted.
13. Libraries.
Because of that beautiful sight we just discussed, you are able to take in the wonders of reading. Whole worlds are at your fingertips by just visiting your local library.
14. Amazon Prime.
Or Netflix. Hulu. Whichever service you use, it's awesome to have the ability to watch shows through a streaming method straight to your TV. Anyone else thankful for being able to binge-watch your favorite shows? Gilmore Girls, anyone?
15. Air conditioners.
Who would have thought that in a cold state like Minnesota, that air-conditioners are a must-have. But they are.
16. Free samples at Costco.
Free food and yum. Enough said.
17. Airplanes.
The simple fact that anyone anywhere is just an airplane trip away is not only awesome, but miraculous. Don't take it for granted.
18. Internet access.
For certain generations born after the 1990's, the idea of life without the Internet is probably surreal. But for me, I remember when the very first computer I bought that had Internet access. I had to buy the modem separate from the computer and everything! So not only am I thankful for the Internet access in general, I'm also thankful for the fast speeds we now take for granted. (Do you remember the sound of the modem dialing in? You could get up, make a sandwich and come back to it still dialing in!)
19. Facetime/Skype.
When an airplane trip to your far-away loved ones is unattainable, the simple fact that you can call them up and have a face-to-face call is downright amazing. Isn't it?
20. Friends and Family.
Having people in your life who know and love you is the best feeling. Don't take them for granted.
21. That you most likely don't live in a warzone.
22. Opinions.
Having a mind of your own and opinions that you can share is a part of being uniquely you. Embrace them.
23. Children.
They are windows of proof to the non-judgmental innocence that exists in the world before society takes hold.
24. Generosity exists.
Proof evident in the $100.9 million raised for ALS this summer alone. Thanks in part, to the viral nature of the ALS Ice Bucket Challenge.
25. Gratitude.
Maybe you haven't ever considered being thankful for gratitude. But the simple fact that we, as humans, have the capacity for gratitude is amazing. Take a moment to revel in that for a moment.
Even if not every one of these resonated with you, there's certainly one or two that stand out. Take a moment this season to be grateful, show gratitude and be thankful this holiday season.
###
Carissa Andrews is an passionate author and freelancer from Minnesotan with a focus in creative writing.
Leave your comment:
Your email address will not be published. Required fields are marked with *.