<< Health Quotes from Canadian Pharmacy Online
First Date Coeliac Screening Test >>
10 Wacky Prescription Products from Pinterest
by
Carissa
- October 1st, 2014
We all love Pinterest, right? You can find anything out there from a great new outfit, to wedding ideas, and ideas on what to make for dinner. But did you know Pinterest also offers a host of strange and funny prescription products? Lucky we're here to show you the way. Here are some of the best ones we've found so far – and don't forget while you're checking these out, to like us on Pinterest to keep up with all of our great finds!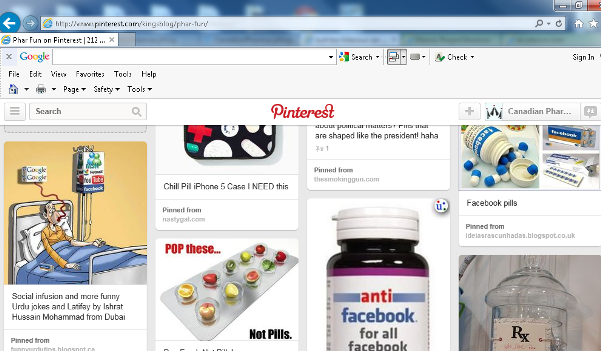 1. Hello Kitty Prescription – For all you Hello Kitty fanatics out there. You know who you are.
2. Anti-Facebook Tablets – A little help for getting of Facebook and spending actual time with our families. We all need this, these days. HA!
3. Shop-oholic Helper Pills – For those who need a little reminder to steer clear of the shopping malls!
4. Smile Pills – Aren't they cute? How could you not be happy taking these?
5. Africa Flag Pills – Decorative and festive with a poignant statement.
6. Sunshine Pills – Instantly brightens the room! Disclaimer: Keep away from vampires.
7. Chocolate Pills – Chocoholics everywhere, rejoice at this yummy alternative.
8. Starbucks Pills – Because you sometimes need a chill pill when you can't get your caffeine fix. Don't worry, we understand completely.
9. Beer Prescription – Also known as the happy man pill.
10. I Love My Wife Prescription – In case you think you love your wife, take these. Initiates fun and may enhance marriage.
Have you run into any funny, wacky, or just plain weird prescription products on Pinterest? If so, we'd love to hear from you! Leave a comment below, or send us the pin directly on Pinterest for a chance to have it repined!
###
Carissa Andrews is an passionate author and freelancer from Minnesotan with a focus in creative writing.
Leave your comment:
Your email address will not be published. Required fields are marked with *.