<< Happy Pills - Prescription for Fun
The New RX Pyramid
by
Carissa
- September 2nd, 2014
What influences or motivates the way we behave? According to humanist psychologist Abraham Maslow, our behaviors are motivated to achieve a certain hierarchy of needs. Maslow first introduced his concept of a hierarchy in his 1943 paper "A Theory of Human Motivation" and his subsequent book Motivation and Personality. This hierarchy suggests that people are motivated to fulfill basic needs before moving on to other, more advanced needs.
In his hierarchy, Maslow proposed there were 5 levels of needs we each require:
1. Physiological Needs – basic needs required for survival
2. Security Needs – the need for safety and security
3. Social Needs – needs for belonging, love, and affection
4. Esteem Needs – needs that reflect on self-esteem, personal worth, social recognition, and accomplishment
5. Self-Actualization Needs – needs of self-awareness and reaching potential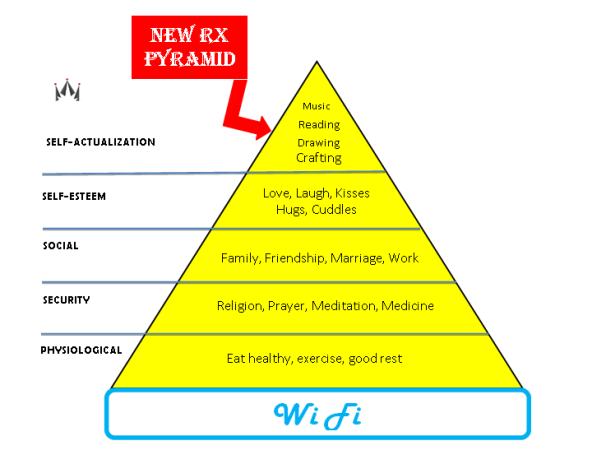 SEE ALSO: Spring Is Here: Time to Replenish Your Medicine Cabinet
We all know that old saying, "laughter is the best medicine," right? Now that we've entered the age of technology, many people believe there should be a level that supersedes our most basic of all needs. One that, for the majority of us, we would not be able to do without: the Internet.
To some the idea that the Internet is not a true essential need is no laughing matter. – I mean, how long can you go without checking your smartphone? So with Maslow's hierarchy in mind, and including the new idea that the Internet and access to Wi-Fi is a crucial need – we have some recommendations to utilize all the levels properly.
Making the most of Maslow's Hierarchy: The New Rx Pyramid
In order to utilize the hierarchy, think about the ways you can balance each of these areas of your life to involve more of each. You may find yourself a more well-rounded, centered individual with the ability to function to your maximum capacity.
Revised Level 1> Internet
• Utilize your Internet devices to maximize your connectivity to others. This actually ties into our Revised Level 4, too – so bear it in mind. This level can really be quite important. The Internet is far more than just a source of information. It fulfills a deep seeded desire to be a part of something bigger than ourselves. In fact, some psychologists suggest that without our desire to connect to others socially, none of the other needs can truly fall into place.
Revised Level 2> Physiological Needs
• Remember to take care of yourself at this fundamental level. Eat healthy, nutritious foods. Get enough rest, exercise, and enjoy time in nature. Spend some quality intimate time with your significant other. All of these things meet your basic human needs and must be met before others can truly be actualized, according to Maslow.
Revised Level 3> Security Needs
• In addition to having a secure job, income, and family home- other aspects can make you feel safe and secure. For some, that's religion, prayer, meditation, surrounding yourself with the comfort of animals. Even the medicines you take to balance your equilibrium play their role to making you feel secure.
Revised Level 4> Social Needs
• Your social structure says a lot about you as a person – but it also plays a huge role in the overall wellbeing of your mind. Spend quality time with friends, family, significant others, children and coworkers. Not only will you be developing the security you need to feel like you're a part of something bigger, but you also expand your mind and are able to work towards other aspects of the hierarchy – such as self-actualization.
Revised Level 5> Esteem Needs
• To get to the point where we feel comfortable in our own skin, we need the previous levels (according to Maslow) to get there. This level delves deeper as you find ways to fulfill your self-esteem, personal worth, and accomplishments in life. Spend time loving those who love you. Laugh often. Give kisses and hugs like they are going out of style. Cuddle. Show just how much you care and those around you will do the same.
Revised Level 6 > Self-Actualization
• In order to get to this, the highest level of the hierarchy, while it is essential to fulfill the lower levels of socialization, it is also essential you put effort into self-exploration and expression. Spend time crafting, drawing, reading, and enjoying your favorite music. Find things you enjoy and relish in them. Dig deeper into who you are, what makes you tick, and become the best version of you possible.
There's so much to learn and explore on our way to being happy, healthy human beings. Use Maslow's hierarchy (and our revised version) to see what motivates your current behaviors on the way to being the best version of you can be.
###
Carissa Andrews is an passionate author and freelancer from Minnesotan with a focus in creative writing.
Leave your comment:
Your email address will not be published. Required fields are marked with *.