Get Your Guide to the Tastiest Mooncakes
by
Carissa
- September 8th, 2014
Mooncakes are a traditional Chinese dessert typically eaten during the annual Mid-Autumn Festival, also aptly called the Mooncake Festival. This popular festival falls on the 15th day of the 8th month of the Chinese Lunar calendar and celebrates the moon and the abundance of harvest. This year's festival happens to be on September 8th, 2014, but the celebration will generally last from the 6th – 8th. Families will gather to celebrate together, give offerings and thanks to the moon, and moon gaze together – whether far or near.
People around the world celebrating the Mid-Autumn Festival will also celebrate by eating mooncakes to express their love for their family and their hope for a happy life. Traditional mooncakes are embossed with Chinese characters for "togetherness" or "harmony", as well as the insignia of the baker and the fillings inside. Flowers, vines, a moon, or a rabbit can be used for additional decoration. Many types of fillings can be found in traditional mooncakes and often differ based on local culture. Most mooncakes consist of a thin, tender golden brown skin wrapped over a sweet, dense filling of lotus, red bean or red date paste. They have one or more whole salted egg yolks at the center to symbolize the full moon.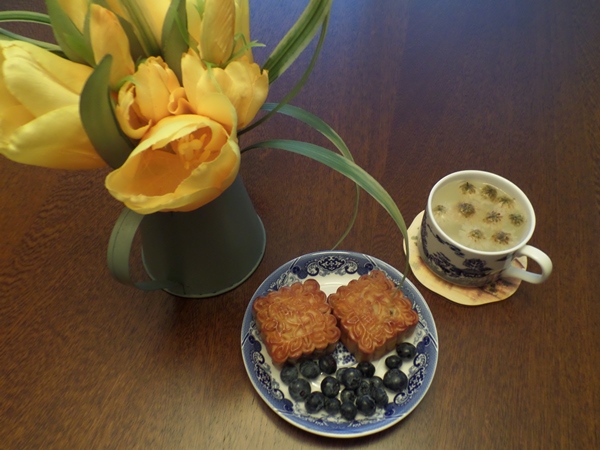 Tastiest Mooncakes | Photo taken by Tiffany
There are 5 traditional mooncake varieties based on region:
1. Cantonese-style mooncakes – Cantonese-style mooncakes originate from South China's Guangdong Province. The ingredients used in the filling can vary, which reflects the Guangdong people's adventurous nature in dining. The most-used ingredients include lotus seed paste, melon seed paste, ham, chicken, duck, roast pork, mushrooms, and egg yolks. Cantonese-style mooncakes general have a sweet taste.
2. Suzhou-style mooncakes – Suzhou-style mooncakes are also called Su-style mooncakes for short. Su-style mooncakes appeared more than a thousand years ago. They are well known throughout China for their layers of flaky dough and generous allotment of sugar and lard. There are both sweet and savory flavors.
3. Beijing-style mooncakes – This style is the typical variation in North China. It originated in Beijing and Tianjin and features the delicate use of sweetness, moderate allotment of skin and fillings, and meticulous decoration.
4. Chaoshan-style mooncakes – Chaoshan-style mooncakes have a distinct crust. They are larger in size than mooncakes in the Suzhou-style. The most commonly used fillings are mung bean paste and black bean potato paste.
5. Ningbo-style mooncakes – Ningbo-style mooncakes are mainly prevalent in East China's Zhejiang province. They have both a spicy and salty flavor.
While mooncakes have been around for thousands of years, and more commercially available than ever before, there are a few things to note about partaking in this seasonal delicacy. Keep in mind, a traditional mooncake is approximately 10 centimeters or a little less than 4 inches in diameter, and 4 to 5 centimeters to 1.5 to 2 inches thick. Given that the caloric intake can run as high as 1,200 calories per cake, it might be better not to consume the entire mooncake in one sitting, either.
All this considered, we a few tips to enjoy your Mid-Autumn Festival treat without completely blowing your diet.
1. Split your mooncake into quarters to share with friends and family, or save the extra pieces to enjoy another day.
2. Mix and match mooncakes with and without yolks. This way, you get variety and also less fat and cholesterol.
3. Avoid those made with vegetable shortening. While it lengthens the shelf life and improves the texture, it contains trans fat.
4. Opt for low-sugar and no-sugar mooncakes as they contain fewer calories than regular mooncakes and do not raise blood sugar levels as rapidly.
5. Many bakers now offer miniature low-fat, low-sugar versions. These are often made with yogurt, jelly, and fat-free ice cream, and offer a healthier choice of filling like green tea, ginger, fruits or vegetables.
6. Make your own and cut the calories. The basic ingredients for mooncakes are lard, oil, flour, egg, and sugar. Find ways to substitute or look for low-fat recipes online.
Whether you're enjoying mooncakes for the first time, or are a seasonal expert – we hope you enjoyed our tips and have a safe and healthy Mid-Autumn Festival this year. If you plan to celebrate – take some pictures and leave them in the comment section below or tag us on Twitter using the hashtag #CPKMooncakes.
Seasons blessings!
###
Carissa Andrews is an passionate author and freelancer from Minnesotan with a focus in creative writing.
Leave your comment:
Your email address will not be published. Required fields are marked with *.