Happy Pills - Prescription for Fun >>
Robin Williams: A Tragic Ending to a Brilliant Soul
by
Carissa
- August 25th, 2014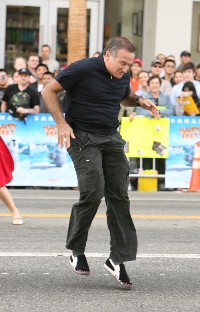 Robin Williams by EdStock/istockphoto
I was standing in my kitchen, waiting for the timer to go off letting me know supper was ready. I only had a couple of minutes, so I briefly flicked open my Facebook app to see what had been posted recently, expecting the usual parade of Monday evening banter. To my disbelief was a post, I don't even remember by whom now, that read "#RIP Robin Williams. You'll be missed." My husband had just walked in the door and I looked up with I'm sure an expression mixed with confusion and horror. "That can't be right." I remember telling him, as I scrambled out to Huffington Post to confirm. Sure enough, there in bold letters read, "Robin Williams Dead In Apparent Suicide."
It's interesting how people react when an icon falls – particularly when it's unexpected and before their time. Their death almost burns itself into your memory, leaving a bizarre, vacant hole for a person you've never really met, but in some way touched your life. I still remember where I was when I heard about Princess Diana, or Michael Jackson, or Maya Angelou. Monday, August 11th, 2014 was yet another one of those days.
To me, Robin Williams was more than just a comedian; he was a man with depth of character. Sure, he was quick-witted and hilarious, but he was also deep, thoughtful, and profound. You could see that in the roles he chose to play, and the way he gave of himself to certain charities and organizations.
So what would drive a man of this stature to kill himself? Many people only see the surface – a celebrity, who by all accounts, has it all. But it's been my experience that the people with the most depth have gotten there by way of conquering many inner and outer demons. It came as no surprise to me when word was released that Robin had been suffering from severe depression as of late and had even checked into a rehab facility in my home state of Minnesota just last month. Robin Williams had been very upfront about his struggles with addiction in the past, so entering rehab for some "fine tuning," as his publicist had said, seemed reasonable considering the recent cancellation of his television show, "The Crazy Ones." Looking back, it appears his struggles were far worse than anyone had anticipated.
In the wake of his suicide, everyone is looking for an explanation. Was it the cancellation of the show that threw him over the edge? He must have been having money problems... Or marital problems. Was he on drugs again? Or could it be the recent revelation from his wife, Susan Schneider, regarding his recent diagnosis with Parkinson's Disease?
Actor, friend, and fellow PD sufferer, Michael J. Fox was just as surprised as the rest of us to learn of Robin's diagnosis with Parkinson's Disease.
"Stunned to learn Robin had PD. Pretty sure his support for our Fdn predated his diagnosis. A true friend; I wish him peace," Michael tweeted to his followers on Aug. 14.
The National Institute of Mental Health says Parkinson's Disease can make symptoms of depression worse " and vice versa. Patients struggling with both ailments suffer higher levels of anxiety and more problems with concentration than people suffering from one or the other, the organization says on its website. Whether or not PD played a role, is yet to be discovered. It could very well be that the medications he was on to control the disease were not a fit for him physiologically.
SEE ALSO: Low Priced for Parkinson's Medications
However, if people are looking for that magic bullet that will explain away the unexplainable, they will likely never find the closure they seek. Very rarely do people make a split decision like this. Often, they have been struggling for a long time before making their move, and the thoughts are so deeply embedded into their psyche that they can no longer distinguish them as irrational. My bets are that no one thing really flipped the switch; it was merely always there - waiting in the background as a messy ball that will never quite be untangled.
There are 2 things Robin Williams' death can help us bring into focus.
1. You never know just how much someone you love could be struggling. If you feel someone you love could be in trouble, do what you can to bring him or her help. Whether that be providing a counselor's name or even spending more time with them. Sometimes, even being able to talk openly about their life, their fears, their sorrows, without fear of judgment is enough to talk them off the precipice.
2. Life is too short to be anything more than loving. We never know when our last moments might be, or those of our loved ones. Be brave, be vulnerable and let them know just how much you care while you still can.
In a statement to the public, Robin's wife Susan said, "It is our hope in the wake of Robin's tragic passing, that others will find the strength to seek the care and support they need to treat whatever battles they are facing so they may feel less afraid."
We hope that for you, too.
RIP Robin Williams. May your brilliant soul be at peace – "Oh Captain, my Captain."
###
Carissa Andrews is an passionate author and freelancer from Minnesotan with a focus in creative writing.
Leave your comment:
Your email address will not be published. Required fields are marked with *.