<< Canadian Pharmacy King's Supermarket
Is Shopaholic A Hobby or Disorder >>
Laughter is the Best Medicine: Find it on Twitter
by Carissa Andrews - August 11th, 2014
There's much to be said about the uses and benefits of joining and participating on Twitter. For starters, you can find others who share a diagnosis, interest in healthcare reform, interest in specific forms of medical research, or share other interests you will want to pursue. You'll find people to ask questions of, or people to share your own resources with. This type of talk keeps you mentally healthy, which is something we all can benefit from.
Funnily enough, when you're feeling like you need a pick-me-up, a great source of comedy is found in this unlikely Even well known brands like Old Spice and Taco Bell know the power of comedy in their social media strategy. Now, not everyone is out to create a strategy, but everyone can use a good laugh. Whether it be hilarity via 140 characters, or chuckles via a great comic/image to share, Twitter can be your place to gain a little lighter perspective.
FOLLOW WORTHY: 10 Fabulously Funny Twitter Accounts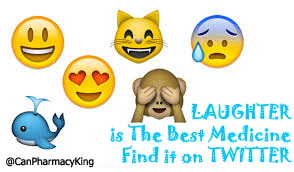 1. Ellen Degeneres (@TheEllenShow) – Who doesn't already know and love Ellen? I mean, seriously does she really need an introduction?
2. Joss Whedon (@josswhedon) – Anyone who's been around over the past two decades had seen something Joss has had his fingers in. The Avengers, Buffy the Vampire Slayer, Toy Story, Roseanne... His snarky wit and trademark tongue will have you chuckling to yourself daily.
3. Josh Gondelman (@joshgondelman) – Josh is an expert at wit. His tweets will make you wonder why you never thought of these ideas in the first place.
4. Bobby Finger (@bobbyfinger) – Bobby is a copywriter and king of hilarity when it comes to pop culture commentary.
5. Sophia (Rivka) Rossi (@sofifii) – HelloGiggles' co-founder will have you in stitches as she takes stereotypical girl thoughts and pop culture to a whole new level.
6. Jake Fogelnest (@jakefogelnest) – If there's news making its rounds across the internet, Jake never lets you down with his hilarious take on the conversation. He keeps himself busy by fake retweeting celebrities and brands.
7. The Dark Lord (@Lord_Voldemort7) – If you love Harry Potter pop culture, twisted humor, or a mixture of both, you'll love The Dark Lord. Who knew being bad could be so good?
8. Helen Keller (@The_HelenKeller) – This parody account brings a new (and often hilarious) voice to what Helen Keller may have sounded like in the 21st century.
9. Tim Siedell (@badbanana) – With a dry sense of humor, Tim is consistently funny and spot on.
10. Stephen Colbert – (@StephenAtHome) – Late-night funnyman, and comedian extraordinaire. It's impossible not to read his tweets without imagining him sitting behind his desk at the Colbert Report.
If you know any more comedy-worthy tweeters, let us know. Engage with us by leaving a comment on the blog, or tweeting us your thoughts. If you have more uses for Twitter, we'd love to hear that, too.
Enjoy!
###
Carissa Andrews is an passionate author and freelancer from Minnesotan with a focus in creative writing.