<< Have You Got World Cup Fever
Talk Therapy or Antidepressant >>
Top 10 Drugs Used by Students
by
Carissa
- July 7th, 2014
Adolescents use all sorts of medications for various reasons. While not all of the uses are considered appropriate, these ten are the ones most used by students in today's world – and are ones any parent should be taking note of. Each of them has a very real purpose for this age group, but they can also be misused if not careful. It's always best to monitor older children when they have been administered a medication to be sure they are taking it as prescribed.
Below are the top 10 most commonly used drugs by adolescents:
1. ADHD medications
3 to 5 percent of American teenagers (roughly 2 million) suffer from ADHD or ADD. When used as prescribed, these amphetamine stimulants dramatically improve the quality of life for these young adults. When used improperly by students who do not suffer from ADHD/ADD, these medication have been known to be used to increase cognitive abilities during high-stakes testing (for example entrance exams to Ivy League colleges) – and are sometimes called study drugs for this purpose.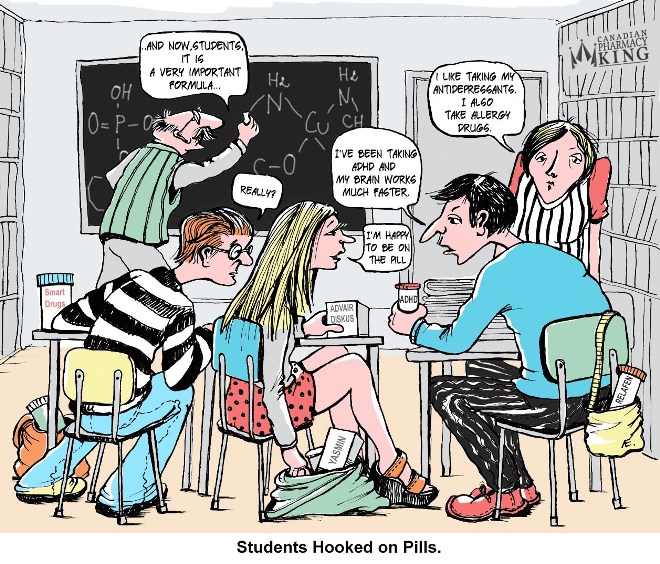 2. Antibiotics
Young adults are prescribed this medication for everything from a standard bacterial infection (such as strep throat) to ridding themselves of acne. However, the overuse of antibiotics has come under scrutiny due to the increase of antibiotic resistance and possible immune system alterations.
3. Antifungal treatments
Many teens and young adults have experienced some form of discomfort related to fungal (jock itch), yeast, or vaginal infections. Antifungal medications are used to treat these discomforts and get patients back to normal stasis. They can be given in oral or topical form.
4. Allergy medications
While most symptoms of allergies do not affect younger children, older teens and young adults suffer just as much as adults in the realm of allergic reactions. Prescribed and over-the-counter medications used for treating the symptoms of seasonal and other various allergies are very common.
5. Alzheimer's and/or Narcolepsy drugs
Sometimes called smart drugs, young adults who use these are in a very similar situation as those misusing the ADHD medications – the intense desire to perform better at study and on tests. They have been used under the desire to improve memory and concentration, to varying degrees of success. However, the long-term effect of such misuse is still unknown.
6. Analgesics/pain killers
Pain relief medicines are available in many forms and easily accessible to teens and young adults. They're available by prescription or over-the-counter (OTC) and used to treat physical pain of all kinds — from tension headaches and menstrual cramps, to broken bones and chronic conditions. Some analgesics block or decrease sensitivity to pain. Others act by inhibiting the formation of certain chemicals in the body.
7. Asthma inhalers
Teens and young adults suffering from asthma are prescribed this medication in order to get their asthma under control. However, 1 in 4 young adults who use an inhaler for asthma control have stated they use it to get high. This type of behavior is also linked to drug and alcohol abuse later on in life.
8. Antidepressants
According to the National Center for Health Statistics, 5% of Americans between 12 and 19 are on an antidepressant. The jury is out on whether talk therapy should be stressed more during this critical stage in development, as suicidal tendencies have been shown to increase in a very minute number of individuals taking the drugs.
9. Birth control and contraceptives
This one seems pretty obvious, doesn't it? Teenagers and young adults have stumbled into adult roles and adult feelings, making their natural curiosity to sex pique. Of the 3.2 million teenage women (83%) who use contraceptives, 53% rely on the pill; 16% rely on other hormonal methods, including the implant, injectable, patch and ring; and 3% rely on the IUD. However, the male condom is the most commonly used method at first sex and at most recent sex among both teenage men and women.
10. Insomnia medications
Combining natural shifts in an adolescent's circadian rhythm with the demands on their time, it's no surprise that some teenagers and young adults have a hard time getting to sleep. Because teenagers are more likely to have trouble falling asleep than staying asleep all night, shorter-acting drugs, like Sonata and Ambien, may be more appropriate for them than Lunesta, which is longer-lasting.
As stated before, these medications are very beneficial when used appropriately. However, the teen to young adult bracket may not always understand the dangers associated with the misuse of medications. Always talk with your child about the risks and benefits so you can monitor their progress together.
###
Carissa Andrews is an passionate author and freelancer from Minnesotan with a focus in creative writing.
Use this code to share the image on your blog or website.
Comments:
Jeslyn says at 2017-10-26 11:42:13
There is a critical shortage of inframotive articles like this.
Leave your comment:
Your email address will not be published. Required fields are marked with *.