10 Tips for Traveling with Prescription Drugs >>
5 Tips to Overcome Daylight Savings Time Fatigue
by
Carissa
- March 8th, 2014
Whether you love it, or hate it; it's hard to imagine life without daylight savings time (DSL). Around since 1916, daylight savings time affects billions of people each year. For those of us in the United States and Canada, get ready to change your clocks on March 9th, 2014 at 2:00am.
While daylight savings is meant to conserve energy, the truth of the matter is, adjusting to the time-shift can be hard. If you're in one of the seventy countries around the world that observes DSL, here are a few tips to make the transition a tad bit easier as we prepare to spring ahead an hour.
1. Test it out
Although the clocks won't officially go forward until 2:00am Sunday morning, try setting them ahead a day earlier (assuming you have no time-related appointments you need to adhere to). By doing this, you can start getting your body in gear for waking earlier, eating sooner, and all around being more prepared come Monday. Besides, if you need a little nap to compensate, at least you're already at home and can squeeze in a few extra zzz's.
2. Workout in the morning
In addition to being good all around, working out releases serotonin, a chemical in the brain known for helping the human body adjust. If you live in a climate that accommodates a brisk walk outside, take advantage of it and reap the rewards. Moderate exercise in the form of 20-30 minutes, 3-4 times a week is ideal for helping improve your sleep cycle.
3. Nibble on schedule
Once we spring ahead, you might be tempted to eat earlier (or later) than you were before. Train your body by watching the clock and eating as close to the same timeframe you were before. Studies have shown eating too late can interfere with your sleep cycle and make adjusting nearly impossible. So be sure to have your last meal or snack 2-3 hours before bedtime.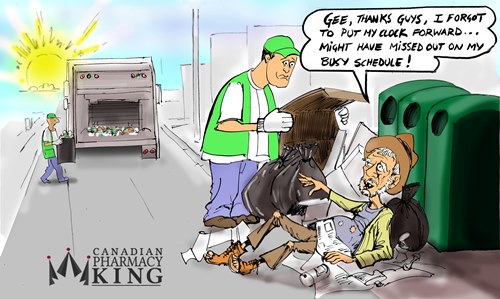 4. Lighten up and dial it back
Studies have shown that getting a couple extra hours of light can help reset body rhythms. If you can't get outside for a couple extra hours, try using a light box for the first couple of weeks after the time change. Conversely, dim lights down at night and give your body the signal to wind down. The balance of light and dark will help your body adjust more easily to the time change and also help you sleep more soundly.
5. SPECIAL TIP
Medical clocks need changing too. If you use medical devices with internal clocks such as pacemakers, defibrillators, and even glucose monitors, be sure to adjust the time or have a qualified professional do it for you.
We hope these tips are helpful and make your spring-time tradition of DSL easier. Let us know if you try any of them out and how they worked for you.
###
Carissa Andrews is an passionate author and freelancer from Minnesotan with a focus in creative writing.
Leave your comment:
Your email address will not be published. Required fields are marked with *.